We're excited to announce that Iterable was included on Built In Colorado's list of Best Places to Work in 2020. Iterable was also recognized in the subcategories of Best Midsize Companies to Work For and Best Paying Companies.
This honor comes only one year after we announced that we opened our satellite office in Denver, which we believe is a testament to the amazing local community that warmly welcomed us.
"I'm excited to see Iterable recognized on Built In's 2020 list of Best Places to Work in Colorado so shortly after opening an office in Denver," said Sara Riedl, VP of People at Iterable. "It's been about a year since we hired our first employee in Denver, and I'm thrilled to see that we already have a reputation as a top employer. We will continue to grow in Denver in 2020 and we are delighted with the high-caliber candidates we are meeting."
BuiltIn.com, a national hub for tech trend coverage and resources, has attracted a niche audience of 1 million tech professionals every month to help them stay on top of tech news and trends, expand their networks and carve out futures at companies they believe in.
Built In's list rates companies algorithmically based on compensation data and employer benefits. Rank is determined by combining a company's score in each of these categories.
To explain why we're one of the Best Places to Work in Colorado, we decided to go straight to the source. Here's what our Denver team had to say when asked why they love working at Iterable.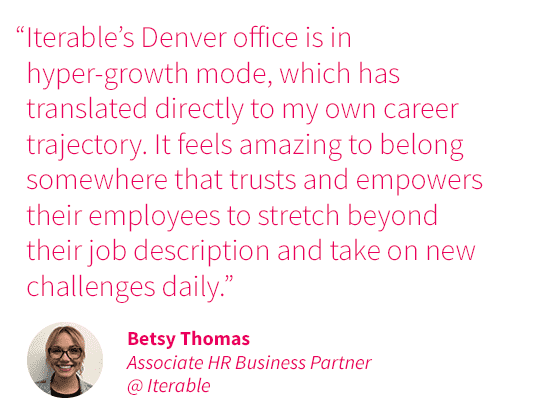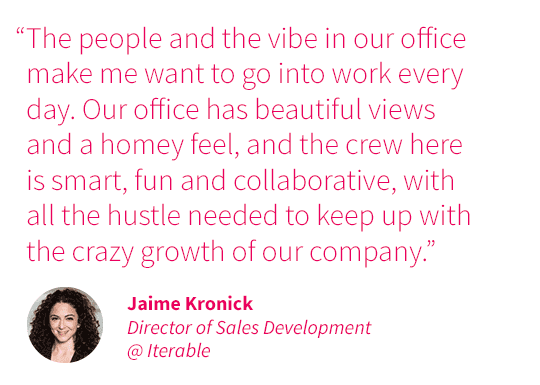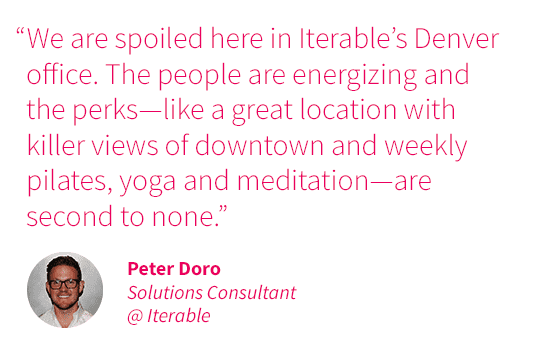 Iterable now has 50+ employees in Denver and plans to grow its Colorado staff by 60% by the end of 2020. We're currently hiring for roles in sales and customer success, so if you're looking for your next career opportunity, we'd love to have you on our talented team! Come join us!