Personalization. You know you need to do it, but you just need to know how—in a way that's both effective and efficient. The good news? You are certainly not alone.
In our latest installment of "Ask an Iterator," we ask Garin Hobbs, Principal Product Marketing Manager, Market Insights, about his most frequently asked questions from marketers when it comes to personalization.
Ask an Iterator: Garin Hobbs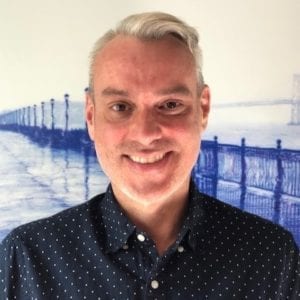 With 20 years of experience spanning across ESPs, agencies and technology providers, Garin is recognized for helping grow the email marketing industry, launch new technologies and develop the strategies and thought leadership to support them. Garin has worked to deliver meaningful improvements in consumer experience and program revenue for brands, such as Gap, Starbucks, Western Union, Bank of America, United Airlines, and Hilton Hotels.
In the past three years, Garin has spanned across the Iterable organization, managing everything from strategic sales, to deal strategy, to go-to-market enablement. In all roles, however, he has specialized in market insights, educating folks on the marketing landscape and what's truly important to consumer brands.
Garin is here to share his expertise on all things personalization, so let's get right to it!
What are the first steps to getting started with personalization?
I like to start my consultations by asking marketers 4 questions:
What type of relationship do you have with your customers?
What type of relationship do you want to have with your customers?
What type of relationship do your customers want, need and expect from you?
What will it take to deliver that relationship?
Before you move forward with any personalization strategy, consciously decide that it's necessary for your business and make a firm commitment to do it. This may sound obvious but from the CMO down to the campaign specialists, everyone must be on board, involved and on the same page.
Then, decide how you want to leverage personalization—whether transactionally (to drive product), cosmetically (to drive content) or contextually (to drive relationship). There's no one right answer here, but your approach will determine what data you need to deliver.
We recommend using four types of data to build dynamic content: user attributes, event data, external data and metadata. You can check out our latest Personalization Playbook to learn more about each in detail.
Start small and scale up through each level of our Personalization Maturity Model, and most importantly, stay the course. The performance and value of personalization should be measured with a long yardstick (ultimately, customer lifetime value or LTV), rather than on a campaign-by-campaign basis.
How can I personalize a welcome series without a lot of new customer data?
I recommend leveraging progressive profiling in the post-sign-up (simple email sign-up or account creation) workflow.  This will allow you to better understand individual profiles, needs and preferences but also the context driving them, and begin personalizing much earlier on in the engagement.  
It is important that the questions be casually presented (but in a way that is authentic to your brand's voice) to ensure that respondents answer honestly and accurately. This data should be utilized in conjunction with future behavioral data for richer context in driving engagement or conversions.
Should I reference someone's abandoned cart in emails outside a cart abandon campaign?
I really like this idea, as it's similar to embedding loyalty status in all communications, which performs really well. However, loyalty status is a rather passive data point, and the implied CTA of an abandoned cart is more explicit/aggressive, so there are some critical factors to consider, such as frequency, cadence, profile targeting, purchase history, historical AOV, time since last visit, time since last open/click, etc.  
There is an incredibly wide and diverse spectrum of reasons behind abandoned carts: available funds, shipping times and costs, added tax, necessity (wanted vs. needed), gifting, changed my mind, was distracted and forgot, etc.  Sending persistent abandoned cart reminders to someone who simply can't afford an item can risk seeming insensitive, so I recommend building a target profile for this use case.  
It would be interesting to test to find if frequent customers convert higher than first-time buyers or if conversions decline after subsequent messages. The success of any workflow is a robust and ongoing experimentation strategy.
How should I coordinate cross-channel messaging?
If your brand has a mobile app, you can install our SDK, for instance, to collect behavioral data that can be used to personalize messaging in other channels, such as mobile push and in-app notifications.  Additionally, if a user uninstalls the app, the SDK can automatically trigger a retention workflow via email. 
I also recommend that brands consider web push as a potential channel, due to its more "instantaneous" nature (email and in-app messages lay waiting to be read by the recipient).  Many messages are time-sensitive and push channels are great for creating and inspiring "in the moment" engagements. 
However, different personalities are predisposed to engage and interact on different channels.  Some prefer email, some prefer push, and some prefer to engage via apps. Often a single experience can meander across channels as consumers move from device to device (open an email on mobile, but shop on desktop). It's important that you match the medium to the message and create an engagement ecosystem that is considerate of different tasks and customer types.
How should I be using SMS personalization for e-commerce?
SMS is an undervalued and underutilized channel for many brands, but it also carries the risk of misuse.  
In my opinion, there are three golden rules for e-commerce SMS messaging:
Only send SMS marketing messages to customers who have explicitly opted-in
Communicate customer-centric values (i.e. your wish list item is back in stock)
Use primarily for time-sensitive transactional alerts (i.e. order shipped, credit card declined)
How should I be using personalization for re-engagement?
Keeping your brand top of mind is best accomplished with compelling content and deep personalization, synchronized across email, mobile and web channels. When engagement lags, a retention workflow can be triggered to entice lapsed customers to re-engage. 
Most industry analysis reports that, over the last three years, customers have been voicing increasing demand for personalized messaging from brands they want to hear from. They don't simply want more email; they want more value-based messages that are thoughtfully (and consistently) personalized to the context of their needs, wants and priorities. If a customer doesn't perceive value in this email, then they don't have much reason to open subsequent messages.  
Here are a few tactics to improve content value and boost message performance:
Test different personalization levers (product category, brand, price points, geo, gender, generation, loyalty, recency, history, etc.)
Test different personalization elements (product, copy, headers/banners/heroes, imagery, CTAs, etc.)
Add value beyond CTAs (editorial, give-backs/aways, "community" content)
Make messages interactive (polling, animated GIFs, forms, etc.)
Is the effort of personalization really worth the ROI?
It may help to reframe your definition of "return" in "return on investment." Personalization is not a performance tactic whose value should be measured campaign-by-campaign, but a table-stakes customer expectation that is critical to both engagement and retention, and forms the basis of brand-customer relationships.  
The value of consistent and meaningful personalization pays off sustainably over time and dividends are more appropriately measured in LTV (or more specifically, LTV vs. CAC).  I would suggest putting "personalization" in terms of customers' individual intrinsic motivations—the WHY behind why they want to connect with your brand. 
These motivations reflect how your business fits into their lives, how it makes them feel, and how it empowers them to live their values. Using these factors, you can feature the same item to different people and personalize the value in ways that contextually resonate with each individual. This will allow you to leverage pragmatic personalization that is both efficient and effective.
Get Our Personalization Playbook
Now that Garin has provided a foundation of how to personalize across the customer lifecycle, download our full Personalization Playbook on Dynamic Content to learn all about the data and tools you need to build an advanced personalization technology stack and level up your cross-channel marketing campaigns.