We did it, folks. We made it through 2019. Give yourself a round of applause. And give yourself a pat on the back for finishing out the '10s in, presumably, glorious fashion.
Around this time of year—every…single…year—it's impossible to avoid the "Year in Review" lists. And yes, you are correct in thinking this is also a year in review list. But, with a finger up in mild protest, we'd point out this is (1) much shorter and (2) arguably more fun. 
In a recent webinar titled, Best of 2019: Cross-Channel Marketing Campaigns We Loved, we covered 9 different campaigns that touched on vital aspects of a successful modern cross-channel marketing campaign and let our audience decide who won the year. 
However, before we dive into the winners, let's set the foundation of exactly what we mean by cross-channel marketing.
What is Cross-Channel Marketing?
You might have seen the below graphic from us before. To us, cross-channel marketing is about more than just utilizing email, SMS, web push, direct mail, etc. to communicate with customers. It's about the customer lifecycle and experience.
Cross-channel marketing—in an ideal world—seamlessly integrates data and channels to provide the best experience for customers. Whether that's a welcome campaign via email and SMS to activate a customer's attention or a direct mail cart abandonment campaign to reactivate their engagement, it's about understanding how your customers interact with your brand and how to engage with them in a way that makes them feel cared for and comfortable.
You've likely heard companies say they are getting the right message to the right customer at the right time. This is key to cross-channel marketing in order to increase retention. 
With that in mind, who did the best job in making us feel welcome and energized to continue opting in to their messaging.
Best Cross-Channel Campaigns of 2019
In the interest of keeping things a bit simpler, we broke the year's best down into categories: Cross-Channel Campaigns, Brick & Mortar, and Recommendations.
Cross-Channel Campaigns: Summersalt
Swimwear and travelwear provider Summersalt wowed us with their 2019 cross-channel marketing campaigns. 
Initially, they caught our attention through targeted Instagram ads and first collected our information through a pop-up on their site.
Since this meant providing our phone number, Summersalt jumped right in with an SMS promotion, offering us a code for free shipping.
When we followed the link from the SMS message, we submitted our email address to receive the code.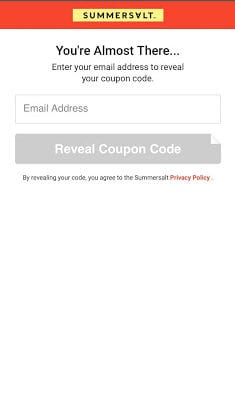 To some this may seem like too many steps, but in practice the experience felt seamless and easy due to the warm messaging ("Hello, Sunshine!") and delivery on the promise of a shipping code. All in all, it felt organic.
Finally, Summersalt closed out the welcome process with an inclusive subject line to their welcome email. The Summersalt brand promotes travel and adventure, so it is fitting their email messaging follows suit. 
Ultimately, we—as well as our webinar audience—loved how clear and engaging Summersalt is in their messaging and how seamless the experience is between SMS and email.
Brick & Mortar Campaigns: Rent the Runway
Recently, Rent the Runway, provider of designer dress and accessory rentals, brought their particular flair to the brick and mortar space, and with a stellar cross-channel marketing program. 
When first entering a Rent the Runway location, you are presented with an iPad to input your phone number to sign up for a fitting room.
Immediately, Rent the Runway is using mobile marketing to add a level of exclusivity to the experience—as if you have entered a special VIP experience to get your very own fitting room. 
If you end up completing a transaction, the cross-channel experience continues. Shipping information is sent via SMS and, if you opted-in, mobile push. Of note, the SMS reminder message deep links to the Rent the Runway app so you are immediately met with all of your shipping and order information. 
This sort of integration keeps the user engaged while ensuring relevant information is always at their fingertips.
The day after our visit to the brick and mortar location, Rent the Runway sent a survey to inquire about our experience and how to improve it the next time we visit.
These touches—the deep links and surveys—are subtle in nature, but truly make a difference in enhancing the customer journey. It gives the customer a say in shaping their in-store experience and keeps them updated without digging through piles of messages.
Recommendations: SeatGeek
SeatGeek, the go-to source for event tickets, gave us a masterclass in recommendations in 2019.
Despite a down season, our preferences are still set for our hometown Golden State Warriors. Sending an email with Warriors tickets is standard for a ticket provider. SeatGeek takes this to another level by providing real-time tidbits of information that are relevant and enticing for specific events. Letting us know that Kemba Walker is in town is a nice reminder of a star player on a new team playing in town.
These real-time updates, which signify advanced data management and martech capabilities, also come about in the form of price updates as well. 
Adding information such as this humanizes and personalizes the experience. It lets us—as the customer—know that SeatGeek is paying attention and looking out for our best interests.
Lastly, this is a good reminder of how location-based messaging can impact the customer journey. Messages about Boston-based events don't make much sense to us when we are based in San Francisco. 
SeatGeek does well in ensuring information is relevant to the user and builds recommendations from there.
2019 A Year in Review
This year was a banner year for redefining marketing—both good and bad. With all of these channels at our disposal, it can become a bit difficult to cut through the noise, and for some even harder to decide which channels work for their brand. 
As we mentioned above, these are just a few of the bright spots from 2019. Give the webinar a full watch to find out what other brands stood out in the past year.