Consumers have acquired a voracious appetite for elevated brand experiences, and it's up to today's marketers to push the boundaries of tech and creativity and serve up campaigns that captivate.
73% of consumers regularly shop on multiple channels, so brands must masterfully prepare cross-channel campaigns that play to customers' preferred tastes.
At Iterable, we believe that growth marketing and cross-channel engagement pair wonderfully together. Growth marketing creates personalized messages derived from consumer behavior.
Delivering these messages in real-time, on the channels they prefer most, produce relationships of high value where customers are always hungry for more.
Kick It Up a Notch With the Iterable Cookbook
Catering to the changing tastes of consumers has always been a tall order for marketers, but advancements in technology have opened new, modern ways to engage customers en masse. Your customers are cross-channel by nature and are expecting you to cater to their tastes.
Inside The Iterable Cross-Channel Campaign Cookbook, we've deconstructed six popular lifecycle marketing campaigns from three different stages of the customer journey down to their core ingredients.
We walk you through the key instructions needed to recreate and adapt these campaigns to fit your brand's unique growth strategy.
Sample Tasting
Curious to learn what marketing campaigns have in common with cooking?
Here's a sneak peek at our Re-Engagement Campaign recipe! We've highlighted the ingredients and outlined the most important instructions for recreating the perfect win-back.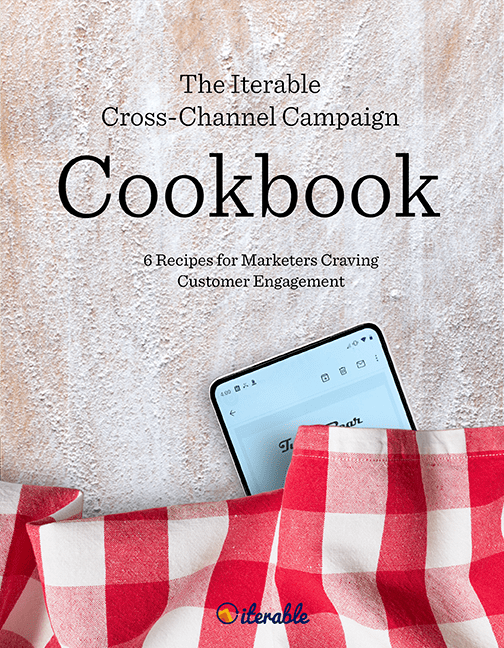 Re-Engagement Campaign
What it is: Re-engagement campaigns elicit engagement from subscribers experiencing waning interaction and activity levels. These campaigns aim to shift your "disengaged" users back to active.
Why it matters: Countless marketing dollars are spent acquiring and cultivating customer relationships—letting them disappear after periods of inactivity doesn't make sense! Re-engagement is a core component of retention marketing.
Ingredients: Thresholds, Re-Education, Message Preferences, Channel Variance
Directions:
1. Determine the appropriate eligibility thresholds (time, activity, engagement, etc.) for customers warranting re-engagement. Knowing why customers need re-engaging helps you focus on relevant content.
2. Focusing message content around re-education about the unique products or service value can help rekindle the relationship flame. Use the campaign to show how and why you're solely fit to your customer.
3. It may be time to reevaluate a customer's message preferences. Ask what content and cadence works for them to customize a better brand experience.
4. Reignite the conversation across channels. Push messages can spur app engagement. Direct mail can drive customers back online (or even in-store). There's plenty of creative channel uses to win customers back.
Pro Tips:
A simple message is better than none at all! Don't overcomplicate re-engagement—start small and build up your campaigns from learnings.
Optimize your messages for split-second engagement. Intriguing subject lines and attractive imagery can earn quick clicks, renewing engagement.
Don't pare down your lists of unengaged subscribers too soon! With the right message at the right time, engagement can return as if it never left.
Pairs well with: Lapsed Customers, Feedback Gathering, Win-Backs
Grab Your Copy of Our Campaign Cookbook
Download the full cookbook to learn key instructions and pro tips for all six cross-channel campaign recipes.
Want even more great content that pairs well with the Iterable Cookbook?
Watch our latest webinar where we dive deeper into these campaigns and showcase stellar email, push and SMS examples from 5-star brands to inspire you further.