Like hundreds of millions of people around the world, the team at Iterable has been in self-isolation, working remotely and staying at home to limit the spread of COVID-19. Our hearts go out to all the healthcare professionals, our own local communities and everyone working on the front lines to contain this disease.
We're living in an unprecedented time—and speaking of time, you may feel like you have more of it than you're used to.
Boredom is a privilege to have, of course, but if you're looking for some great recommendations to amuse yourself, then we've got you covered.
Iterable's Master List of Recommendations
We asked the folks at Iterable to share the TV shows, movies, podcasts, books and video games they're loving during the lockdown.
Without further ado, here is our master list of what's keeping us entertained while we're home right now.
TV Shows
When we're all stuck indoors, it's time to Netflix and chill, Hulu and hang, HBO and…you know.
In other words, these are the TV shows we can't stop binge-watching:
Riveting reality romance: "90 Day Fiancé" (TLC), "Love is Blind" (Netflix)
Compelling competitions: "Next in Fashion" (Netflix), "The Circle" (Netflix),  "LEGO Masters" (FOX), "Best Home Cook" (BBC), "Making It" (NBC)
Documentary deep-dives: "Formula 1: Drive to Survive" (Netflix), "Abstract: The Art of Design" (Netflix), "Cheer" (Netflix), "The Pharmacist" (Netflix), "McMillions" (HBO), "100 Humans" (Netflix)
Fascinating food and culture: "Ugly Delicious" (Netflix), "Travel Man" (U.K. Channel 4)
Spell-binding supernatural and sci-fi: "Outlander" (STARZ), "Watchmen" (Netflix), "The Dark Crystal: Age of Resistance" (Netflix), "Avenue 5" (HBO), "Devs" (Hulu)
Dazzling dramas: "Little Fires Everywhere" (Hulu), "Killing Eve" (BBC), "Succession" (HBO), "Better Call Saul" (AMC)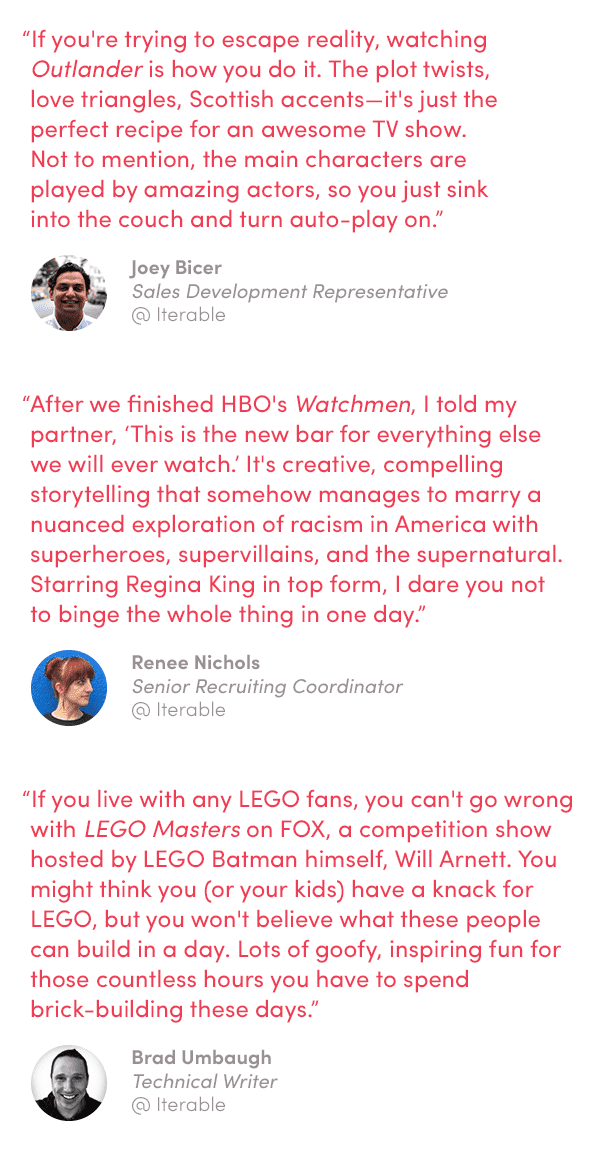 Movies
Theaters may be closed, but that doesn't mean you can't microwave some popcorn in the comfort of your own living room.
Here are the movies in our queue and on our re-watch lists:
For the thrill(er)-seeker: "The Invisible Man" (on VOD, 2020)
For those who like it wholesome: "To All the Boys I've Loved Before" (Netflix, 2018)
For fans of Kiwi comedy: "Hunt for the Wilderpeople" (on Hulu, 2016)
For sci-fi superfans: "Ex Machina" (on Netflix, 2014)
For those who like to rock: "The Punk Singer" (on Netflix, 2013)
For those wanting an alternate timeline: "Inglourious Basterds" (on Netflix, 2009)
For those wishing for freedom: "The Shawshank Redemption" (on Netflix, 1994)
For those seeking a class warfare classic: "Robin Hood: Prince of Thieves" (on Netflix, 1991)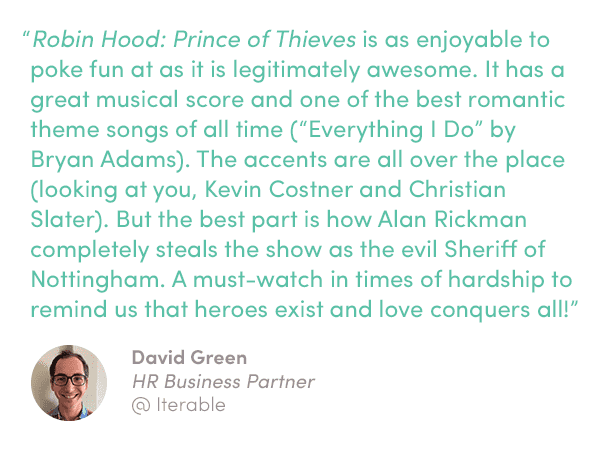 Podcasts
It gets harder to ignore the dust bunnies when we can't avoid staring at them.
These are the podcasts we're playing during our spring cleaning sessions:
Business: "Marketing Today" with Alan B. Hart
Daily news: "Skimm This" by theSkimm, "Up First" by NPR
Documentary and human interest: "Death, Sex and Money" with Anna Sale, "Bodies" with Allison Behringer, "Brain on Nature" with Sarah Allely
Education and learning: "Hardcore History" with Dan Carlin, "Slow Burn" by Slate
Society and culture: "Still Processing" by The New York Times, "By the Book" with Jolenta Greenberg and Kristen Meinzer
Sports: "Pardon My Take" by Barstool Sports
Technology: "Reply All" with Alex Goldman and PJ Vogt
True crime: "Crime Junkie" with Ashley Flowers and Brit Prawat, "To Live and Die in LA" with Neil Strauss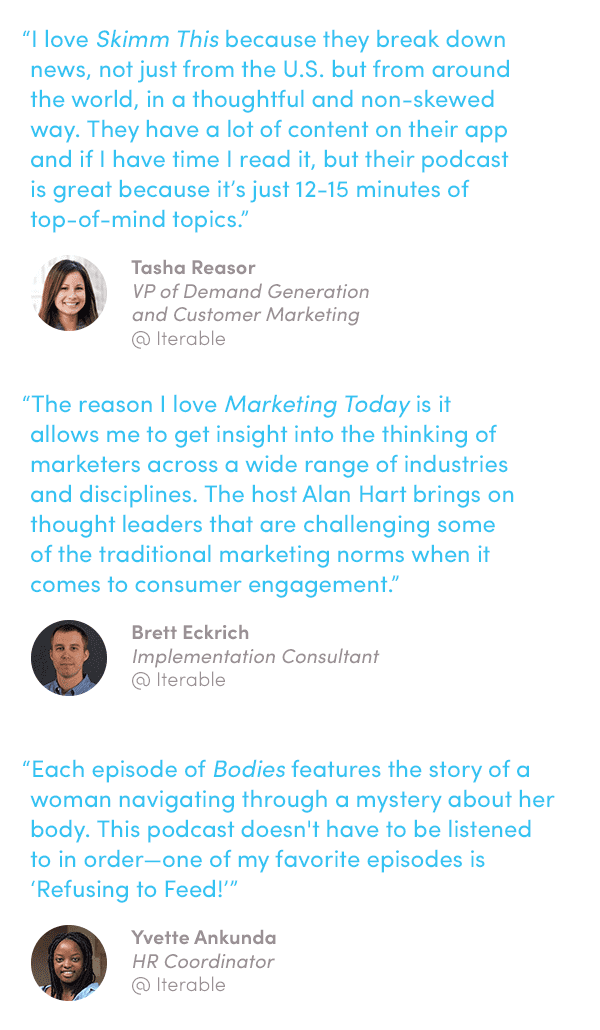 Books
Grab a cup of tea—perhaps with an anxiety-reducing weighted blanket—and become one with your couch.
Here are the books that are making our hours fly by:
For the celeb-obsessed: "Inside Out" by Demi Moore (2019)
For the entrepreneur: "That Will Never Work: The Birth of Netflix and the Amazing Life of an Idea" by Marc Randolph (2019)
For the home-bound historians: "A Gentleman in Moscow" by Amor Towles (2019)
For the fantasy fan: "Oathbringer" by Brandon Sanderson (2017)
For those new to homeschooling: "Educated" by Tara Westover (2018)
For those in need of a good cry: "When Breath Becomes Air" by Paul Kalanithi (2016)
For those missing basketball: "Eleven Rings: The Soul of Success" (2013) by Phil Jackson and Hugh Delehanty
For comic book enthusiasts: "Locke & Key" by Joe Hill and Gabriel Rodriguez (2013)
For hopeless romantics: "The Rosie Project" by Graeme Simsion (2013)
For those wanting the pulse on politics: "The Signal and the Noise: Why So Many Predictions Fail—But Some Don't" by Nate Silver (2012)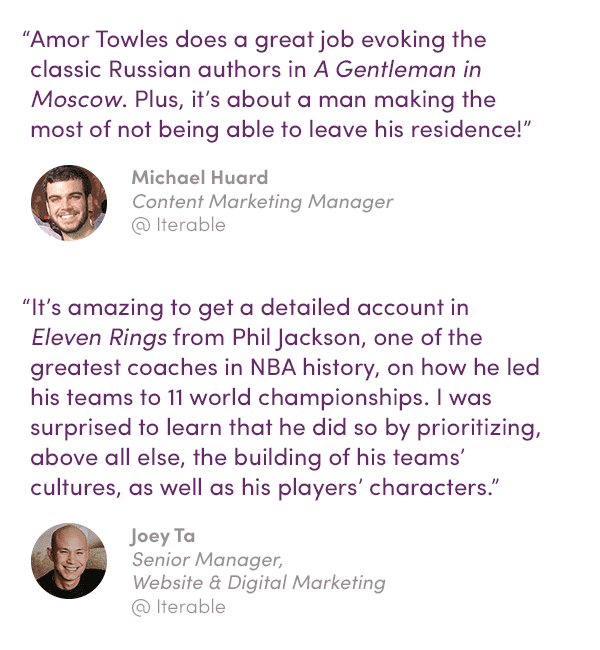 Video Games
Physical distancing doesn't have to mean that your social life's on complete pause.
Whether it's exploring an open world or teaming up with friends, these are the video games that are keeping us connected:
The quarantine escape: Animal Crossing: New Horizons (Nintendo Switch, 2020)
The virtual party battle: Super Smash Bros. Ultimate (Nintendo Switch, 2018)
The alternative to the outdoors: The Legend of Zelda: Breath of the Wild (Nintendo Switch, 2017)
The first-person shoot-out: Overwatch (PC, PS4, Xbox One, 2016)
The cult classic: StarCraft II: Wings of Liberty (PC, 2010)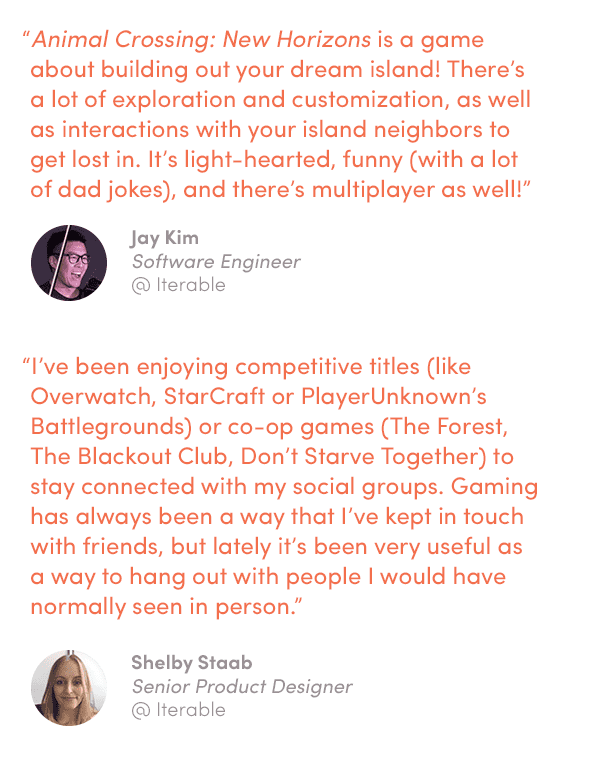 Are You Not Entertained? Here's One More Recommendation
In case all these recommendations to watch, read and play aren't enough for you, then don't forget to check out Iterable's own resources.
We have an extensive library of whitepapers, webinars, videos, case studies, blog posts and teardowns to keep your marketing mind sharp. 
Stay safe, healthy and entertained, from all of us at Iterable!