Crafting the perfect messages for your marketing campaigns is an important goal, but having the right tools and technology to personalize the content is just as critical.
Whether you are creating email templates for your welcome series or drafting templates for your mobile campaigns, it is essential to be able to easily add content that is customized for each and every user.
That's why we created Snippets.
In case you haven't leveraged the feature thus far, let's have a refresher.
What's a Snippet?
Iterable Snippets allow you to easily re-use and manage HTML and plain text across templates and channels, including email, push, SMS and in-app notifications.
With this feature, the options are limitless, from creating and inserting headers, footers and any content in between.
What Are the Benefits of Snippets?
Standardizing your content for email and mobile can become a huge time saver when you are running hundreds of campaigns for your brand. Being able to spend more time on the actual message and less on re-creating content with each new template is one of the key benefits of snippets.
Imagine you are sending out a newsletter to new users who have subscribed to your service. You need a way to insert your company logo in the header of the template.
Or perhaps you'd like to send out several mobile reminders to users who have opted into push notifications. Including the same call to action in each of these templates is key.
Another key benefit is the greater ease of updating content across templates. Any changes made to the snippet will be dynamically updated wherever the snippet is used, including those tied to active campaigns.
Why You'll Love Them Even More: Snippets 2.0
With Snippets, Iterable customers can personalize content across templates for multiple channels and eliminate the need to re-upload content if changes are made.
We know how effortless Snippets has made it for your teams to personalize templates, but here at Iterable, we are always thinking of innovative ways to make your job easier and allow you to be even more creative, strategic and effective.
We are proud to announce the launch of Snippets 2.0, which allows you to use handlebars in your snippets.
With Snippets 2.0, here are some common use cases:
Personalize your snippets with custom fields to make each message more relevant.
Create dynamic content by inserting handlebars logic into your snippets.
Include unsubscribe links to set a standardized email footer across all your templates.
Here is an example of a push reminder leveraging Snippets 2.0 to personalize the message with a user's name.
You can walk through these steps to try it in your own campaigns.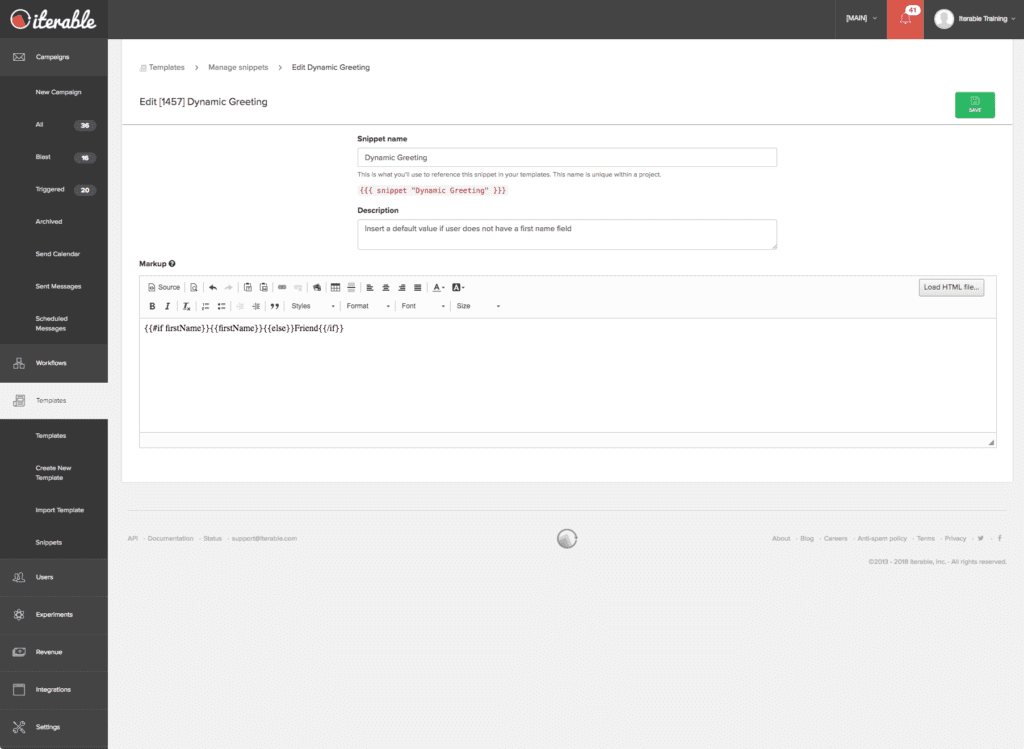 First, we build the snippet using handlebar logic.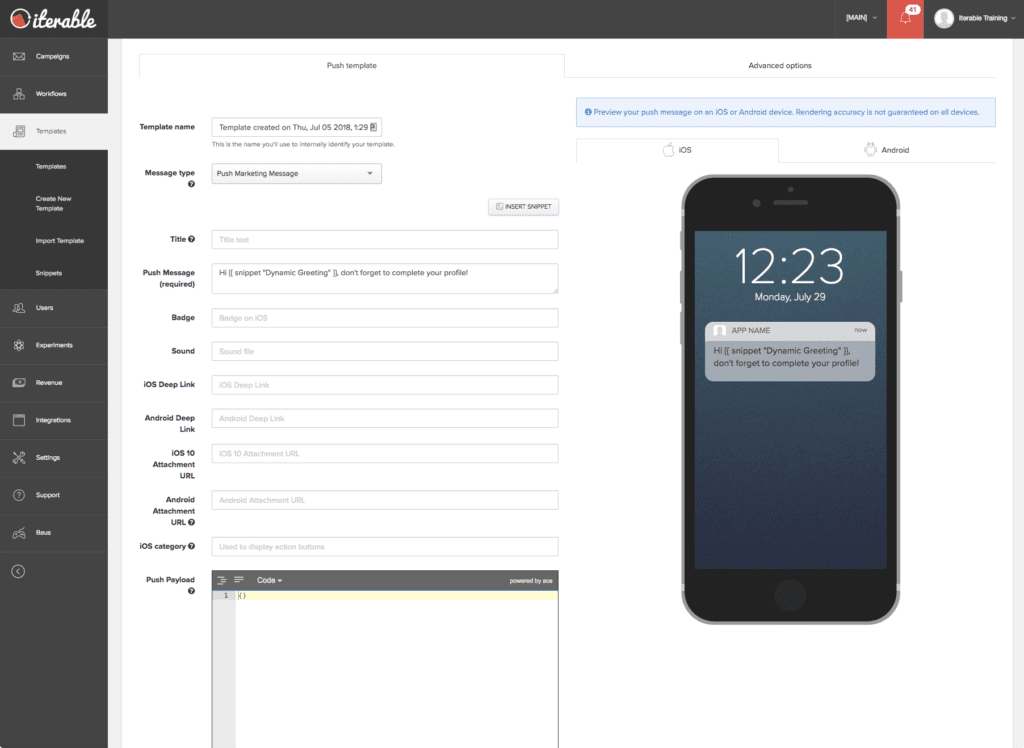 Next, we'll build the Push Notification and add the Snippet into the Push Message.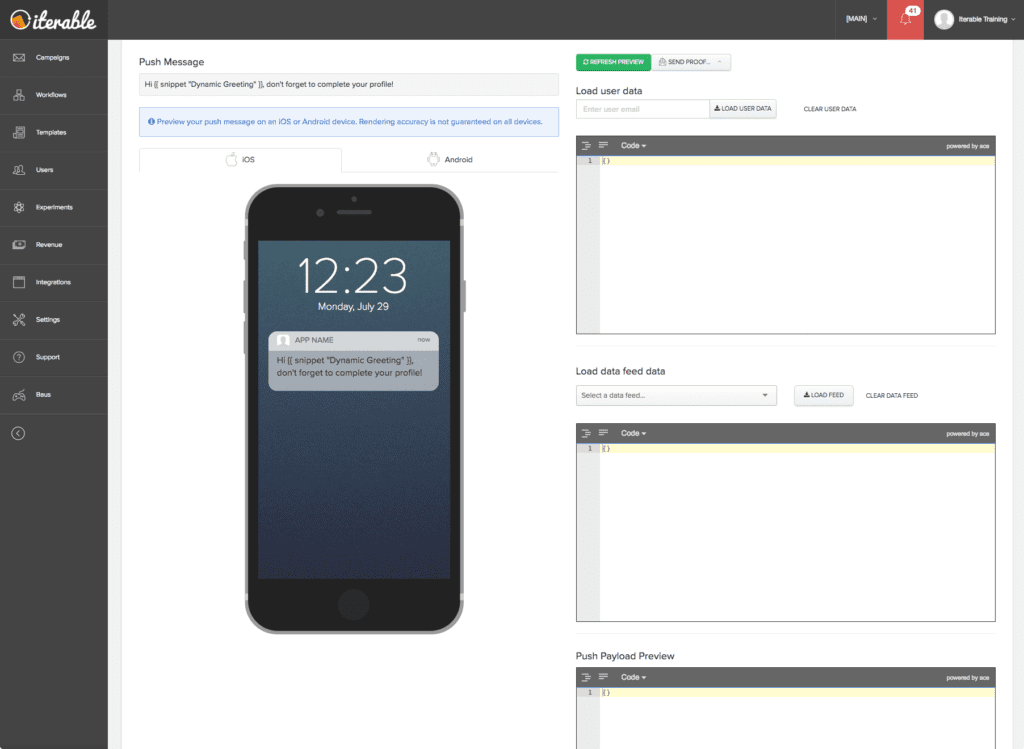 Then, we go to the Push Message Preview Page.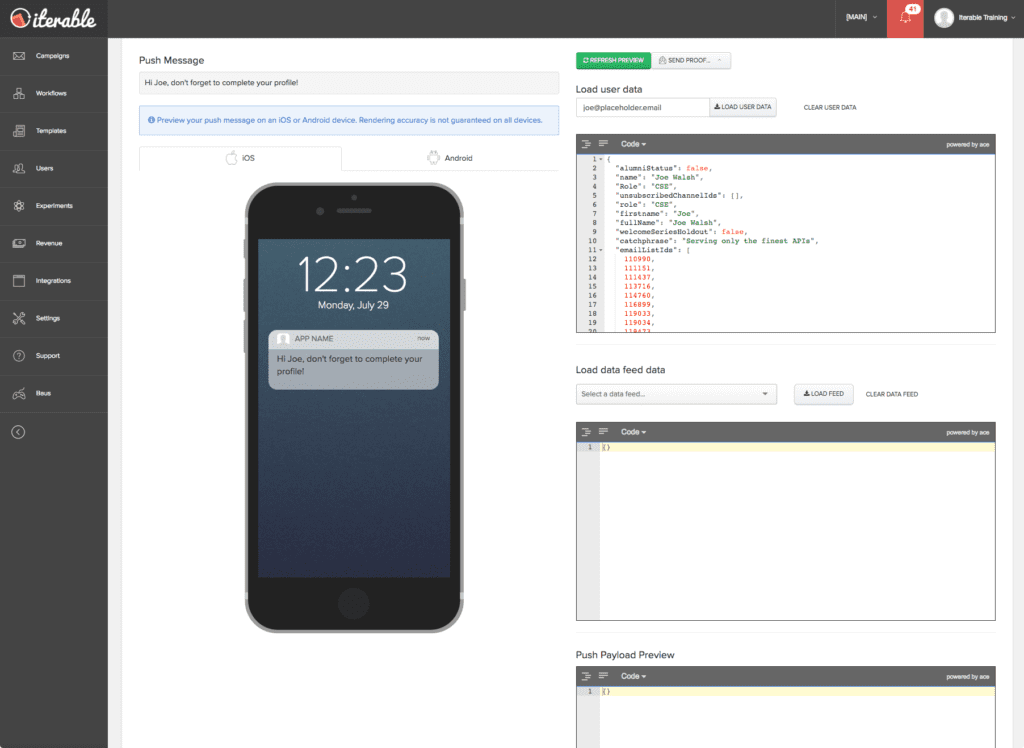 Finally, we'll personalize the Push Message for the test user.
Try Snippets 2.0 for Yourself
For more information, please check out our Release Notes.
To get a customized demo of your cross-channel marketing needs and to see Snippets 2.0 in action, contact us!