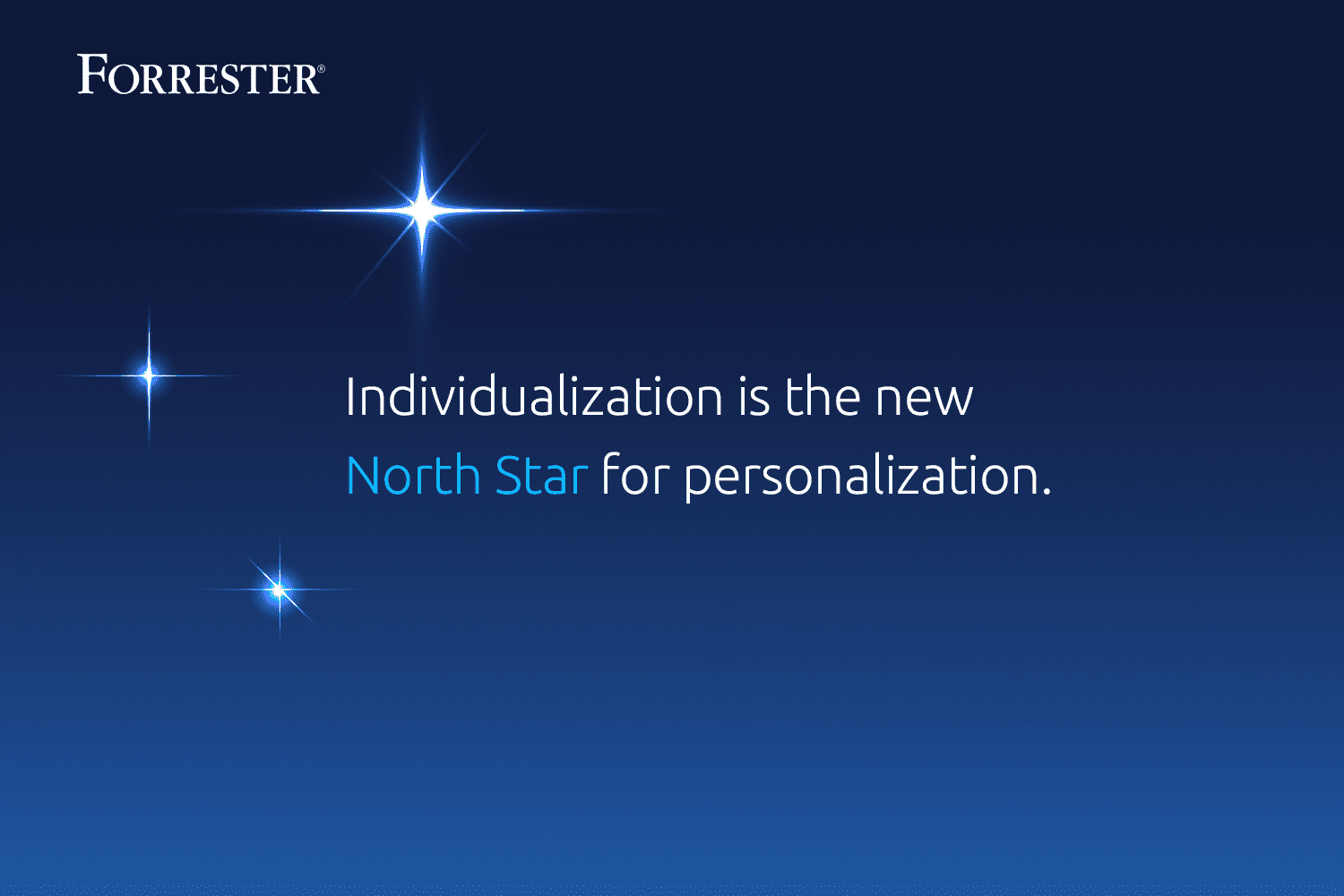 Are You Ready for Personalization 2.0?
Every marketer already knows that the key to creating exceptional customer experiences is data-powered personalization. In what industry experts call the Now Economy, consumers demand more from brands—and are willing to share more personal information in exchange for added value.
That's the good news, at least. In its latest report, Evolve Now to Personalization 2.0: Individualization, Forrester explains the challenges involved with going beyond the basics of old-school segmentation.
In a world where personalization is no longer optional, the analyst firm declares that individualization is the "new North star" for customer-obsessed companies. All business professionals—in marketing or otherwise—must respond to customer needs in real time, using behavioral data to lead each individual from click to cash.
According to this research, 89 percent of digital businesses are investing in personalization, but over a third of U.S. online shoppers agree that retailers should do more to offer personalized experiences. So why the disconnect between brand intent and customer reality?
By working with hundreds of clients, we've identified two specific types of growth marketer, each faced with their own hurdles of implementing an individualization strategy.
1. The Personalization Seeker
Typically found at small or mid-sized businesses, the personalization seeker has seen success with their early segmentation efforts and wants to scale above and beyond. This marketer is likely using a batch-and-blast email service provider with limited functionality, which makes it difficult to tailor messages based on customer data.
2. The Freedom Fighter
Unlike the personalization seeker, the freedom fighter is already well-equipped within larger enterprises to scale their personalization efforts but needs to break free from engineering-intensive dependencies. Because their current MarTech stack requires a high degree of ongoing developer support, they're unable to respond to customers in real time.
Preparing for Personalization 2.0
Whether you're a personalization seeker or a freedom fighter, you're likely looking for ways to boost customer engagement and increase revenue. Understanding how modern growth marketing technology can enable you to achieve this success is one of many next steps on the path toward individualization.
This analyst research contains a multitude of recommendations as your brand evolves to Personalization 2.0, but here a few of our favorites.
• Use a universal identifier, like an email address, to consistently identify customers across all screens and channels.
• Tell your customers how you will use the data you've requested, so as to avoid the "creep factor" when sending highly personal messages.
• Consolidate data from internal databases and external partners in a single repository to create seamless customer experiences.
If individualization is the marketer's North Star, then an omni-channel marketing platform like Iterable is the souped-up engine that can power you to your destination.
Download the full Forrester report to learn the core methodologies to improving the consumer experience with an individualization strategy, as well as the actions you can take today to become a customer-data-collecting machine.