It's a strange world we live in. When did single-ply toilet paper become the best Mother's Day gift? When did doing puzzles and baking sourdough become the highlights of our weekends?
COVID-19 has shifted life as we know it. As social distancing restrictions put financial pressures on businesses and families, and consumers shift their attention away from impulse-buying and towards the essentials, it has become increasingly difficult to reach audiences in a saturated market.
We wanted to assemble a fabulous lineup of speakers to give strategic and tactical advice for marketers seeking to pivot during this paradigm shift, so we partnered with Holistic Email Marketing to host the insightful virtual event, "Holistic Live – Together at Home."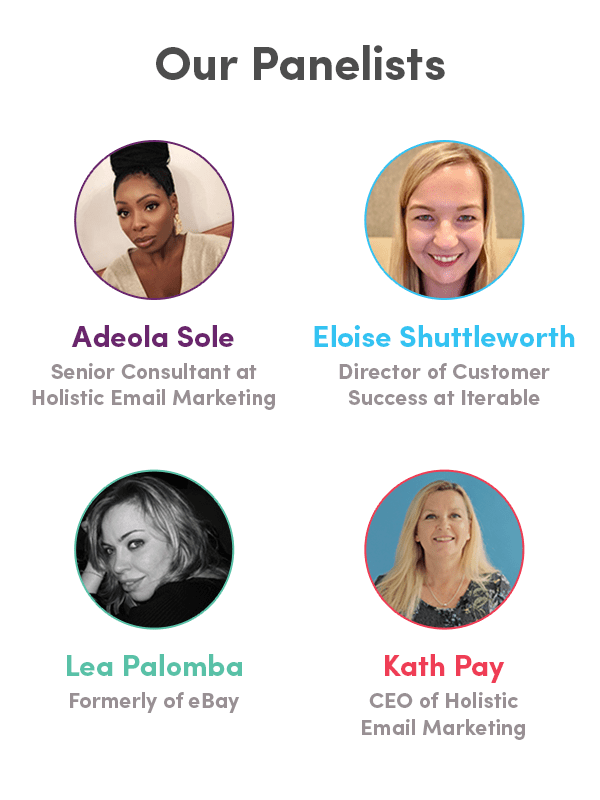 Introducing the panel and running the show was Adeola Sole, senior consultant at Holistic Email Marketing. She opened the floor to our panelists:
First on the cast of speakers was our very own Eloise. Here's what we learned about Personalization:
Personalizing emails is the most effective way to market to consumers, but it takes time, patience and a lot of data.
An email that sends you relevant, compelling content intended just for you, based on recent searches, geolocation and purchases is a recipe for quick and lasting email conversions. But the biggest roadblock that all marketers face in the quest for personalization is access to data (hello, data silos!).
Instead of putting added pressure on your technical team, think about inventive ways to collect data, like progressive profiling in emails. Still, approach personalization with cautious optimism: Repetitive emails with irrelevant content and botched data parameters can turn customers off from a brand and remind them to unsubscribe.
Personalization is an ongoing, iterative and constantly evolving process.
Think you got personalization down? Think again!  A customer's perception can change daily, as does their information, so you should always be collecting, analyzing and A/B testing. Your competition is constantly reviewing and editing their data schemas, so you should be too! Use downtimes (like during a pandemic) to adjust what data you are pulling, and identify gaps you need to fill.
And don't forget the finer details of your email marketing. The content of the email is important in personalization, but so are send times, message frequency and consumer segmentation.
Next on the agenda was Lea Palomba, who talked through adjusting priorities to changing circumstances:
Brands have to be ultra-sensitive during COVID-19.
As you know, a brand is not only defined by the quality of its products or services, but also by its crisis communications, marketing strategy, social advocacy and more.
During COVID-19, internet traffic has grown by 40%, and 85% of senders have paused their campaigns. Differentiate yourself by leading with empathy and ensuring that you're saying the right thing at the right time. 
Assume that what you once knew about your consumer is no longer true.
The daily habits of consumers have completely changed. So brands should pause and reevaluate their customer data to send effective and unobtrusive messages.
Consumer lifestyles and tendencies have shifted, and habits that are established now will most likely continue even after communities and economies have reopened. So take the time to audit your CRM program now.
Marketing is brand influence.
Collaboration is always key! Sync with different departments on goals and objectives before revamping a marketing strategy. It's particularly important to define a campaign budget on the front end that makes your internal team happy, and look for opportunities for your brand.
Last but not least, we heard from Kath Pay, CEO of Holistic Marketing, who explained how to optimize your lifecycle programmes: 
Testing is essential. And Holistic Testing beats Ad Hoc Testing at every interval.
It's important that you're always iterating. With marketing, it's essential that you adjust messaging for changing preferences, locations and circumstances. And you accomplish these adjustments by testing.
Of course, there are minutiae in testing. Kath discussed discrepancies between Ad Hoc Testing (one-off experiments) and Holistic Testing (continuous, consistent testing). With Holistic Testing, you gain an immediate uplift in the conversions of an email campaign, which helps teams gain longitudinal insights into your customers and yields flexible results that can be applied to channels outside of email.
Set up a Permanent A/B Stream. 
It's all about setting your marketing team up for long-term (automated) success. With the Permanent A/B Stream, the content, hypothesis, and other testing factors will constantly change, but the formation of the stream will stay constant. It's all about iteratively learning. Little by little, you will leverage insights to make incremental improvements to your messaging, resulting in marginal gains. Hands-off success is always appealing.
Before moving on, remember to record your results! At some point in the future, you will kick off a new campaign, and say, "Oh, we tested this hypothesis a long time ago. I wonder if our audience has changed. I wonder if we should retest it?" And you will be able to stand your new results next to past results, and gain valuable insights from this comparison.
If you test a strong hypothesis, then you will yield great results.
Like we've said before, testing is key to optimizing your lifecycle. It helps you save money by making sure you invest in campaigns that work for each and every customer.
The best part about Holistic Testing is that you can adjust multiple variables (subject line, image, content) for each test. Your results—both successes and failures—will need to be mapped back to your objectives. Remember that open rates do NOT determine conversions and record your results.
Sample strong hypotheses that you can test:
An emotional question will generate more sales than a directive statement.
The phrase "double loyalty points" will generate more sales than "2x loyalty points".
Recapping Holistic Live: Together at Home
COVID-19 has clearly changed the way we interact with customers. But our recent virtual event with Holistic Email Marketing underlines the necessity of integrating personalization, data acquisition and testing into your marketing toolkits. It's an opportunity to assess your brand's messaging strengths and weaknesses, and start anew. 
Need a hand? Iterable is here to help you optimize your messaging and personalize your brand marketing at any time—especially during a pandemic. Reach out and schedule a demo of our growth marketing platform today.