Rocksbox
Download PDF
Rocksbox is an interactive, hyper-personalised discovery and shopping service for fashion jewellery. For a monthly subscription fee, members gain access to rent unlimited jewellery from premium designers and brands. Stylists rely on in-house technology and customer-provided feedback to personalise each box shipped directly to the customer's door.
How does Rocksbox work?
New members take the Style Survey to indicate style preferences.
They can also select pieces directly from the Wish List.
Rocksbox Stylists send members a curated, three-piece jewellery set to wear on loan.
When they're ready for a refresh, members can swap at any time for a new set of jewellery.
Members communicate with their Stylist by leaving feedback, ensuring an even more personalised box next time.
In addition, Rocksbox members can purchase jewellery right out of their box using member rewards and discounts.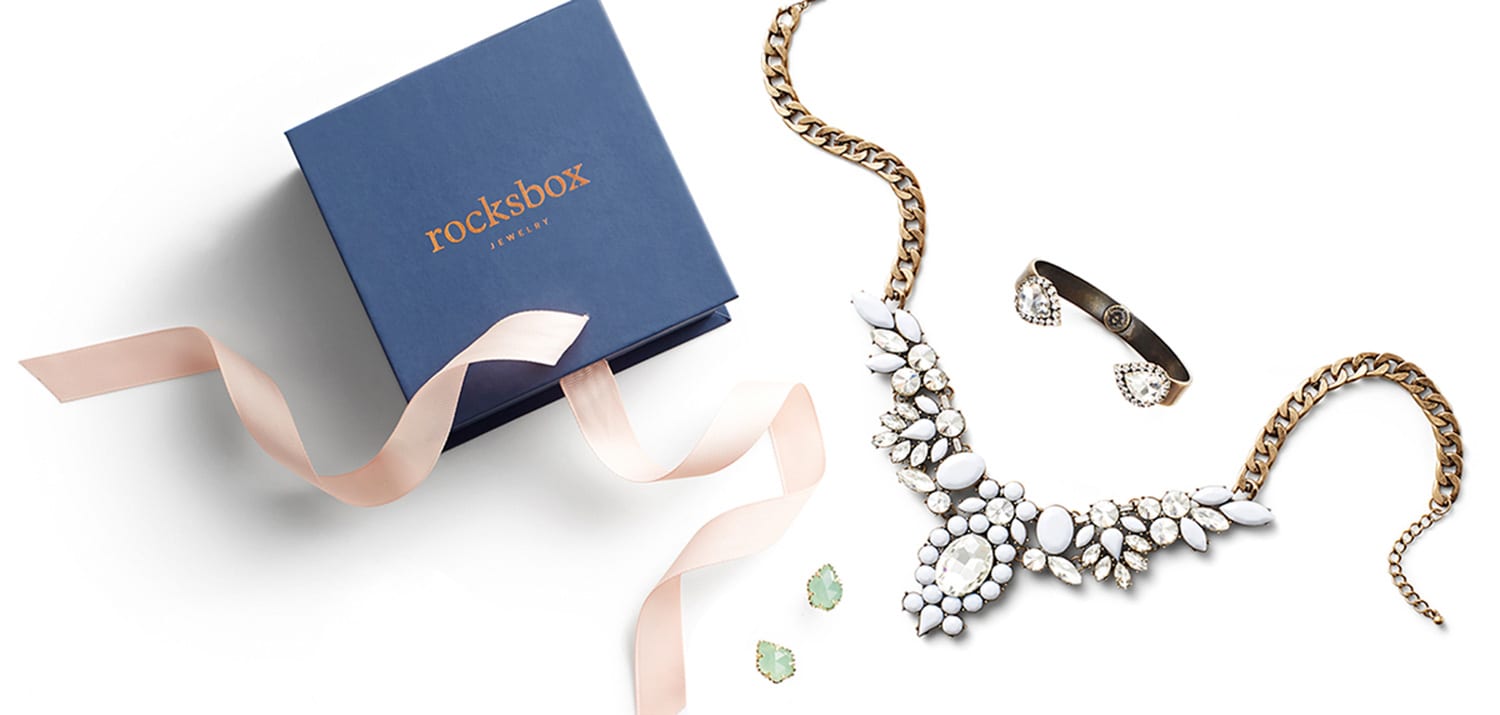 Growth Marketing
Member engagement is inherent in Rocksbox's business model, with personalisation at the core of the experience. Growth marketing at Rocksbox combines user acquisition and member engagement, optimising all points of communication to maximise ROI. The team is highly experimental and data-driven, always exploring new ways to engage their members and implementing workflows based on testing outcomes.
Email marketing and member communications are key for growth, customer activation and ongoing engagement – and this is where Iterable comes in!
One-Stop Customer Messaging
Rocksbox uses Iterable for all customer messaging, including:
blast marketing newsletters
drip campaigns
re-engagement campaigns
gifting campaigns
influencer outreach
triggered emails based on customer characteristics and actions
transactional emails for purchases, forgotten passwords etc.
This contrasts with their past use of separate systems which were difficult to scale, error-prone, lacked reporting/analytics and were not easy for a marketer to set up and use without the help of an engineer.
Iterable now allows a team of two marketers to manage engagement campaigns sending well over 500,000 monthly messages to hundreds of thousands of customers and subscribers!
Iterable is our key platform for driving customer growth and engagement at Rocksbox. We can run and optimise all our campaigns just using the Iterable tools.
Key Takeaways
Rocksbox uses Iterable for all customer engagement campaigns and messaging, eliminating the need for separate systems.
Iterable enables Rocksbox to easily run sophisticated workflows that maximise customer engagement.
Rocksbox has A/B tested every single message sent via Iterable and has achieved significant lift in metrics and ROI.
Sophisticated Campaigns and A/B Testing
Rocksbox has taken advantage of Iterable's tremendous flexibility to create sophisticated workflows and to optimise all aspects of their campaigns.
A simple example of a workflow in action is Rocksbox's feedback request workflow:
When a member's return box is scanned by the postal service, they are prompted via email to leave feedback (if they haven't done so already on the website) for their Stylist.
Rocksbox Stylists rely on this incredibly valuable feedback to curate an even more customised experience in their next box.
In a certain time period, if a member has not yet left feedback on the pieces in their Rocksbox, they will receive an email prompt upon receipt of their returned box from an Iterable workflow.
At that time, if they've already left feedback, they will instead receive an email notification with a secondary call-to-action, like a reminder to add new items to their Wish List.
This flow has been tested and has been found to have excellent results in terms of future engagement.
To make the most of their opportunities, Rocksbox has A/B tested every single message they send with Iterable. This includes testing bolder subject lines, sender name and title, main copy and more. Among other benefits, this testing has led to a 20% increase in email open rate across all campaigns, with similar gains for click-through rates, conversions and ultimately revenue for the company.
The growth marketers at Rocksbox have standardised on Iterable as their key platform for managing and optimising all ongoing customer engagement.
Iterable has made it extremely easy for us to execute and optimise sophisticated engagement campaigns with minimal engineering engagement.
dgtl fundraising
In our increasingly digital world, brands that thrive build strong, personalised relationships with their customers. For many non-profit organisations, fundraising and building donor relationships are done in-person and one-to-one – missing the opportunity of nurturing and engaging with donors online.
dgtl fundraising, an agency for non-profits, helps charitable organisations build and execute digital strategies to fundraise and campaign – integrating the online and offline experience.
"People want to support causes they care about, they want to be involved, they want to be part of something bigger than themselves," said Dani González, Founder and CEO of dgtl fundraising. "But the way they engage and get involved [with non-profits] has changed. We work with organisations to help them adapt and become truly digital." (Source)
Partnering with organisations like Greenpeace and World Wildlife Fund, dgtl fundraising helps acquire and nurture potential donors through highly-personalised, cross-channel campaigns.
"We focus first and foremost on building an emotional connection. We then look for engagement signals to indicate whether someone is a likely donor. There's a direct correlation for us between engagement and propensity to donate," said González.
Intelligent segmentation with Brand Affinity
By leveraging Brand Affinity™, an intelligent personalisation solution powered by Iterable AI, dgtl fundraising can intelligently identify and segment potential donors based on cross-channel engagement signals. Each donor (or potential donor) is assigned an affinity label indicating their overall sentiment (loyal, positive, neutral or negative), which can then be used for segmenting new audiences, tailoring customer journeys or personalising dynamic content in templates using conditional logic.
With a deep understanding of customer sentiment, dgtl fundraising can improve the donor experience by tailoring content and calls-to-action (CTA) based on where someone is in the customer journey. For example, donors with a loyal or positive Brand Affinity may receive a stronger CTA, while those identified as neutral or negative receive a softer CTA with content designed to nurture. Using Brand Affinity to tailor messaging helps optimise for conversions, minimise unsubscribes and maintain high deliverability their agency customers depend on.
Prior to Brand Affinity, the dgtl fundraising team used a series of dynamic lists to segment based on recency and frequency of engagement.
"We've been trying to get this right for a long time. We know engagement is a key indicator of someone's propensity to donate, but using our own analysis and segmentation, we've struggled to find the right interpretation to turn that indicator into a conversion."
Converting loyalists into donors
dgtl fundraising leverages Brand Affinity in a workflow designed to convert their most engaged prospects into regular donors for Alzheimer's research. Becoming a regular donor is a commitment to donate a set amount for the next 12 months. This cohort is high-value due to their recurring donation, and sees less than 10% attrition over the 12-month period – significantly less than the 20–30% attrition common with other agencies in the sector.
Historically, this workflow was segmented based on email engagement only – looking at what they called "hyperactive" users based on the recency and frequency of engagement.
Brand Affinity labels, in contrast, are dynamically assigned based on a user's email and mobile engagement signals, and are weighted based on the types of messaging a user is engaging with or the actions they are taking – in addition to recency and frequency.
Knowing that users who are highly engaged with their content are more likely to convert, dgtl fundraising tested the workflow with their loyal and positive donors. While open rates for their loyal cohort exceeded 70% (yes, 70%!), what the dgtl fundraising team found most compelling was the significant jump in conversion rates for their loyal and positive donors.
Using Brand Affinity, dgtl fundraising was able to nearly double conversion rates for their positive cohort – seeing 0.11% conversion with their previous targeting strategy, to 0.2% conversion with Brand Affinity.
Improving Facebook performance
dgtl fundraising uses Iterable's integration with Facebook to create highly-targeted Custom Audiences and drive new donor acquisition. Knowing engagement is a key indicator of someone's propensity to donate, these audiences were previously based on email open and click behaviour (similar to their approach with "hyperactive" users).
After seeing the lift in conversion from introducing Brand Affinity to their workflow strategy, dgtl fundraising tested Brand Affinity with Facebook Custom Audiences. Users identified as either loyal or positive were synced to a Facebook Custom Audience, which then received ads with donation-focused CTA. 
By combining Brand Affinity™ with Iterable's native Facebook integration, dgtl fundraising saw a 50% increase in conversion from their previous targeting strategy, with a lower Cost Per Action.
Delivering higher ROI for their non-profit customers
With a deeper understanding of customer sentiment, dgtl fundraising is now able to deliver a customer experience that is optimised for conversion, minimises unsubscribes and improves deliverability. Donors receive messaging that is tailored to where they are in the journey to becoming consistent donors – educational content for those with a neutral or negative sentiment, and more CTA-driven content for those identified as loyal or positive.
Being able to quickly identify potential high-value donors will also have implications for other areas of the customer experience. Telemarketing, for example, has historically been a lower-ROI tactic, but by introducing the Iterable Brand Affinity™ labels to identify target cohorts, the dgtl fundraising team anticipates seeing better ROI for their non-profit customers.
Results
2x increase in conversion by targeting their loyal cohort
70% open rates by targeting their loyal cohort
Zoopla
For Zoopla, one of the UK's leading property marketplaces, increasing digital engagement is the key to delivering ROI to their partners and hitting its long-term growth targets.
With over 55 million visits across their mobile apps and websites, and coverage of over 70% of UK property listings, Zoopla collects a massive amount of consumer data. That data can then be used to match homehunters to their dream property and connect Zoopla customers (estate agents and developers) to relevant consumer cohorts.
With their legacy tech stack, however, Zoopla was handcuffed to manual data queries, batch data imports and fragmented views of customer engagement. Knowing data-driven strategies based on geo-intent and Segment Personas were critical to recognising rapid growth in their business, the Zoopla team knew they needed to modernise their tech stack.
Choosing data-first to fuel growth
With their legacy ESP, Zoopla was reliant on manual SQL queries, batch data imports and best-guess segmentation.
"Our previous ESP could not handle the scale of our business. We weren't leveraging the rich data we have, and segmentation was inconsistent or inaccessible across our tech stack. Any change we needed to make required at least two weeks of engineering effort," said Chris Frost, Senior Product Manager at Zoopla.
Beyond native cross-channel and segmentation capabilities, Zoopla needed a provider with the data foundation, scalable APIs and rich partner integrations to activate their latent customer data.
"This evaluation wasn't ever about a jazzy UI. The central thing for me as a marketer is, ironically, not the marketing functionality. Those elements, if you choose wisely, feel like table stakes to me," said Adam Knight, Director of Engagement at Zoopla. "It's all about how it enables the engineering function of our business to support us as marketers so we can accelerate the pace of testing and iteration."
After completing an extensive evaluation, the Zoopla team chose Iterable's data-first approach to customer experience to supercharge their growth.
"After workshopping our use cases and mapping our data architecture – one of the most helpful phases of our review process – it became quite clear that Iterable was the best partner for us," said Knight.
Rich customer experiences with Iterable
By introducing Iterable to their tech stack, previously complicated (or altogether unreachable) use cases are now accessible.
Geo-intent, or understanding which locations a consumer might be interested in, is foundational to connecting homehunters with the right properties. For example, someone currently located in London may be looking to move to specific postcodes in Manchester. Zoopla looks to browse data, lead data, saved searches and more to determine and score consumer intent. That score is then used to deliver relevant content and recommendations tailored to the locations a consumer is interested in.
Prior to Iterable, data silos prevented Zoopla from having a clear understanding of geo-intent. Data housed in their ESP was not unified in real time to data housed in segment, or the rest of their tech stack. This disconnect gave a fragmented view of customer behaviour and limited Zoopla's ability to effectively action on geo-intent.
In addition, Zoopla launched a new programme 'Zooploma' in early 2020 with the intent of supporting and educating first-time home buyers.
"First-time buyers are a significant proportion of the market, accounting for almost 40% of all property transactions. Understanding their challenges and helping to support and guide them through the process is central to our ethos," said Knight. (Source)
With Iterable's deep integration with segment, Zoopla can now quickly identify target Zooploma participants based on a variety of attributes.
Platform and partnership for the long haul
For Zoopla, modernising its tech stack meant finding both a platform and a partnership that would unlock growth. With Iterable in place, the Zoopla team can now deploy the strategies necessary to increase engagement and build the consumer preference that is integral to Zoopla's long-term success.
Results
Unlocked revenue streams with unified customer data
More precise geo-intent targeting with bi-directional integration with Segment
Time saved by eliminating manual SQL queries and batch uploads
Fiit.tv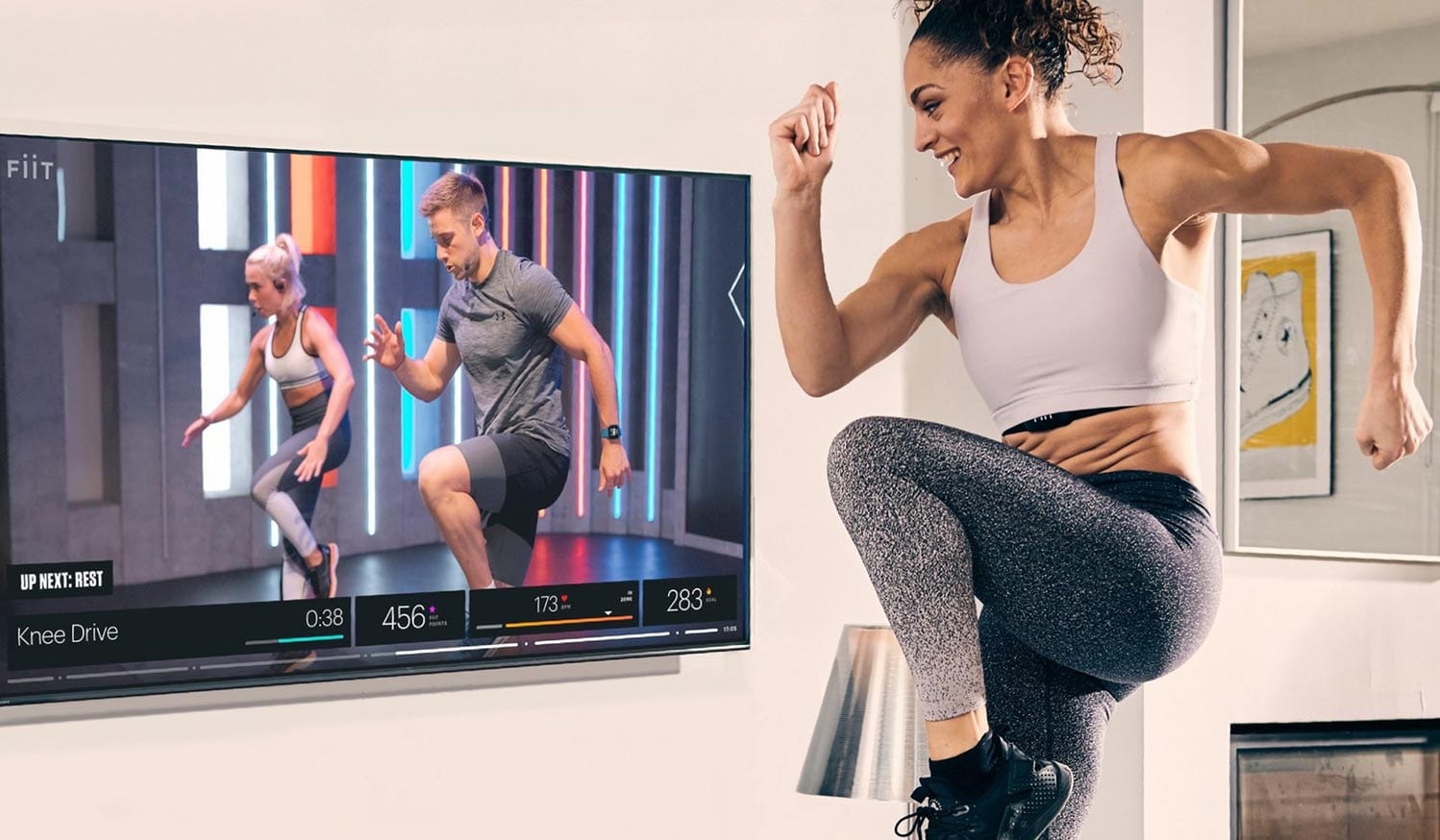 When three friends joined forces in 2017 with a mission of making the world's best fitness classes accessible to everyone, it's doubtful they could foresee the massive shift the fitness industry would experience in 2020. As the world shuttered physical gyms and boutique fitness studios, Fiit.tv was uniquely positioned to step in and fill the void for fitness enthusiasts and newbies alike.
As a UK-based subscription fitness app, available in both the Apple App Store and Google Play Store, Fiit provides on-demand classes, group workouts and tailored training plans to support every stage of the fitness journey.
While Fiit had seen healthy year-over-year (YoY) growth, nothing could have prepared them for the massive influx of new users trading in-person workouts for virtual, resulting in 300% YoY growth in 2020.
To effectively capitalise on their expanded addressable market and deliver an experience that would retain those users for the long haul, the Fiit team began testing their cross-channel onboarding sequence to optimise for conversions and retention.
Getting Smarter About Onboarding
In early 2020, Fiit introduced a 14-day free trial for all new user sign-ups. The trial period provided a finite runway for Fiit to educate new users on the various features within the app and prove enough value to encourage a conversion from free trial to paid subscription.
Fiit's existing onboarding sequence lacked clear objectives and left new users unclear on how to best get started.
"Fiit is quite a complex business, and frankly we were giving too much information to our users upfront. We included information on how to take classes, how to get started in the app, and we also included upsell information on our wearable technology," said Jimmy Davis, Head of Retention.
With too much information and not enough clear direction, trial-to-paid conversion rates dropped to just over 56% from a previous average of 60%. Given their influx of new users, Fiit knew even incremental gains in conversion would have long-term implications for their business.
But before they started testing their onboarding workflow, the Fiit team did extensive research to identify trends in their customer base and clearly define the steps a user needed to take within the trial period to increase the likelihood of converting to a paid subscription. What they found were two actionable insights.
First, users who complete a class within the first five days of the trial have a higher propensity to convert to a paid subscription. Second, Fiit was being introduced to a new type of customer they had previously struggled to capture. This new persona, "Alli", saw fitness as part of their lifestyle, held memberships of boutique gyms and had discretionary income to spend on fitness.
Knowing the optimal timeframe to engage with new users, and having a better understanding of the personas they were seeking to engage with, gave Fiit the direction they needed to experiment with their onboarding workflow.
Optimising for Peak Performance
The Fiit team already knew that Iterable's email and push notifications were the right channels to employ during onboarding, leaning on in-app messaging to engage with users once they are active in the app. Leveraging Iterable Experiments, Fiit tested both content and timing of touchpoints to determine what drove users to complete their first class within the first five days, and ultimately provide the highest trial-to-paid conversion performance.
First, Fiit A/B tested sending new users a single, recommended class against encouraging them to join a more structured training programme. They hypothesised that encouraging users to join a training programme would result in lower engagement rates, but initial results actually indicated slightly higher engagement – 63% activation within the first five days, compared to 60% activation from users who were sent a single-class recommendation.
Second, Fiit tested increasing the number of touchpoints (both email and push) on the very first day a user joins. They were concerned that the number of communications might increase unsubscribes and churn, but by capitalising on user intent, which is highest when a user first downloads the app, Fiit saw first-day activations jump from 58% to 70%.
In addition to experimenting with content and timing, Fiit added a number of filters to the workflow to identify key customer personas and ensure each user received the most relevant content. By checking the number of classes a user has completed, whether they've purchased a Fiit health monitor, what their referral source was and more, Fiit personalised every step of the onboarding experience.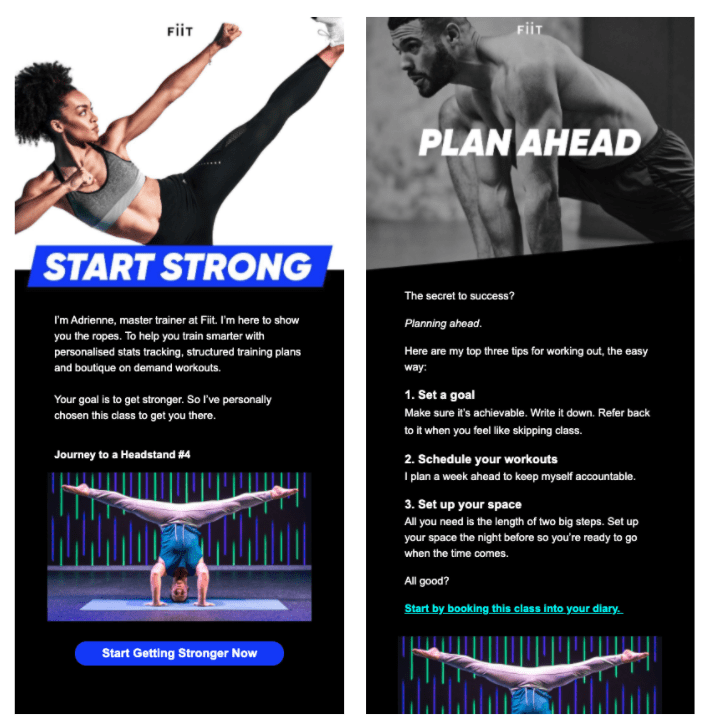 Building Strength for the Long Haul
Having the right tech stack in place enabled Fiit to optimise their new user onboarding experience and capitalise on an astounding year of growth.
Prior to leveraging Iterable's cross-channel Experiments and Workflow Studio to improve new user onboarding, Fiit's overall trial-to-paid conversion rate hovered around 56%. After testing and optimisation, trial-to-paid conversions increased to 65%.
As the Fiit team looks to the future, they're focused on establishing their platform not as a replacement for in-person fitness, but a complement to it.
"There's an interactivity between physical spaces and community that will be critical for us to tap into in order to retain this wave of new users. Fiit really is a platform we see being used everywhere – whether you're in a gym, at home or outdoors."
Results
15% increase in trial-to-paid conversions from new user onboarding
12% increase in first-day activations
TrainingPeaks
In the late '90s, elite triathlon and cycling coach Joe Friel started to recognise the limitations of traditional coach-to-athlete communication – handwritten training logs, email and fax machines weren't efficient enough to keep up with the needs of elite athletes and coaches.
In partnering with his son Dirk and family friend Gear Fisher, Joe and team built TrainingPeaks, the world's first online training log that enables coaches to connect with their athletes over the web.
Today, TrainingPeaks creates endurance training apps and solutions that help athletes and coaches prepare the right way to reach their goals.
Expanding in Audience and Channels
As TrainingPeaks grew, so did the diversity of its audience and the channels they used to engage each member. For example, coaches typically engage with TrainingPeaks on desktop, while roughly 90% of athletes prefer to engage on the mobile app.
Michelle Hiland, CRM Marketing Manager, knew that interacting with their audience in the right channel with the right content at the right time was key to increasing upsells and maximising retention, but she was limited by the functionality of their legacy tech stack.
"We couldn't use our data the way we wanted to, and the API was a lot harder for our engineers to use. We were basically limited to profile data only," said Hiland.
In addition, TrainingPeaks was leveraging two separate tools to manage its email and in-app experience. The disconnect between tools created a disjointed customer experience and crippled TrainingPeaks' retention and upsell efforts.
In order to continue growing their international network of coaches and athletes and optimise their mobile app experience, TrainingPeaks knew it was time to reassess their tech stack.
Unifying Channels for a Seamless Customer Experience
After evaluating a handful of automation platforms, TrainingPeaks chose to unify their inbox and in-app experiences with Iterable's growth marketing platform.
"Choosing a platform our engineers approved of was a big sticking point for us," said Hiland. "The fact that everything is in JSON makes Iterable really easy for them to work with."
The ability to easily get data into (and out of) Iterable enabled TrainingPeaks to build workflows that support their multi-channel customer experience, and deliver personalised content based on the events and training programmes athletes are interested in. Across their lifecycle campaigns, TrainingPeaks is now able to trigger channel-specific messages based on web, desktop and mobile app engagement.
In planning for 2020, TrainingPeaks recognised that many athletes were adding events to their calendar, but not purchasing a training plan to help them prepare. Because they had access to all relevant customer behaviour, TrainingPeaks was able to create a workflow that triggers when someone adds an event, but does not purchase a training plan. Without Iterable's flexible data integration, TrainingPeaks wouldn't have been able to capitalise on this key upsell opportunity.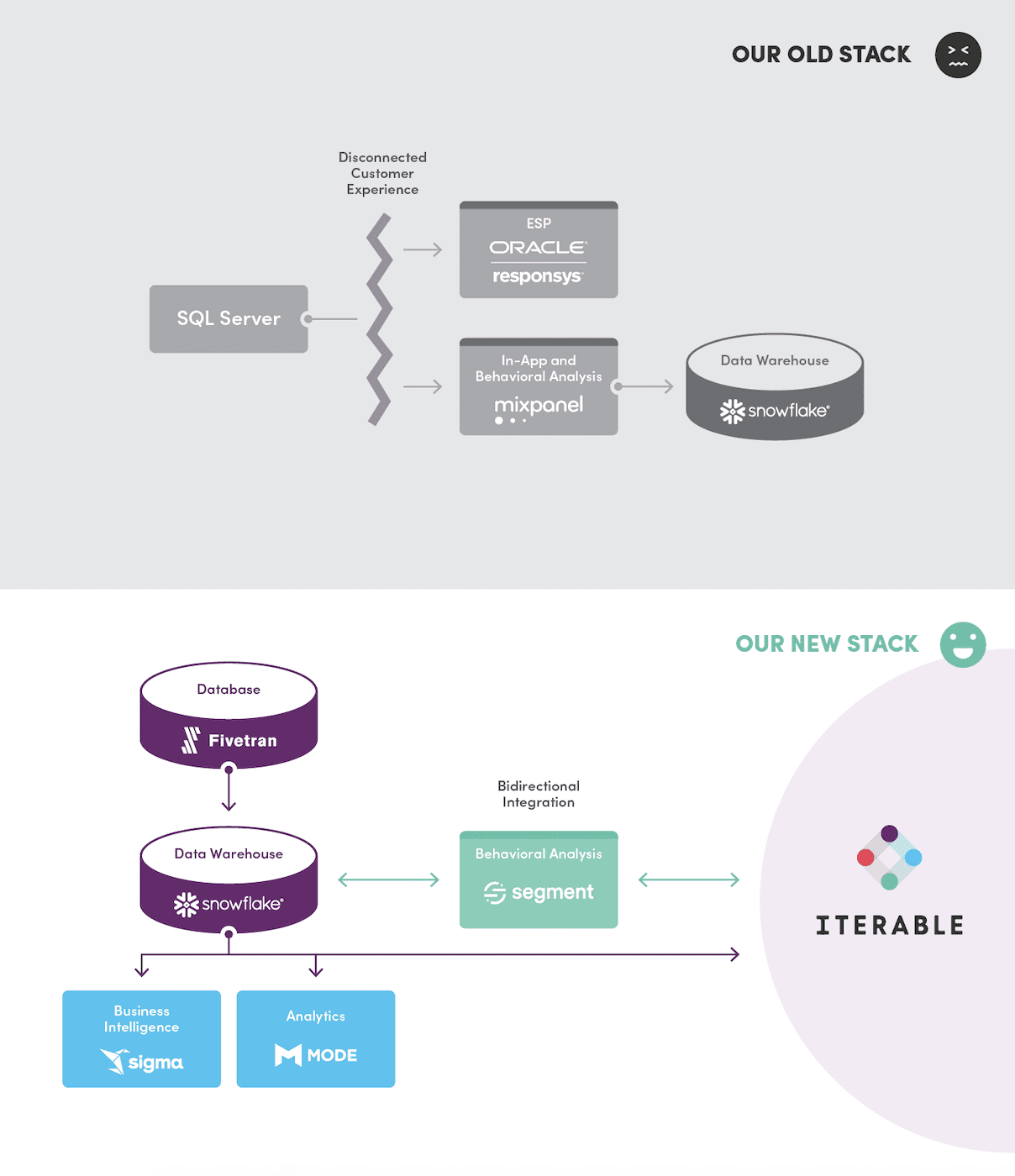 Stronger Performance for the Long Haul
Unifying their inbox and in-app experiences with Iterable has enabled TrainingPeaks to engage with its users at critical moments in the customer journey. In-app click rates have increased to nearly 70% with an average conversion rate of 6%, and the email click-to-open rate averages nearly 12%.
TrainingPeaks has also seen a drastic decrease in time spent building their weekly newsletters – what previously took 10 hours a week to create now takes less than 20 minutes, leaving the TrainingPeaks team more time to continually optimise and find incremental gains in their behaviour-based automations.
Having access to the data and the channels to deliver a cohesive customer experience has been critical for TrainingPeaks to effectively support their elite athletes and coaches. Bringing disparate data and channels into a single platform enables personalised touchpoints that consistently increase conversion rates and drive the long-term retention TrainingPeaks depends on for growth.
Results
6% in-app conversion rates
Decrease from 10 hours to 20 minutes to create their weekly newsletter
The Dyrt
From backpackers to glampers, everyone camps in their own way. Some prefer multi-day hikes. Some don't even leave their campsites, opting for the serenity of just being away from it all. For years, campers struggled to find readily accessible campsite information beyond official websites and word of mouth.
And then The Dyrt came along – a community-driven hub for outdoor enthusiasts to share their camping stories and tips for making the most of campsites. As their founder, Sarah Smith, says, "Looking at review platforms like Yelp or TripAdvisor, we thought: Why can't this exist for the outdoors?"
If ever there were a group of people who felt a sense of community, it's the campers in all of us. The only question became how The Dyrt would connect with such a widespread group of people.
A Campsite for Every Camper
The Dyrt quickly drew an engaged audience of information-hungry campers from all over the US. And as with any business oriented around community reviews, the Dyrt looked to provide personalised recommendations to each user.  Personalising at that scale proved challenging. There are countless factors to consider for each camper. Are they staying in a tent? Cabin? Campervan? Are pets allowed? Is there phone service? Is drinking water available?
increase in weekly retention rates in the app in four months
The Dyrt's mobile app allows these filters to be applied to searches, but when marketing to the individual, the company found it difficult to include this information in its messaging at scale and on every channel.
increase in open rates on push notifications
Driving Recommendations Through Catalog
The Dyrt's recommendation engine is driven by user behaviour and the filters they apply. This information is then added to a collection in Iterable's Catalog to create personalised recommendations.
Relevance is the key. No one wants to learn about a campsite that is unable to accommodate their wants and needs. And so, the Dyrt is using Iterable's data management capabilities to identify user preferences and provide hyper-personalised recommendations.
With Catalog in use, campers are now receiving messages with the best campsites based on their specific preferences, such as location and type of campsite.
To increase the effectiveness of the recommendations, the company has broken through the common problem of data silos between channels and has begun using Catalog insights to inform both email and mobile messaging.
The Perfect Push per Person
Campers are always on the go – or at least looking for the next adventure. The Dyrt understands this and has built a comprehensive mobile app, which includes mobile marketing strategies and gamification to ensure campers never miss out.
In order for each user to receive the perfect set of recommendations on their mobile device, The Dyrt worked closely with Iterable to ensure the right message found the right person. Tapping into Iterable's data flexibility and depth of API capabilities, the company built a use case that is best suited for its business needs, as well as those of its customers.
As mentioned, the Dyrt utilises the information for Catalog to build out its recommendations for push notification campaigns. From there, the company works with react native libraries to identify the activity types for each push notification, such as if the message has been received versus if it has been opened. Iterable then sends a JSON payload allowing for customisation of the push with rich push features like imagery.
The Dyrt then tracks push open rates through easy-to-use APIs. With this flow of data in place, the company is able to more closely monitor user behaviour at each stage to inform the success of future campaigns.
The Results
Providing relevant recommendations shows users you're paying attention. The Dyrt has built a trusting relationship with its users through this process, ensuring users can easily find their dream campsite. And the results have shown that this level of care and understanding leads to loyal, longer-term users.
Aspiration
Aspiration, a Los Angeles-based neobank, provides a socially conscious digital banking alternative to traditional financial institutions.
"At the heart of Aspiration is a mission: helping our customers make money and make a difference at the same time." (Source)
Through its "Dimes Worth a Difference" programme, Aspiration donates ten cents of every dollar earned to charitable organisations focused on expanding economic opportunities. And while its product and service offerings mirror what you might find at a traditional bank, each offering is structured with social consciousness and sustainability top-of-mind.
To engage with its socially-minded customers, Aspiration relies heavily on email and mobile push notifications. Having "exploited the limits" of its previous marketing platform and recognising the opportunity of a more personalised customer engagement strategy, Aspiration unified its cross-channel customer experience with Iterable.
"We wanted to build a very future-forward tech stack that addressed the data challenges that would have prevented us from scaling. Our ultimate goal was to elevate our communications to the level our customers deserve. That meant engaging with them based on where they are on our website and building triggered automations that engage at just the right moment, with the right content."
To engage with their customers at the right moment, Aspiration leverages Iterable's Send Time Optimisation (STO), which applies machine learning to automate and personalise the optimal send time for each unique recipient. Powered by Iterable AI, STO has enabled Aspiration to more than double open, click and conversion rates.
Turbocharging Campaigns With AI
Prior to STO, the Aspiration team tested and tweaked campaign send time in order to optimise for engagement. While tailoring send time to the segment or time zone improved engagement, it lacked the ability to continuously learn, adapt and personalise send times across channels at scale.
"When you're engaging with hundreds of thousands of people at a time, it's impossible for even the most data-driven marketer to anticipate the optimal send time for their users. With Iterable's AI solutions, we're able to optimise our marketing beyond what would ever be possible using our decisioning alone."
The first time the Aspiration team applied STO to a campaign, they saw an immediate increase of over 100% in open and click rates. By analysing historical engagement data and weighting more recent engagement signals, Iterable STO predicts the optimal send time for each unique individual.
"When I first saw the results of the campaign with STO, I was truly shocked. I assumed we'd see some percentage lift in engagement, but more than doubling engagement across the board (opens, clicks and conversions) was astonishing."
Following the success in campaigns, Aspiration introduced STO to their workflows. They ran an STO experiment in Workflow Studio designed to increase engagement with low engagement users. The results showed a 27% increase in open rates of customers who received the STO-enabled email compared to the control group.
Looking to the future, the Aspiration team will continue to seek out AI-driven solutions for the ability to improve performance beyond what they could ever do on their own.
"Even with the largest, most technical marketing team, I could never match the results we see with Iterable AI."
Results
2x open, click, and conversion rates for email and push campaigns
27% increase in open rate for re-engagement workflow
PicnicHealth
*Note: Any business subject to HIPAA compliance requiring a Business Associate Agreement (BAA) should contact the Iterable team to learn more about Iterable HIPAA requirements and exclusions.
It's no secret – the healthcare system is complex. As patients, navigating a web of providers and specialities is not only frustrating, but also creates a disconnected view of our medical history.
For PicnicHealth co-founder and CEO, Noga Leviner, being diagnosed with a chronic illness and lacking a single, comprehensive view of her medical history was just the "aha!" moment she needed. Started in 2014, PicnicHealth is a platform that combines patient medical records into a single, easy-to-understand timeline and allows users to share that history for anonymised medical research.
Early on, PicnicHealth's homegrown marketing solution was enough to support their nascent email and automation needs. But as their platform and research programmes grew, they recognised that the engineering effort spent maintaining their marketing tools could be better spent on the PicnicHealth platform.
With the security and privacy of sensitive patient data top-of-mind, the PicnicHealth engineering team (the marketing team didn't even exist yet!) set out to find a solution that would minimise their time spent coding email logic while also allowing them to deliver a more seamless user experience.
"Flexibility in automations was our biggest priority – finding a solution that would give our team access to the data and events they needed so they weren't continually reliant on engineering." 
Recognising the Opportunity of Personalisation
Helping tens of thousands of patients better navigate their unique medical history requires personalised touchpoints that put the patient first. From new user onboarding to updating user profiles as additional medical history became available, the PicnicHealth team was spending tens of hours a week manually segmenting their users and building emails in their homegrown marketing tool.
As part of onboarding, one of the most critical milestones in the user journey is signing the consent form that enables PicnicHealth to collect a patient's medical records. While many users opt for a one-time collection of their records, the customer experience and PicnicHealth's research programmes benefit greatly when users subscribe to recurring record updates. For the user, their PicnicHealth record stays up-to-date with a comprehensive view of their history, while PicnicHealth's research programmes gain valuable real-world data with patient-reported outcomes – insight not included in traditional clinical research.
With their homegrown marketing tool, nurturing users to sign up for ongoing medical record collection required the PicnicHealth team to manually segment users who had not opted in to recurring updates and send an additional consent form. This manual process was inconsistent and wasn't producing the results they hoped to see.
Recognising the extent of their limitations in segmentation, automation and analytics capabilities, as well as the burden of their homegrown solution on their engineering teams, PicnicHealth upgraded their tech stack to include Iterable.
Tailoring the Customer Experience with Iterable
With Iterable, PicnicHealth nurtures each user differently based on their medical condition, the types of doctors they've added and the opportunities to improve the quality of their medical history. For example, some research programmes offer compensation, while others request additional surveys to be completed to gather patient-reported outcomes.
"We evaluated other marketing tools, but they didn't have the advanced segmentation logic we needed for our diverse customer base," said Justin Maslin, Software Engineer at PicnicHealth.
Since making the switch to Iterable, the process of identifying and nurturing users to complete the ongoing medical history consent form is now fully automated, with a nearly 90% conversion rate.
"We've really just scratched the surface. We know there's so much more we can do. I'm really happy we're using Iterable because I know it will grow with us – that's the reputation. When I pinged other lifecycle marketers and asked what platform they would recommend, they said 'Iterable'."
Prior to Iterable, 25–50% of an engineer's bandwidth was dedicated to building and managing email logic in their homegrown solution. Today, PicnicHealth's marketing team is largely self-sufficient and able to easily support the continued expansion of PicnicHealth's research programmes.
Results
90% conversion rate by automating consent request
10 hours/week saved in customer support by automating consent request
2 hours saved in engineering time for each new email campaign
UpHabit
UpHabit has been called a CRM by some, but as Founder and CEO Neil Wainwright puts it, "UpHabit is about helping you build personal relationships." The company leans heavily on the "R" of CRM, focusing exclusively on you and your relationships.
Any type. Personal. Professional. Acquaintance. Friend of a friend. Anyone in your contacts list. UpHabit makes it easier to maintain these connections through customisable reminders and follow-up prompts. In the age of endless games of phone/text/message tag, UpHabit keeps the world a little more connected… one relationship at a time.
"We don't tell you what to say. We just say now's a good time to talk to that person," adds Wainwright. With decades of product and customer experience, it only makes sense that Wainwright chose such a common obstacle to tackle.
It's such a simple thing, but those are how we make good habits.
Keeping the Customer Engaged… and In-App
For UpHabit, the user experience is a focal point. Since declining attention spans helped expedite the need for UpHabit in the first place, Wainwright and team knew their communications with users had to span across channels. Otherwise, they ran the risk of less engagement. Email campaigns were driving users to the app, but UpHabit wanted to see more sustained involvement and engagement. "I always knew we needed a customer engagement solution to improve the way our users interact with the app."
Increase in subscriber conversion
After some searching, UpHabit chose Iterable for its ease of use and flexibility. The UpHabit and Iterable teams partnered to create a more seamless experience for the user. In line with UpHabit's vision, Wainwright sought a customer engagement platform whose team would align with the culture he fostered internally. When referencing Iterable, he said, "I liked the team and the approach the most. It was very much about helping us in making sure we made the right choice." This partnership mentality resulted in a smooth implementation and onboarding process – something UpHabit has achieved using their in-app communications.
drop in subscriber churn.
Using Iterable for a Streamlined Customer Experience
A modern relationship is inherently cross-channel. From texts to social media direct messages to emails to the good old phone call, there are seemingly endless ways to get in contact with someone. It's about finding the right method that works for each relationship. Much in the same manner, UpHabit worked with Iterable to find the best cross-channel strategy to streamline the customer experience. With consistent messaging reaching across mobile and email, UpHabit is able to sustain a relevant conversation with users. In particular, UpHabit set its sights on in-app messaging as a core piece of its marketing strategy. After all, a message directly in the app is likely to promote further usage and interaction with the product.
While many in-app functions take over the whole screen and cover the app itself, Wainwright knew there had to be a better way. "I wanted a more immersive experience with our app than you'd normally get." After talking with Iterable, he found it. Using Iterable's platform flexibility, UpHabit customised their in-app messaging using their own JSON payloads to incorporate their design and create a more dynamic experience. From there, with behavioural data, the company encouraged users to interact with the app.
Small efficiencies like these – in conjunction with the strength and functionality of Iterable's Workflow Builder – have helped UpHabit build their own direct relationships with users. For new users that have completed the onboarding process, UpHabit utilises a comprehensive cross-channel welcome campaign to ensure users are aware of the platform's breadth of capabilities – even providing tips and tricks on how to best utilise important features and functions. Based on dozens of event triggers and behavioural data, UpHabit built a detailed, 90-node workflow within Iterable to contact users via multiple channels – email, push notification and in-app – to cultivate a strong foundation from which customers can build their relationships. In this workflow, UpHabit even sends a survey directly from Wainwright. His goal is to keep an open conversation with users for an enhanced customer experience. The cross-channel welcome campaign does just that. "Customers often freak out how quickly I reply!"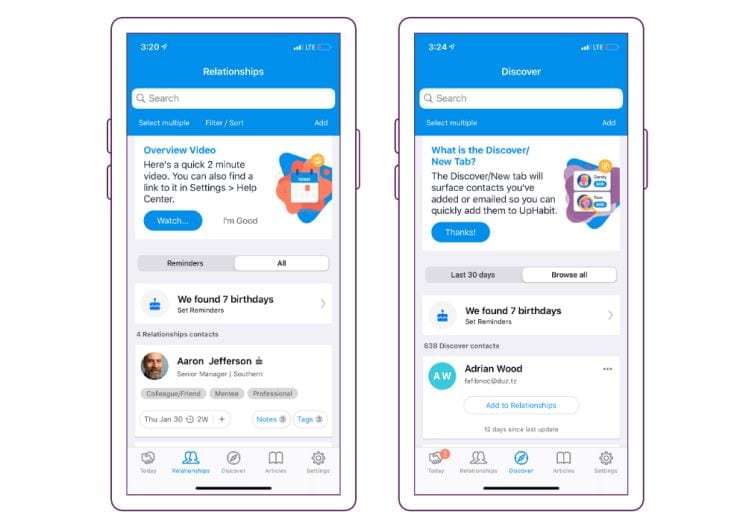 Results of In-App
Customisable message design to include text, graphics, animations, calls to action, and more.
Data flexibility to send tips and tricks based on user behavior to highlight important app functionality
Offer beta signups for new features to engaged users in the right context at the right time
Building Meaningful Relationships
The UpHabit-Iterable partnership makes valuable connections easier. These connections are not linear either; they create a network. By incorporating Iterable into their latest product enhancements, UpHabit has seen this network grow with a 718% increase in subscriber conversion and, perhaps more importantly, maintain its size, seeing a 42% drop in subscriber churn.
With Iterable's technology and expertise simplifying the customer journey, UpHabit has helped users create more meaningful relationships while simultaneously building a more meaningful relationship between the company and its customers.
Our users feel a lot closer to us because they know we're always engaging with them. We're always a click away.
Care/of
Download PDF
Care/of (www.takecareof.com) was founded on the principle that the choices we make regarding nutrition, health and fitness are highly personal. The company produces made-for-you vitamin packs that are personalised for each customer's health and fitness goals, diet and lifestyle. So it's not surprising that the Care/of growth team employs the same made-for-you approach when it comes to interacting with customers.
Decrease in unsubscribe rate year over year
Anu Verma, head of marketing, says that the emphasis on personalising interactions based on customers' interests, health goals and the combination of vitamins and supplements they take is a major reason the company selected Iterable as its growth marketing solution.
Iterable's omni-channel marketing platform enables Care/of to segment customers based on their health goals and deliver elegant and highly relevant content across email, social, SMS and other channels.
With Iterable, we're segmenting customers based on the high-level goals they've shared with us and personalising content around those goals as well as around the products in their personalised vitamin packs.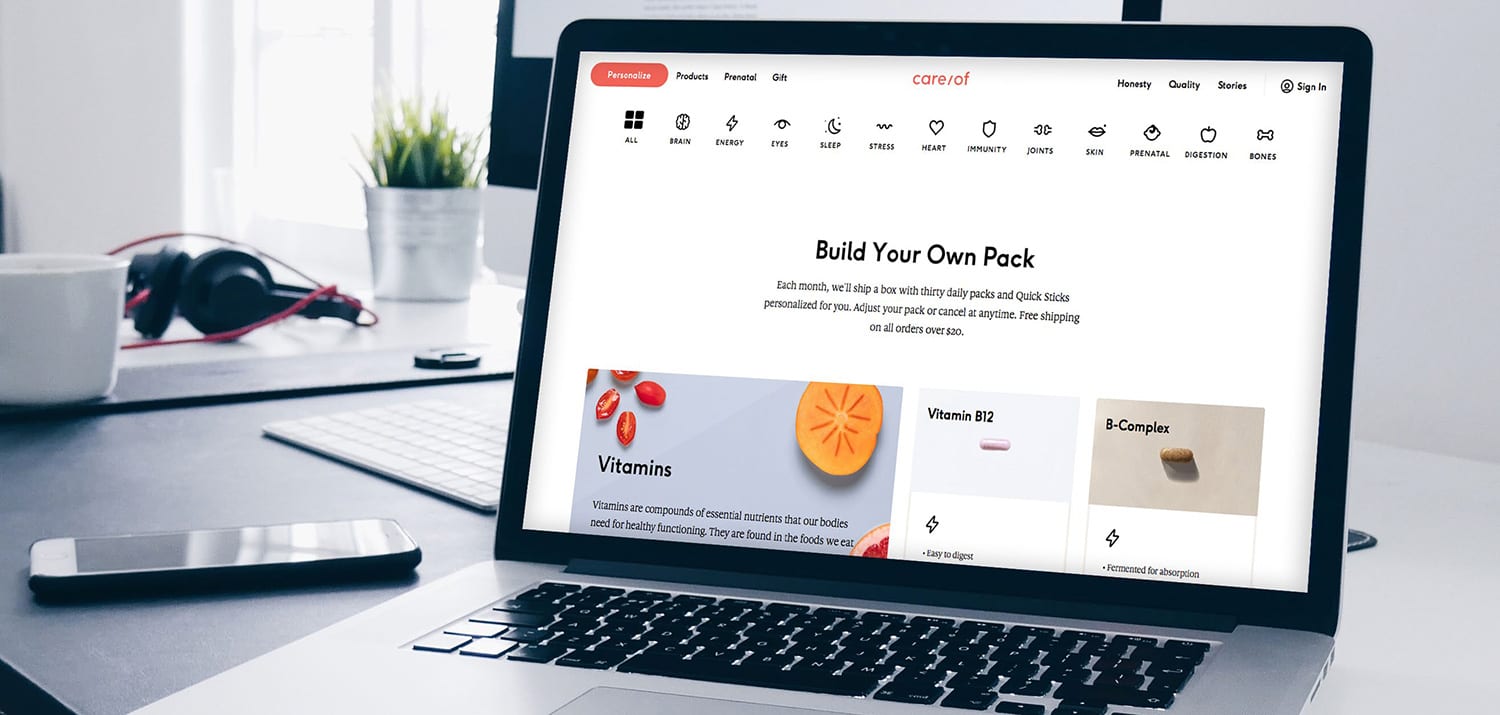 Creating Two-Way Conversations
The personalisation process begins when site visitors click the Personalise button on the Care/of website. The process guides consumers through a series of questions that capture such information as name, gender, lifestyle/habits and goals for diet, health and fitness. Placing that first order triggers the post-purchase workflow that welcomes new customers to the Care/of community and follows up with content tailored to customer goals and the products in the customer's personalised pack.
Increase in open rate year over year
"With Iterable, we're able to segment customers based on what they want to accomplish, their knowledge level, the importance of scientific data in making their choices and their openness to ancient and traditional medicines," Anu says. "Personalisation helps customers see the connection between our products and their goals. It promotes a two-way conversation that enhances the customer experience and allows us to gain more insight into our customers – for example, capturing order dates, changes in the personalised pack and referrals."
Increase in email sends year over year due to personalisation
The more personalised approach is yielding gratifying results. Open rates from active customers rose 27% year over year (YoY) and active customer unsubscribe rates dropped 38% YoY. The intuitive user interface has boosted productivity, enabling marketing to increase the number of email sends to active customers by 138% YoY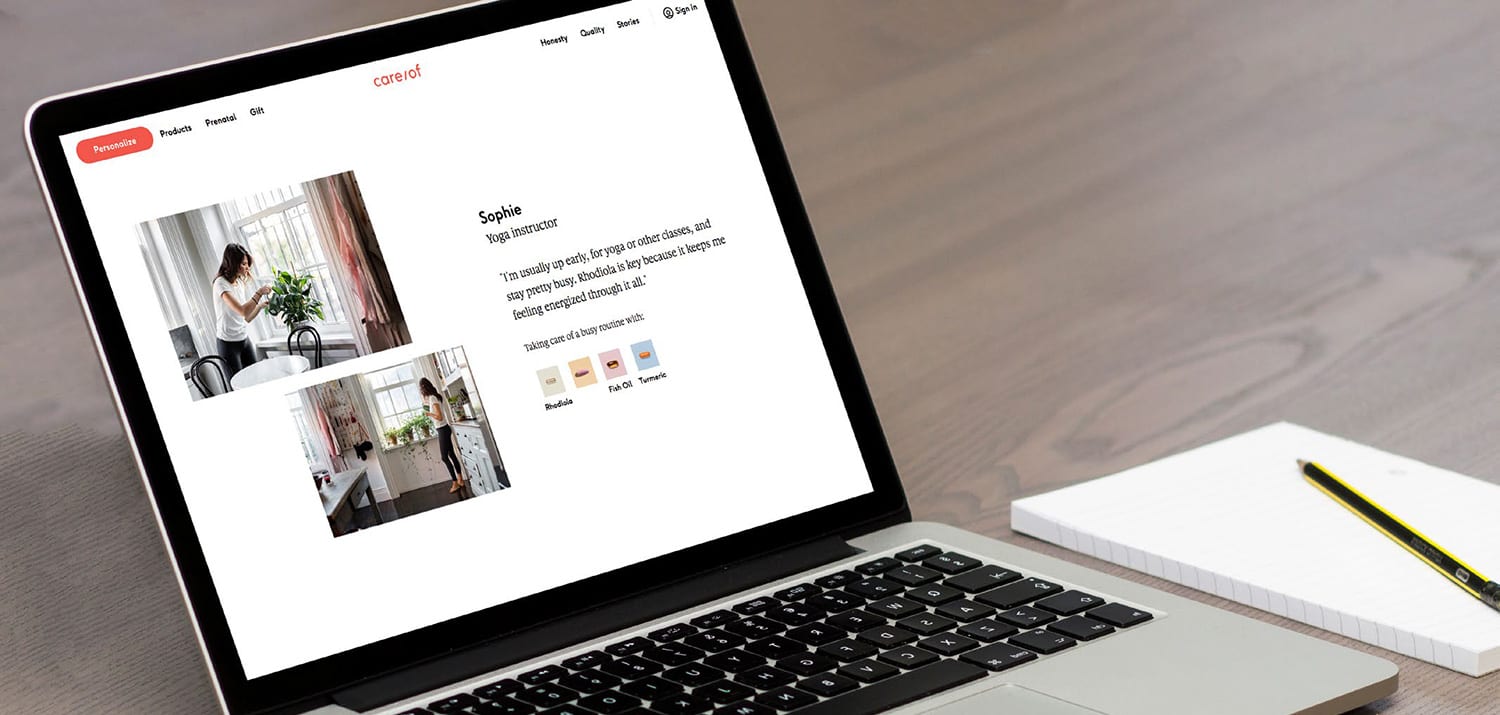 Encouraging a Sense of Community
The post-purchase workflow also provides a means of encouraging participation in the Care/of community. Anu says that getting customers to share workout routines, healthy eating tips and successes helps strengthen a sense of belonging. "One way we do that is by featuring user-generated content, such as Instagram posts, in email messages to our customer base. With Iterable, marketers can move user content into a message with a few simple edits."
Care/of also circulates information about trending health topics, articles and riddles in its monthly newsletter, providing engaging, often educational, health content with a dose of fun and creativity. In setting out to dedicate an editorial and creative voice to a topic with real depth – health and wellness – Care/of makes use of a broad tool set available within Iterable, including A/B testing content and copy, segmenting users based on interest area and workflow functionality.
Results
With Iterable, year-over- year open rates rose 27%, unsubscribe rates dropped 38%, and email sends are up 138%.
Personalisation promotes two-way conversations that provide rich insight into customer interests and needs.
Segmentation based on customer goals enables Care/of to deliver elegant, highly relevant content across channels.
A/B testing enables marketers to continually improve the performance of content and copy.
HoneyBook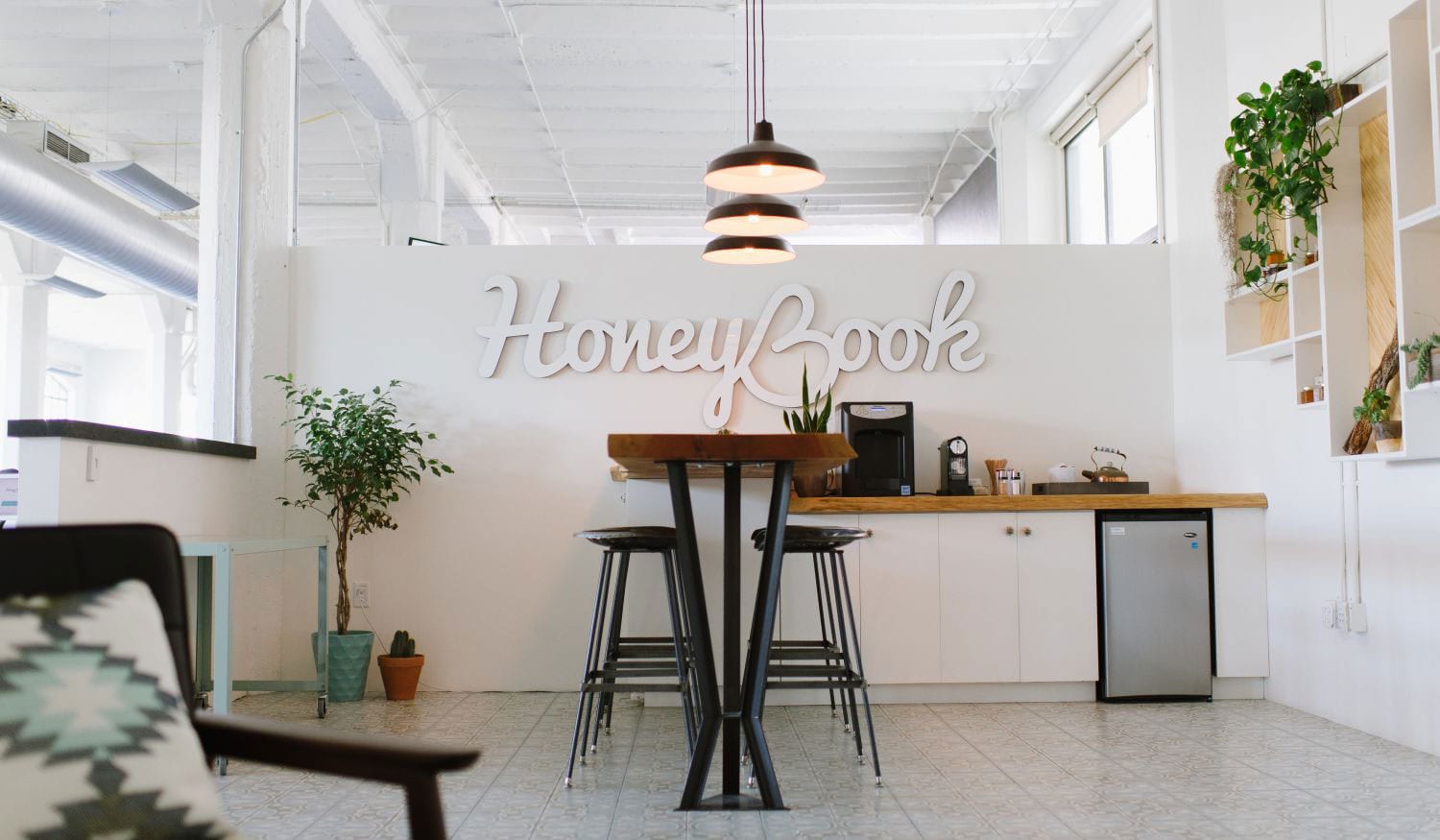 Freelancers and small business owners – including photographers, designers, marketing consultants and lawyers – start their businesses to pursue the craft they love. Too often, however, they have to spend much of their time bogged down by paperwork and overwhelmed by accounting.
That's why so many of them have turned to HoneyBook. This end-to-end client management app streamlines project tracking, bookings, invoicing and payments, giving these entrepreneurs more time to devote to creative endeavours.
In 2019, Loren Elia, Director of Product Management at HoneyBook, and her team realised that their marketing platform was not the right fit for the company's business model. Replacing the platform became an urgent matter as their contract was up for renewal in just a few weeks. Unless the team moved quickly they would be forced to stay with the wrong tool for another year.
The team identified Iterable as the ideal solution for their requirements. After moving their campaigns over to the Iterable platform, the team was executing campaigns in just 15 days.
With Iterable, we can test, iterate, learn and adapt. As a result, we are improving campaign effectiveness over time in a smooth and consistent way.
Rich Functionality
HoneyBook's previous marketing system could not keep pace with the company's rapid growth. Dynamic personalisation, multi-channel capabilities and robust A/B testing were just a few of the features missing. Marketing and Growth managers could not get a full picture of the communications that customers received, so they could not track a lead's progress from initial contact through conversion and beyond.
Increase in conversion rate to become a paid subscriber
Consequently, they lacked the visibility to create a cohesive lifecycle strategy. "We chose Iterable over other tools for several key reasons," Loren says. "We liked Iterable's functionality, which makes it easier to personalise content for specific customer segments. Our engineering and data teams were impressed with Iterable's APIs and documentation and convinced that Iterable would be the easiest and fastest solution to implement."
of goal for the second half of 2019 due to campaigns
Fast Time to Value
With close collaboration across their product management, engineering and data teams and Iterable's implementation consultants, HoneyBook completed the Iterable migration in just 15 days and went on to expand on their current communication strategy through the rest of their implementation.
Prior to starting, product management carefully documented all current campaigns along with their data properties, user triggers and audience descriptions. Iterable's Implementation Consultants also provided guidance on the best, most efficient way for HoneyBook to achieve its goals that helped scale over time. These efforts established a clear roadmap for the cross-functional implementation team.
Loren also noted that Iterable's excellent support and documentation helped fast-track the implementation process. "The Iterable support team was quick to respond with answers to our questions," she explains. "And while we had a few training-related questions, the system is intuitive." 
With Iterable in place, HoneyBook is now focusing on marketing campaigns that drive growth for both the short and long term. The team has built multiple campaigns to address various lifecycle stages, including encouraging new leads to start a trial, guiding trial users through the onboarding process and engaging new subscribers so they understand how to leverage HoneyBook's capabilities to grow their own businesses.
"With Iterable we can continually feed new leads into the funnel," Loren concludes. "And we can now move people more effectively through the lifecycle – from the time they start a trial through conversion and finally to a subscription."
More effective, personalised lifecycle campaigns have not only made it simpler for HoneyBook to focus on subscriber activation and retention, but also streamlined the process for users to enjoy the full extent of the benefits Honeybook offers.
Results
Iterable and HoneyBook worked together to shorten the time-to-value to just 15 days.
Robust segmentation and personalisation enable HoneyBook to reach prospects with relevant content.
A/B testing allows marketers to fine-tune content, timing, and other factors to improve campaign effectiveness.
The email conversion rate to become a paid subscriber increased by 44% among key audiences, which allowed the team to reach 155% of their goal for the second half of 2019.
Reporting is simpler and more efficient with Iterable. We can create dashboards in our business analytics tool in minutes instead of having to manually enter the subject line of every email we send. This gives everyone in HoneyBook much better visibility into our campaigns, which allows us to collaborate and iterate faster.
SeatGeek
Download PDF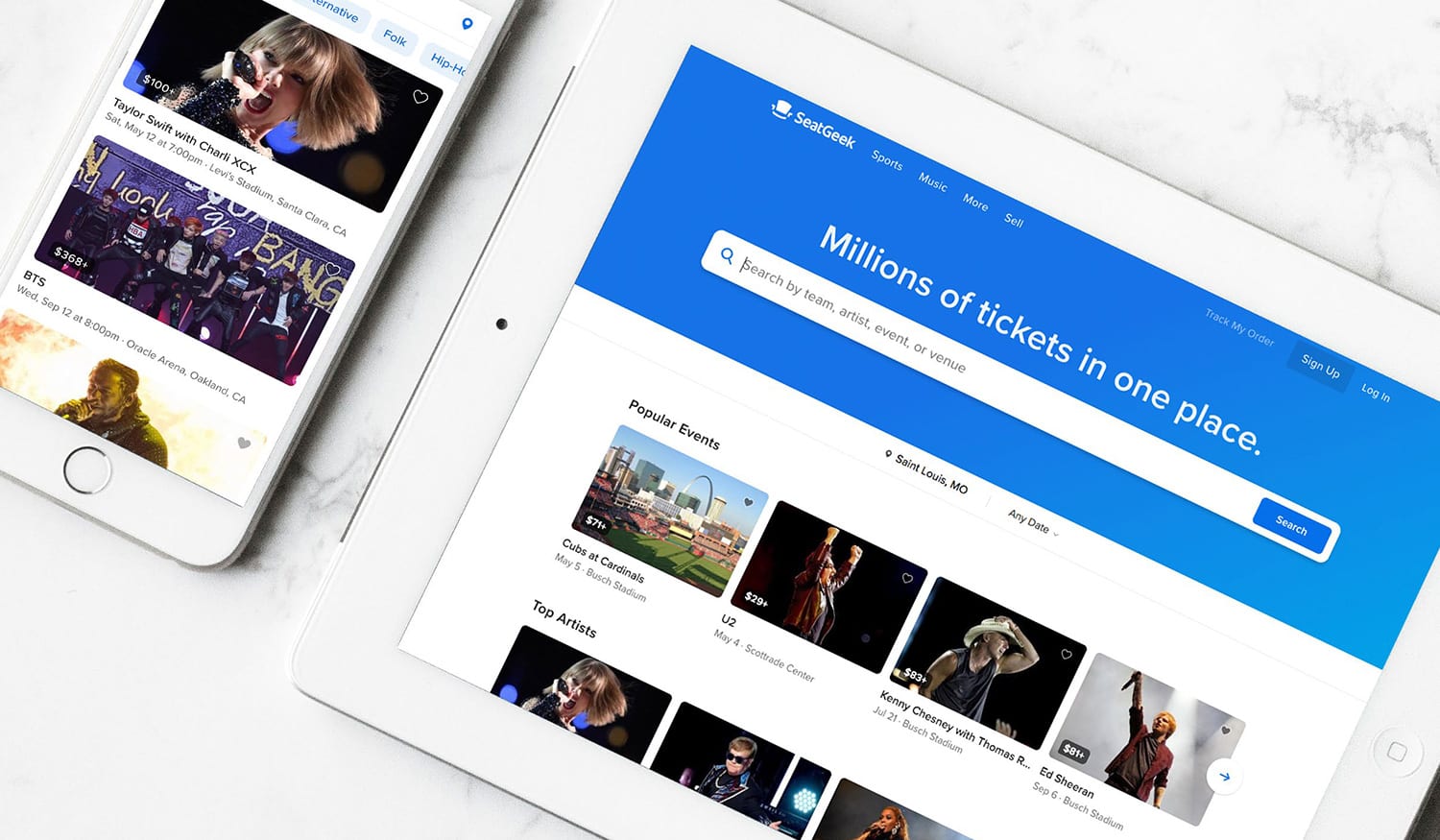 Whether they want tickets for the next Lady Gaga concert, the World Series, the Indianapolis 500 or Hamilton, people are quickly discovering that SeatGeek is the place to find the best selection and great bargains. This relative newcomer to the online ticket business has quickly grown to offer the largest inventory of live event tickets on the web, in addition offering differentiating services like best-bargain ratings and notifications when a fan's favourite team or entertainer will be performing nearby.
Increase in revenue from email and push
Email and push have been the primary channels for interacting with customers. However, according to Ben Clark, Vice President of Customer Retention, the marketing team previously struggled to deliver consistent, relevant messaging across channels because their email and push tools ran on separate platforms. The old tools were cumbersome to use and offered limited functionality. Worse yet, they didn't support the team's AI-driven, omni-channel marketing strategy, which includes reaching customers through SMS, in-app messaging and social media.
Increase in 4Q17 sales attributable to ad hoc email using data feeds
We didn't want an email application with mobile capabilities bolted on or vice versa. We wanted a platform that was architected to support the channels we use now as well as the ones we plan to use in the future. That requirement ruled out pretty much every solution except Iterable.
Tackling the Complexity of Selling Tickets for Live Events
It takes innovation and creativity to take market share from well-known, high-visibility incumbents that have been in the ticket business for decades. Increasing brand awareness, however, is just one of the challenges SeatGeek marketers face. Selling tickets for live events is complicated. At any given time, hundreds of thousands of events are happening and the majority of sales for any given event occur close to the event date.
Ben notes that the incredible diversity of the audience further complicates the marketing effort: "There's a huge difference between the baseball customer and the person buying tickets for an indie concert. Plus there are intrinsic challenges in operationalising, advertising and messaging specifics for a product like ours. Without geotargeting, for example, our messaging may be irrelevant and we have calendar restrictions to consider. The bottom line is we have to be very precise about our messages and the channels we use."
Increase of users reached by adding push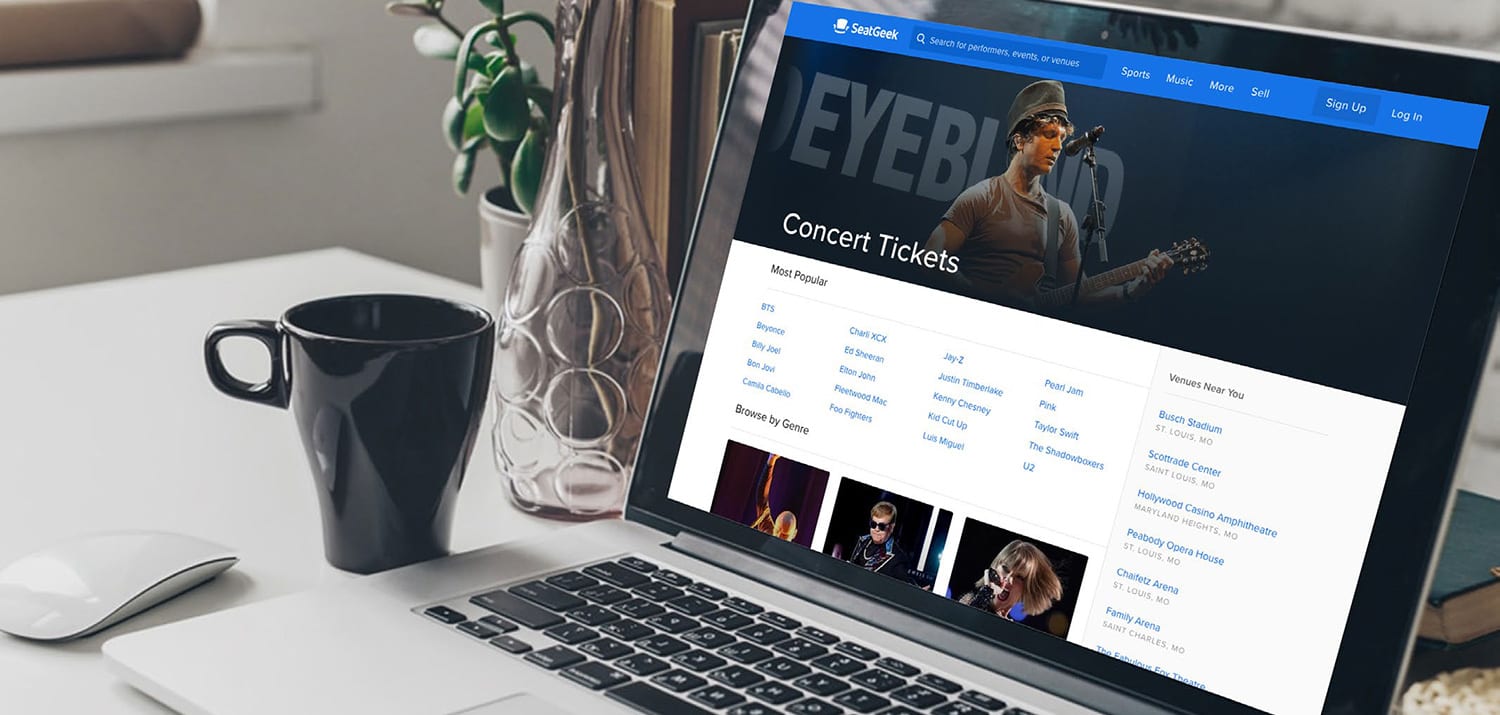 Taking a Consolidated, Personalised Approach
Since implementing Iterable two years ago, the marketing team have consolidated all types of email as well as push notifications onto the Iterable platform, including:
Transactional messages triggered by purchases – for example, purchase confirmations and ticket deliveries – as well as routine transactional messages for such requests as password resets.
A completely automated weekly newsletter with content personalised based on customer purchases, location and website behaviour combined with suggestions derived by SeatGeek's recommendation engine.
A welcome workflow that builds engagement with customers who open an account with SeatGeek.
Driving Revenue Increases
"We're very close to achieving our vision of maturity for email as a channel. We're also making great progress with push and we're using Iterable to experiment with artificial intelligence, SMS and in-app messaging to better understand what kind of metrics we can achieve in each channel. With that information, we can make a case to the business and justify spending in other channels," Ben says.
Results
Consolidation of all email and push interactions onto a single platform ensures consistent messaging across channels.
Easy-to-use interface allows marketers to create highly granular customer segments and complex workflows without engineering help.
Data feeds enable precise targeting and personalisation of messages, which enhances customer loyalty and encourages repeat business.
Testing provides insight into which campaigns and channels work best, improving decisions on how to allocate marketing spend.
Since switching to Iterable, email-attributable growth has outpaced almost every other segment of our business, nearly tripling year over year.
99designs
Download PDF
99designs, the world's largest on-demand design marketplace, makes it easy and affordable for people to connect with designers – whether it's an entrepreneur looking for a logo design, a business owner redoing a website or a writer searching for a book cover illustration.
The company's go-to-marketing strategy – to position the company as both a marketplace for designers and a provider of a dependable product for consumers – presents a challenge to the 99designs growth team. This requires tailoring marketing campaign messaging for two highly diverse audiences: businesses in need of design services and tens of thousands of designers looking for projects.
According to Kelly Inglis, marketing manager, and Kelly Morr, senior manager of content strategy, Iterable is helping the marketing team improve open rates, click-throughs and conversion rates. Why? Because Iterable enables 99designs marketers to segment customers in a highly granular manner and target customers with personalised messaging that engages them more effectively.
Iterable is allowing us to segment customers more effectively and personalise the messages we send them. By delivering relevant content to the right people we're driving up engagement.
Targeting and Personalisation Improve Campaign Results
Before implementing Iterable, 99designs marketers were struggling with a legacy marketing tool that wasn't marketer-friendly and required extensive engineering support. Creating small, highly targeted customer lists was just not practical considering the amount of technical assistance required. With Iterable's rich feature set and intuitive user experience, the 99designs growth team can now easily segment customers and personalise content without extensive engineering support.
"One of the big advantages of Iterable is the integration with Segment, which gives us easier access to customer data and allows us to build our own lists," Inglis explains. "We're able to customise our targeted campaigns based on such factors as previous purchases and not completing a purchase. Our abandonment campaign is now delivering better results because the message content refers to the design category under consideration and speaks directly to what the prospect is looking to buy."
Increase in conversion rates for industry-specific campaigns
Innovation Drives Engagement
With Iterable, the team spends less time on the back-and-forth between marketing and development. Consequently, team members have more time to focus on strategic activities such as finding innovative ways to make campaigns more engaging and more profitable. The focus on strategy is paying off:
Personalising the post-purchase campaign series based on industry has increased open and click-through rates and, ultimately, helped double conversion for the entire series.
A revamped email newsletter is increasing engagement with highly relevant content that people are excited to see in their inboxes.
A design contest follow-on campaign invites customers to "work with your winning designer on another design project".
Messages include the winning designer's name, a link to the designer's profile and other elements related to the contest.
Business Results
With the implementation of Iterable, 99designs marketers have more visibility and control over their campaigns. Because Iterable is so easy to use, channel managers now have full ownership of their campaigns.
The improved campaign performance is validated by quantifiable results, as the post-purchase series clearly demonstrates. Improvements in that campaign include an 11% increase in open rates and a 36% rise in click-throughs resulting from the incorporation of industry-specific campaigns. Industry-specific personalisation also ultimately helped double conversion rates for the entire series.
Results
Eliminating the back-and- forth between marketing and engineering accelerates campaign creation and time to execution.
Segment integration facilitates access to customer data, enabling marketers to build their own customer lists for targeted campaigns.
Targeted, personalized campaigns generate higher open, click-through, and conversion rates.
Channel owners have better visibility into and control over their campaigns.
With Iterable, a channel owner who wants to conduct a survey or run a Facebook campaign can create the customer list, build the campaign and test various elements of the messages to see which combination delivers the best results – all without technical assistance.
Fender
Download PDF
Fender was founded in 1946 by Leo Fender, a radio repairman whose experiments with Hawaiian lap steel guitars grew into the world's leading guitar manufacturer. Over 70-plus years, Fender has produced some of the most iconic guitars and amps in the history of American music: Princeton Reverb® amplifiers, the Telecaster®, the Precision Bass® and, of course, the Stratocaster®. These instruments have been played by legends like Jimi Hendrix and Eric Clapton and can be found on every festival and rock or jazz club stage.
Challenge
Fender has inspired millions of people to learn to play guitar. However, for most aspiring players, the initial burst of inspiration fades quickly – 90% of first-time players quit within six months. This retention problem led Fender to begin investing in digital properties four years ago. The company now has three different mobile apps – Fender Play™, Fender Tune™ and Fender Tone™ – as well as a direct-to-consumer business and e-commerce platform; however, the majority of its business is done with local musical instruments dealers around the world.
User engagement with videos
Fender Play is a digital learning subscription app that helps people pick up skills and start a lifelong relationship with guitar, bass or ukulele; Fender Tune is an intuitive digital guitar tuner with several added features for pros/advanced players; and Fender Tone works hand-in-hand with the brand's Mustang GT digital modelling amps to help players explore guitar tones from their favourite artists and create their own.
There's a whole journey from learning the first chords to the first performance that Fender can help facilitate. Our goal is to help people develop a lifelong relationship with guitar, and that means engaging them on digital.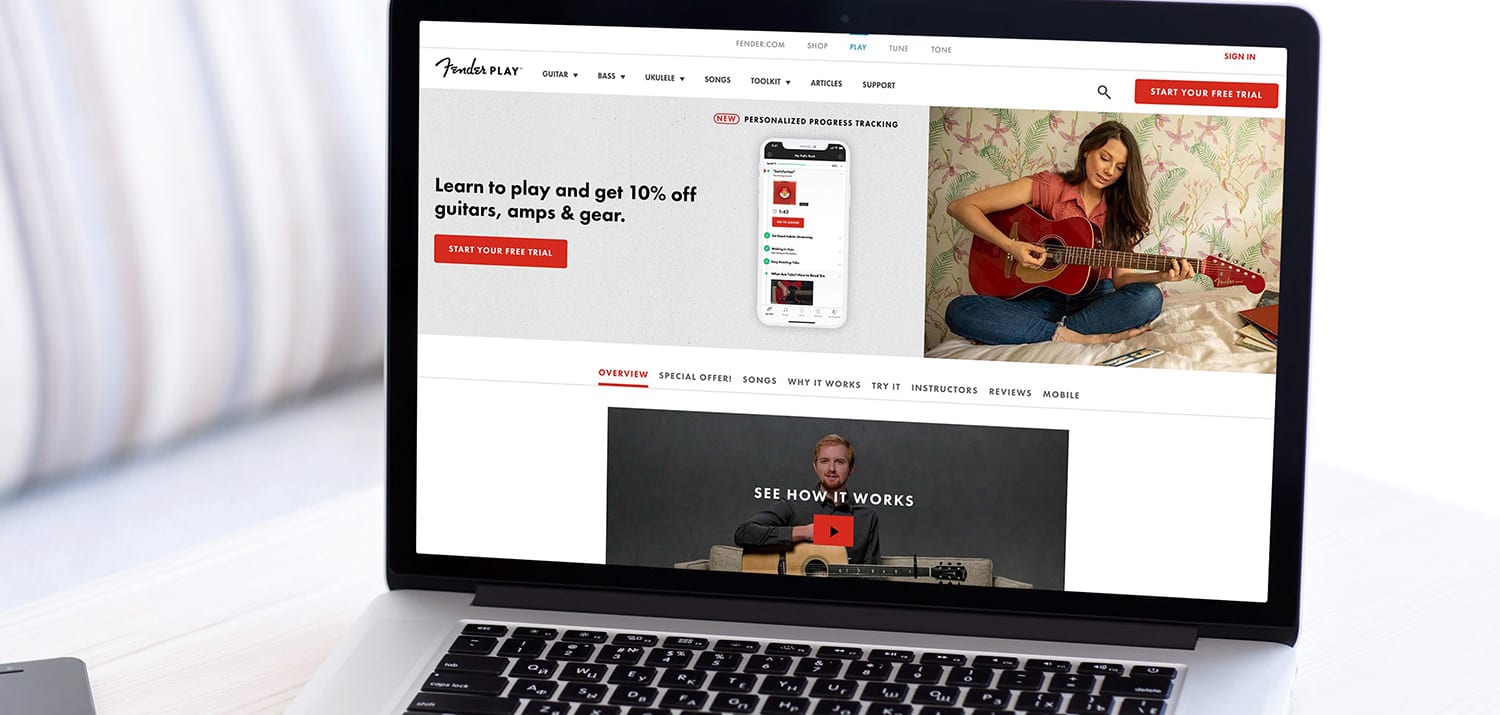 With these digital properties, Fender wanted to do more than sell guitars – it wanted to become a mentor that provided customers with the education, information and support they needed to pursue their passion for music. Beyond subscription revenue, Fender aimed to develop the lifetime value potential of any given guitar player and create a customer journey that would last for decades. To accomplish that goal, Fender needed holistic insight into the customer journey.
However, because Fender started out as a manufacturer of physical products and because its digital ecosystem was built quickly, the company had a siloed tech stack with user data spread across many disparate locations. Its old email provider, for example, didn't integrate with its data layer. When someone signed up for Fender Play, the system didn't know what instrument or genre they were playing, or if they were even playing at all.
Fender also had a separate solution for pushing in-app messaging that didn't know what was happening on the website or in the other Fender apps, because they were all in separate locations. All the disparate silos meant the data could not be made actionable to create a more meaningful, engaging, personalised customer experience that drove retention.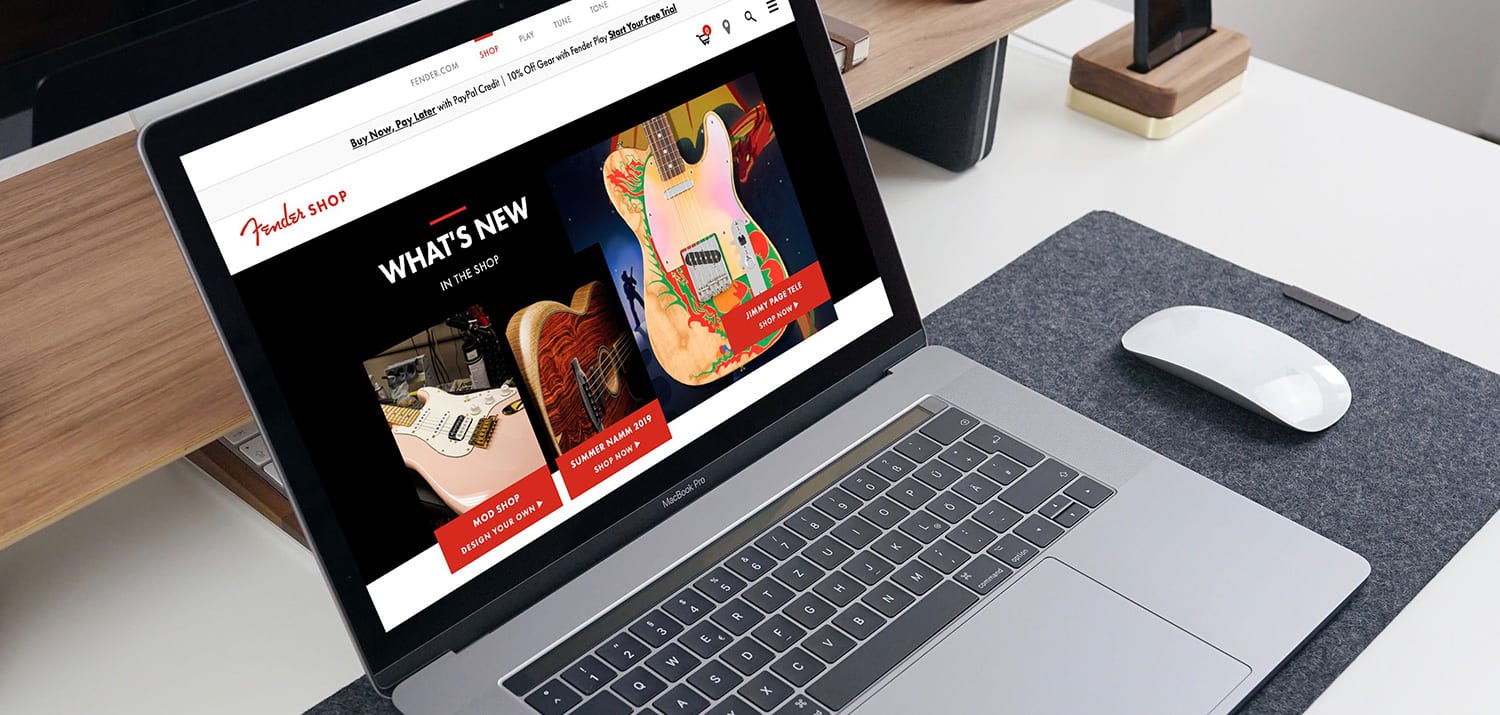 Solution
Fender wanted to own its relationships with customers and evolve how it thought about LTV to encompass instrument sales, app subscriptions and engagement and in-app purchases. The marketing team set out to map the customer journey and identify opportunities for engagement and potential drop-off points. By working with Iterable, Fender was able to consolidate all customer information across all digital sources into one unified customer profile. If a customer is watching a video in Fender Play or buying something on Fender.com or connected to their digital amplifier, the company can use that data to deliver a more personalised experience. Collectively, all these data points provide insight into a customer's offline behaviour with their guitar, such as how often they play, and make it actionable, creating a feedback loop.
Fender uses Iterable as a growth marketing platform for email and mobile messaging. This enables Fender to deliver cross-channel campaigns that drive offline behaviour with online engagement. Take onboarding, for example. Fender uses Iterable's Workflow Studio to onboard new customers in Fender Play. A customer comes in – either from iOS, Android or the web – and chooses to start a free trial. Then Fender activates their messaging workflow. Based on what instrument they're playing, what genre they're playing, how much they're playing and what platform they're on, Fender's marketers make decisions around the types of messages to send them.
Results
Fender has seen improvements in retention of a month-to-month paying user because of engagement with videos. 89% of users watch a video on their first day. Through a personalised onboarding experience, Fender has seen an increase in engagement, encouraging people to watch more videos, learn more guitar and then stick around as a paying member.
Iterable allows us to drive the customer journey in a completely different way from before. Centralising in-app messaging, push messaging and email on one platform, with a unified customer profile view, enables us to seamlessly engage across our digital and physical universe. With all our data in one place, we can strategically drive lifetime value.
Madison Reed
Download PDF
With Madison Reed's online subscription service, consumers can achieve salon-quality hair colouring at home – conveniently, confidently and economically. In addition to aggressively growing its online business, this relatively young company is opening physical locations called "Color Bars" to give customers the option of obtaining hair-colouring products and services in person.
Upgrade to subscription conversion
According to Julia Papane, Email Marketing Specialist, understanding and responding to customers' hair colouring needs and preferences is key to building lasting relationships that drive company growth and ultimate customer lifetime value. Until 2016, however, the marketing team didn't have an effective way to create highly personalised, cross-channel interactions that help build long-term customer relationships.
Incremental lift from addition of direct mail
To make those interactions possible, the company replaced its cumbersome and limited marketing solution with Iterable. This innovative growth marketing platform is enabling the team to create engaging campaigns that reach people through the web, email, SMS, direct mail and other channels. The results speak for themselves: the upgrade-to-subscription conversion rate for Iterable campaigns is 45% higher than that of a control group. Moreover, the team found that adding direct mail to the workflow yielded an incremental 3% lift in upgrades.
With Iterable, we're tracking customer behaviour across online and offline interactions and creating seamless cross-channel experiences tailored to the way each customer prefers to buy from us.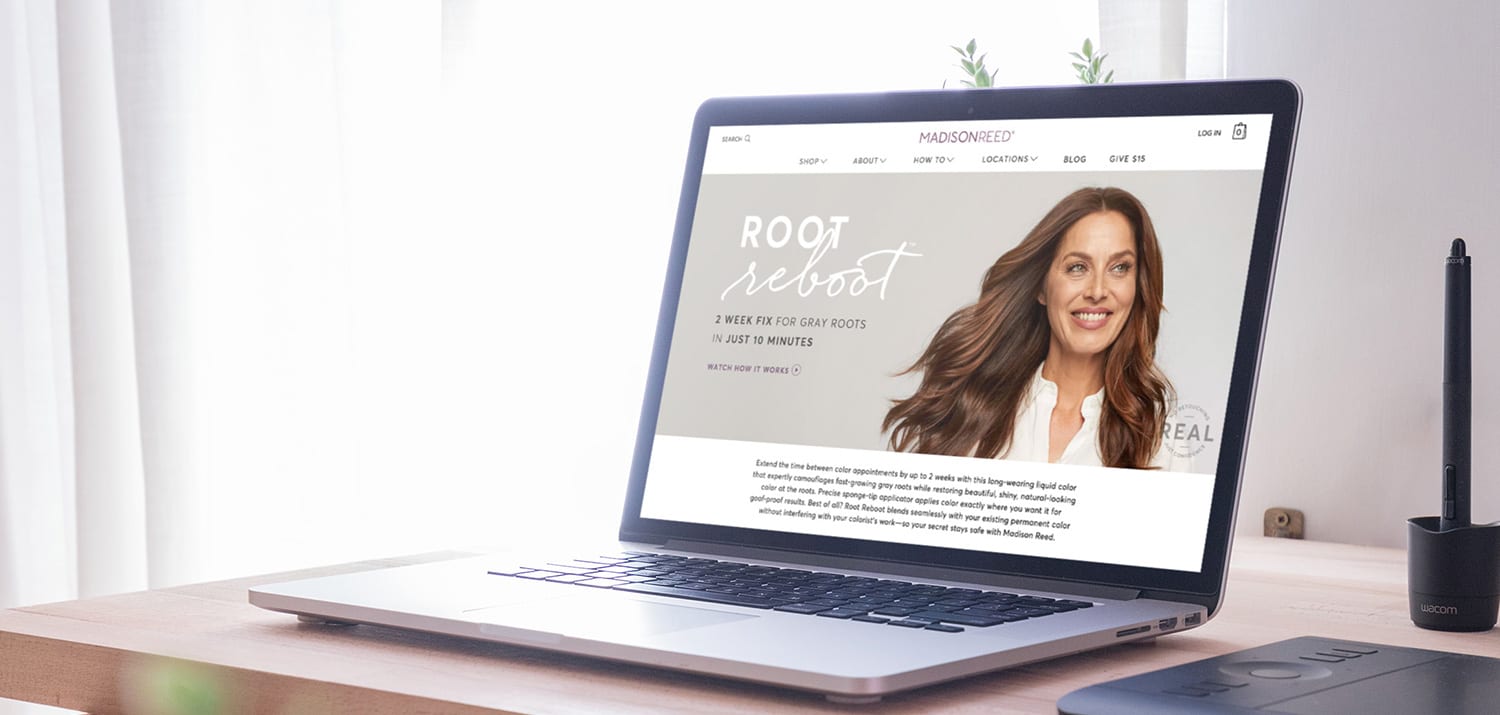 Achieving a Seamless Path to Value
Marketers and engineers alike were excited about the move to Iterable. Iterable's flexible data model, modern APIs and universal webhooks saved engineering time by simplifying integrations with other platforms. For example, Madison Reed leverages integrations with Segment, for customer data, and Lob, for direct mail.
Because of Iterable's straightforward, intuitive interface, marketers were able to quickly leverage these integrations. Today, Segment events trigger campaigns based on customer purchases and other behaviours. Delivery of a customer's first order, for example, triggers a series of messages containing how-to videos and custom tutorials to set customers up for success, thereby increasing the likelihood of subsequent orders.
"We've created some cool dynamic lists and workflows that leverage integrations to automatically trigger campaigns," Julia says. "Through the integrations, we can automatically synchronise Iterable with the customer database and create messages including instructional materials that are personalised based on an online hair colour survey completed by each customer. The messages include relevant images and descriptions from our product catalogue. It's super exciting."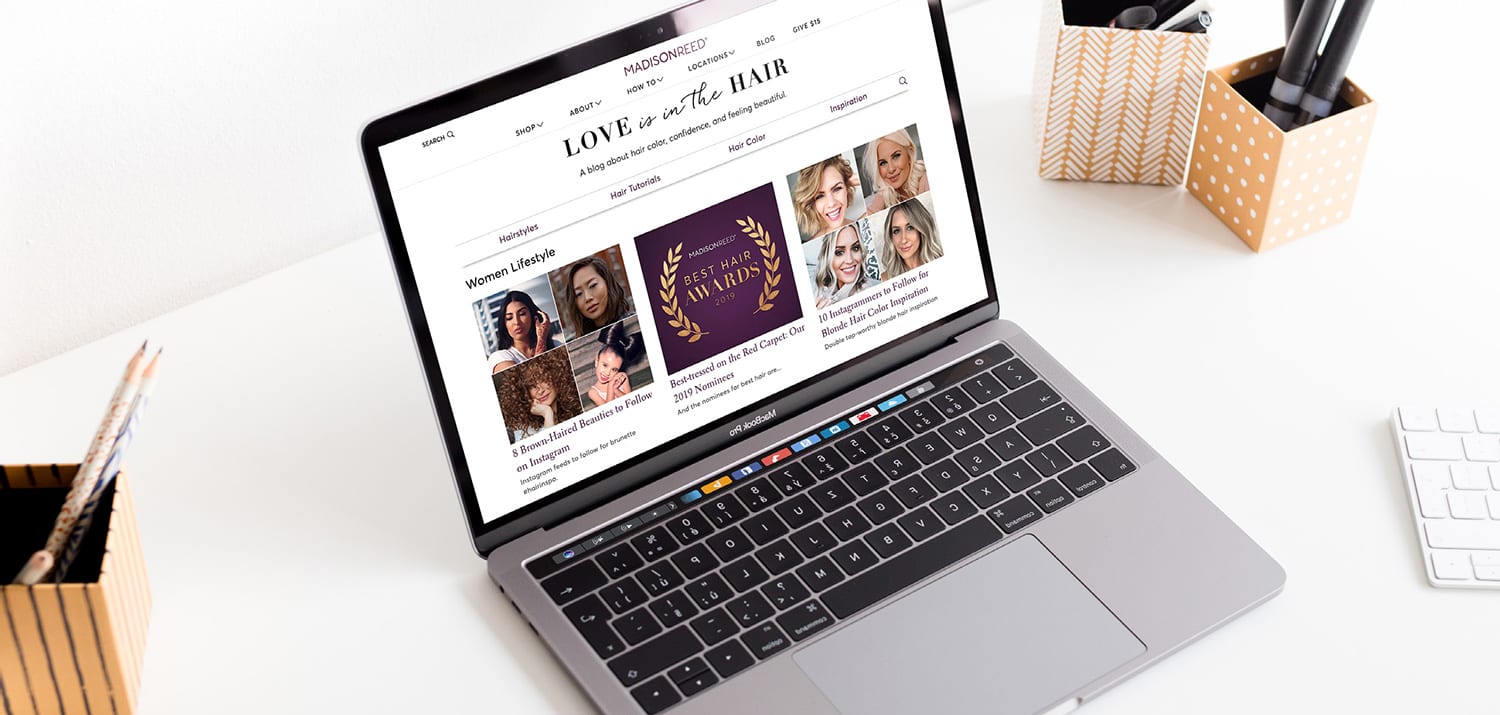 Cross-Channel Reactivation Campaigns Reduce Early Drop-Off
Marketers have leveraged Iterable to create a reactivation campaign that is reducing customer drop-off after the first purchase. Because the hair colour survey asks how often customers colour their hair, marketing can determine expected reorder dates. The campaign workflow uses that information to generate lists of people who didn't reorder at the expected times and put their names in the reactivation workflow.
"Through testing, we found that the best reactivation sequence is an email message followed by a direct mail postcard, which is then followed by another email message," Julia notes. "The win-back content is consistent across all interactions. It's easy to include webhook integrations in our workflows to trigger interactions in real time – for example, the direct mail postcards. That's key in a business where highly personalised timing is everything. We've put an SMS webhook in the workflow so that customers who have opted into SMS receive an SMS nudge if they don't engage with the email messages or postcard."
Building Customer Lifetime Value With Online and Offline Interactions
Today, Madison Reed marketers use Iterable across the full range of customer interactions, from transactional communications and onboarding campaigns to reorder and reactivation campaigns that drive engagement and build lasting relationships. The ability to track online and offline interactions provides a 360° view of each customer, sharpening personalisation and relevance. And ongoing testing of content, timing, channel and other campaign components provides the insights marketers need to continually optimise email, postcard and SMS campaigns to gain lifts in engagement and overall business KPIs.
Results
The upgrade-to- subscription conversion rate for Iterable campaigns is 45% higher than that of a control group.
Multivariate Testing and Performance Optimisation showed that the addition of direct mail to the reactivation workflow drove an incremental 3% lift in upgrades.
Easy integration with other marketing platforms saves hours of engineering time and powers sophisticated campaign workflows.
Automated campaigns triggered by individualised customer behavior are increasing reorders, expanding the customer base, and increasing revenue.
With Iterable, we're building more one-to-one personalisation across channels, ultimately driving customer lifetime value.
Box
Download PDF
Box Scales to Millions While Achieving Seamless Customer Engagement With Iterable
More than 90,000 businesses globally use the Box cloud content management platform to enhance collaboration among their employees and partners. End users in these enterprises leverage Box capabilities for tasks ranging from file sharing and access on mobile devices to sophisticated business processes such as data governance and retention.
Two years prior to implementing, Box created a customer engagement function to expand the company's reach beyond administrators to the people who use Box every day. The new team's purpose: to ensure that end users get maximum value from Box's offering.
The expansion required scaling up Box's customer communications capability from tens of thousands of administrators to tens of millions of end users.
For a lean team like ours, the ability to create campaigns that personalise on a massive scale – for millions of users – is a must-have. That's what Iterable gives us.
Highly Tailored Onboarding Drives Usage
Nora and her colleagues are focused on growing adoption to increase the value of the Box platform to enterprise customers, ultimately promoting customer loyalty and retention. To achieve this mission, the team is developing and executing campaigns that talk directly to the end-user community.
In line with this strategy, the team worked with the Box growth team to launch the user onboarding programme. The campaign's purpose is to increase adoption by educating people on how to leverage Box capabilities to increase their job efficiency and effectiveness.
Increase in users Box can reach
This sophisticated welcome series created with Iterable leads end users through a customised path based on milestones such as account creation, initial login and usage, as well as other user-specific attributes such as the Box applications downloaded and how frequently each end-point is used. Communication is highly personalised – even employing the user's language of choice.
Increase in user adoption
"We're constantly working with our business analytics team to understand the next action a given user is likely to take based on previous actions taken or not taken," Nora explains. "We use those insights to fine-tune the welcome series and build out new workflows that shorten the time it takes to move people to the next level of usage. We used Iterable's A/B testing to compare the results of the new welcome series with our previous approach and were able to show a 10% increase in user adoption," Nora says.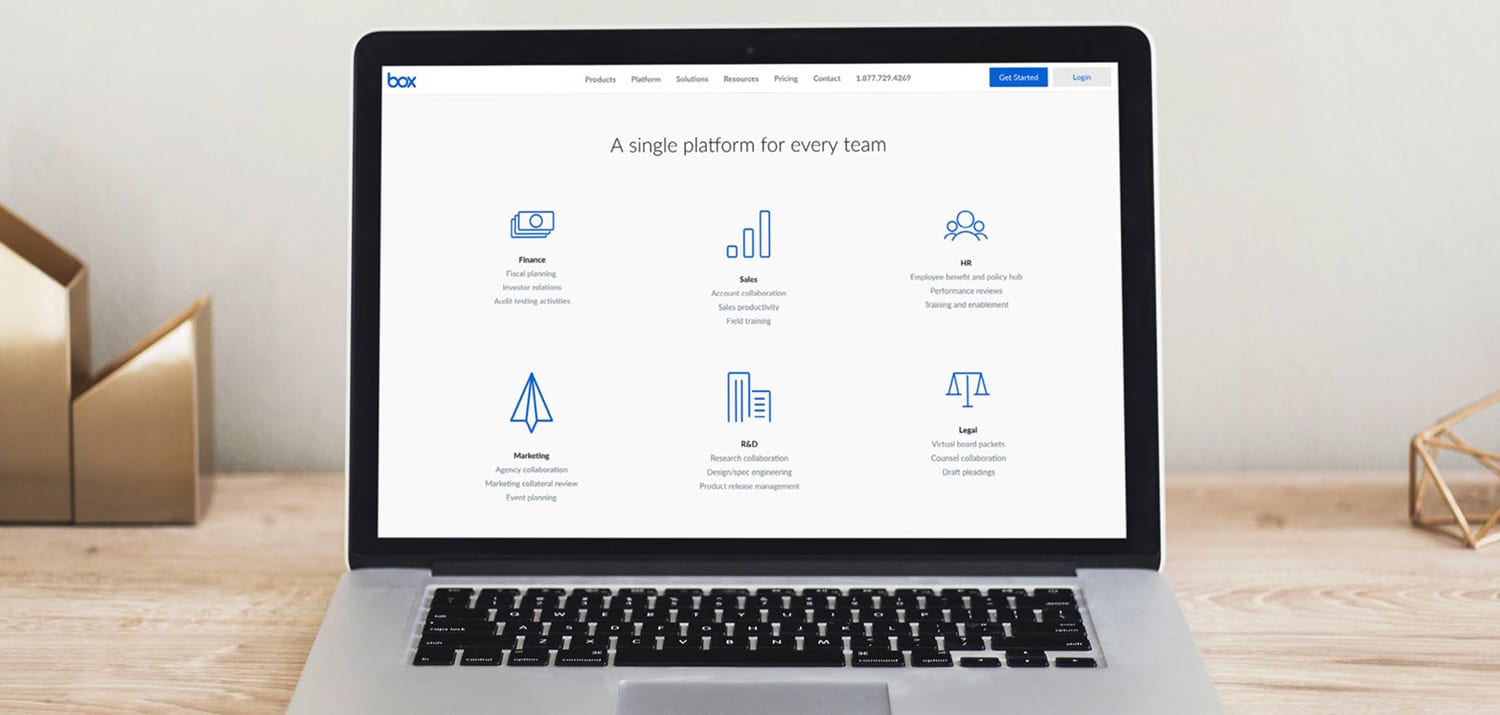 Lifecycle Campaign Composition Enables Personalisation at Scale
Nora attributes the success of the welcome series and other campaigns to the ability to gather and combine many different types of data for segmentation and personalisation. The team takes advantage of Iterable's modern APIs and flexible data integration to access data from Salesforce.com and other sources and combine it with Iterable data. Iterable's Workflow Studio pulls external data into the platform and triggers tailored messages as users reach specific milestones. Message content is based on such factors as lifecycle stage, Box components downloaded and usage data.
"We've also automated the process of localising campaigns for our global user community so that we can easily deliver content in the user's language," Nora remarks. "The team leverages Iterable's APIs to push HTML templates into Box to then be shared with their localisation vendor. Once complete, a job runs to pull the translated content back into Iterable. That process has increased the speed of translation by 5X."
Faster translation of campaigns leveraging an Iterable integration with Box
Results
Personalisation engages customers more effectively, strengthening relationships with enterprise customers. Higher engagement among users has increased user adoption by 10%.
Lifecycle Campaign Composition enables the team to get new campaigns ready for rollout to Box's global user community 5 times faster.
Marketers have enhanced segmentation and personalisation by combining Iterable data with data from Salesforce and other marketing tools.
Iterable allows us to segment results providing insights into user metrics around activation, nurture and re-activation. These metrics have not only provided a baseline but proven programme success and opportunities for continued improvement.
Curology
Download PDF
With over $17 million in funding and a business that has grown by over 500% in the past year, Curology is on a mission to provide personalised prescription skincare for acne and anti-ageing directly to tens of thousands of subscribers.
Curology sets itself apart from other skincare companies by offering its patients customised combination treatments and one-to-one interactions with licensed dermatology providers.
To achieve this personal touch, its team of marketers need a growth marketing platform that can deliver highly personalised content and relevance at scale.
Iterable's Impact at Curology
In the past, the growth marketing team at Curology used two separate platforms to manage email and SMS campaigns. Data silos hindered the company's ability to build robust subscriber profiles and deliver personalised messages in real time.
"When two communication channels don't talk to each other, you can't execute cohesive user engagement campaigns. With Iterable's true omni-channel platform, we know we can provide the seamless experience that our patients expect," says Fabian Seelbach, VP of Marketing at Curology.
Now, by partnering with Iterable, Curology has eliminated its data silos and increased its treatment plan compliance by 14% by incentivising its customers with highly relevant messages.
For example, members receive a daily SMS reminder to apply their acne treatment. Those that do are rewarded with a funny GIF, encouraging patients to stick with their prescribed treatment regimen.
Using Iterable's visual, drag-and-drop Workflow Studio, Curology can now identify which members aren't engaging via SMS and reach these individuals with targeted email follow-ups, tracking email and site metrics to ensure that they're achieving relevance across all marketing channels.
This true omni-channel approach to supporting patients throughout their journey has improved Curology's customer engagement by 26%, increasing revenue by 10%.
Targeted Text Messaging to Teens
At Curology, licensed dermatology providers create treatment plans and customised formulas; to ensure their patients' success, they need to know if patients are following through on those plans and what the improvement looks like.
"It sounds simple, but getting teenage patients to apply their medication every night is difficult," says Seelbach. Sending a daily email reminder fell short as a solution, which led the Curology team to add SMS messaging to their campaigns.
Now, thanks to Iterable's flexible data model, Curology can create custom events for any customer data point, including whether members have uploaded a recent photo of their skin's progress.
Those who haven't are segmented and sent a targeted SMS, reminding them to send a photo update and explaining why it matters. Most importantly, members are able to snap a selfie and respond directly to the text – dramatically reducing the friction in patient-to-provider response rates.
Curology's segmentation becomes even more sophisticated during the customer journey. Email follow-ups are triggered automatically if members haven't shared a photo in a designated number of days.
These dynamic segments are leveraged in other email campaigns as well, creating a cohesive customer experience that directly results in higher engagement.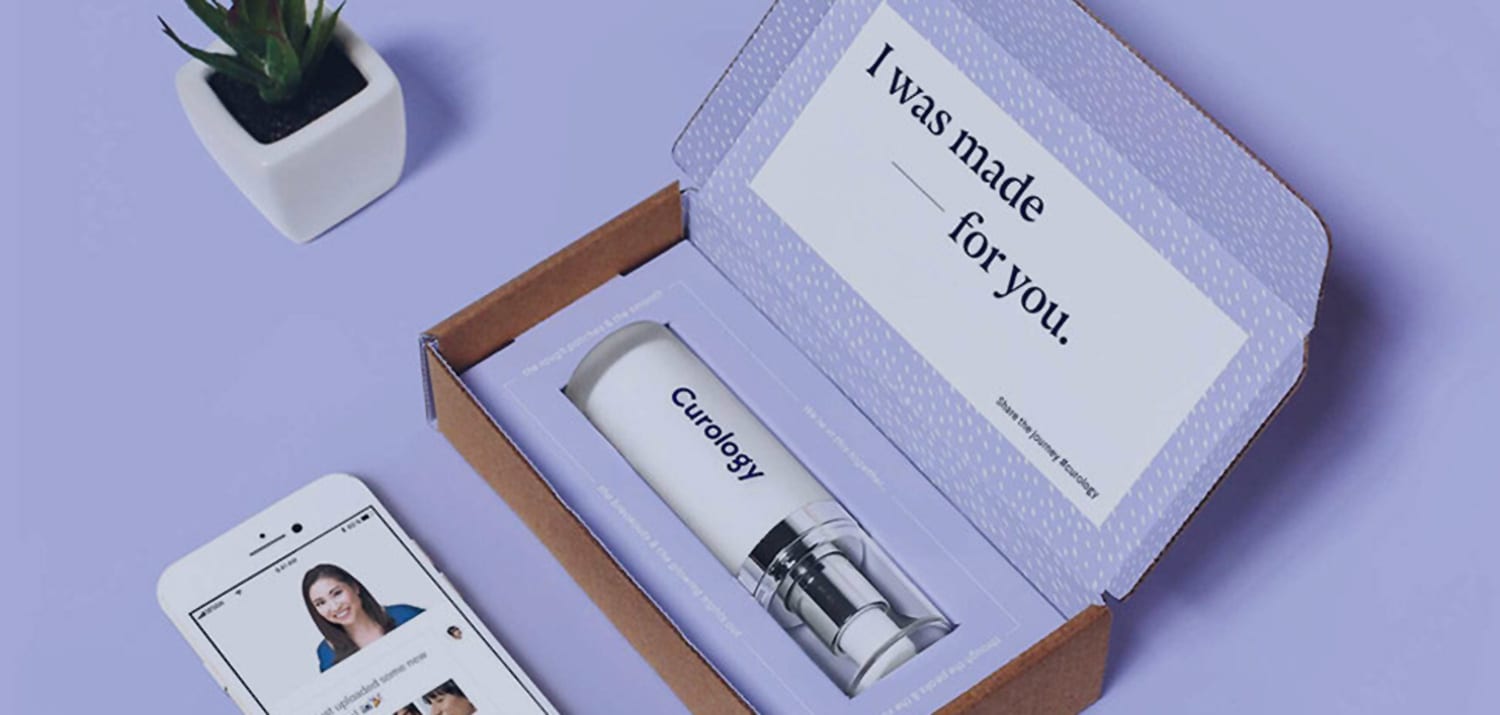 How Does Curology Work?
Curology's mission is to connect customers with highly customised prescription skincare for acne and anti-ageing – and that sense of connection and customisation needs to shine through its marketing messaging as well.
To keep its young user base engaged with the product and in dialogue with the team of dermatology providers, Curology has mapped several highly specific communication touchpoints.
But there's no one-size-fits-all to how – or where – members interact with the brand, so flexibility is paramount.
Here is how it works:
The onboarding campaign is triggered by Iterable when someone signs up for a Curology subscription.
Habit forming is paramount to Curology's growth rate, so users are invited to participate in a 21-day challenge, receiving daily SMS reminders to apply their customised formula as prescribed.
Based on the individual's behaviour, personalised emails may also be sent to increase their engagement.
This measured approach to SMS and email messaging is part of an in-depth process to drive relevance at every stage of Curology's customer experience.
The company uses Iterable to ensure that members are following their skincare regimens and achieving better outcomes. And as Curology's marketers can attest, the more satisfied customers become, the greater the impact on top-line growth.
Key Takeaways
With Iterable's true omni-channel capabilities, Curology has improved customer engagement by 26% and increased revenue by 10%.
Curology uses Iterable to increase treatment plan compliance by 14% by sending dynamic, personalised messages across SMS and email.
Patients younger than 30 are 10% more likely to opt-in to the SMS challenge—Iterable's dynamic data segmentation allows Curology to quickly act on customer behavior.
Curology's efforts to support our patients in their battle against acne directly impact the success of our business. The capability to easily execute dynamic channel and message personalisation based on the unique treatment plan of each patient is the reason we switched to Iterable
SingleCare
Download PDF
SingleCare offers savings on out-of-pocket prescription, dental, vision and telehealth costs. Members save up to 80% on prescriptions and have access to SingleCare's national dental and vision networks.
Whether it's a life-saving drug, routine dental cleaning or just an eye test, SingleCare believes that consumers should be able to compare costs for healthcare services and receive care without worrying about networks, coverage limitations or the excess.
Iterable's Impact at SingleCare
SingleCare uses Iterable's Growth Marketing Platform for all email messaging, including transactional emails, marketing blasts and behaviourally triggered emails.
Once a user signs up for an account, Iterable enables SingleCare to trigger workflows based on website interactions.
SingleCare can send personalised emails related to customers' specific needs, whether they are interested in discounts on prescriptions or booking a dental or vision appointment.

Marketer-Focused for Highly Effective Campaigns
As a rapidly growing start-up, the marketers at SingleCare found themselves frustrated with the slow support response times and outdated user interface from their legacy email service provider.
They needed technology that offered a more organised, streamlined process to build their programmes without depending on their engineering team.
After evaluating several alternatives, SingleCare selected Iterable for its modern functionality and ease of use.
Elisha Singh, Marketing Coordinator at SingleCare, can also trust that emails sent through Iterable end up in the inbox where they belong, not blocked by internet service providers or tossed in spam folders.
In addition to appreciating its marketer-friendly UX and reliable, robust technology, SingleCare benefits from Iterable's dedicated customer support.
"Iterable's customer success team is incredibly knowledgeable, quick and helpful. Everyone is so nice and pays such great attention to any issues I reach out to them with," said Singh.
By freeing up resources and increasing efficiency, SingleCare now spends more time testing email messaging and deploying targeted campaigns with Iterable.
It's incredible to see the types of filters that the workflows offer, and even a more impressive selection of actions that we can set up for users. Iterable has allowed us to send more customised content, which is increasing our member engagement with emails and the website.
Key Takeaways
With Iterable, SingleCare increased email open rates from 12% to 35% and grew its audience from 25,000 to 150,000 users in six months.
An engaging five-email welcome series offers answers to FAQs, significantly decreasing the number of support tickets filed by new users.
With Iterable, SingleCare can build and run marketing campaigns and optimise their performance without relying on technical resources.
Achieved increase in ROI through experimentation
2x
conversion with Brand Affinity™
We finally have a platform developers love that marketing actually can use.
2x
open, click and conversion rates with Send Time Optimisation
"I'm really happy we're using Iterable because I know it will grow with us. When I pinged other lifecycle marketers and asked what platform they would recommend, they said 'Iterable'."
718%
increase in subscriber conversion
38%
Decrease in unsubscribe rates YOY
44%
Increase in conversion rate to become a paid subscriber
50%
of business attributed to an Iterable campaign
3X
Revenue from Email and Push
2x
Increase in conversion rates for campaigns
"There is nothing we've wanted to do that we haven't been able to find a way to do. The support team and our CSM have been amazing in suggesting new ways to do something or ways to get around a data issue we've had."
"Centralising in-app messaging, push messaging and email on one platform, with a unified customer profile view, enables us to seamlessly engage across our digital and physical universe."
45%
Increase in subscription rate
10%
Increase in user adoption
26%
Increase in customer engagement
Iterable has allowed us to send more customised content, which is increasing our member engagement with emails and the website.
"I would highly recommend Iterable based on the strength of their support team. They have bent over backwards to ensure the success of this implementation."
"Iterable is a powerhouse for the data-driven marketer. It houses my complicated data sets, allows me to identify new segments and runs my automations, all with multi-channel outlets."
"Iterable makes it so easy to accomplish my work. I don't need to swap between tabs or different UIs. Unlike other tools I've used, Iterable is not another hurdle to jump over. It helps me do my job"