Send transactional messages across: push, in-app & SMS
Send transactional messages across: push, in-app & SMS
Leading brands, like SeatGeek and DoorDash, choose Iterable to power world-class customer engagement throughout the entire lifecycle.
Learn how Iterable:
Delivers transactional push notifications on a global scale
Orchestrates campaigns across Push, In-App, & SMS
Dynamically segments users and triggers relevant messaging with Workflow Studio
Deliver Career-Boosting ROI
Investing in Iterable yielded a 700% ROI due to increased revenue, improvements in the marketing team's productivity, avoided costs from previous solutions and a payback period of less than 3 months.
Schedule a personalized demo to see how Iterable enables brands to create, execute and optimize campaigns across email, push, SMS, in-app and more with unparalleled data flexibility.
Seamless Cross-Channel Customer Engagement
World-class customer experiences start with the five key components of growth marketing success: audience identification, flexible data integration, lifecycle campaign composition, behavior-based personalization and performance optimization.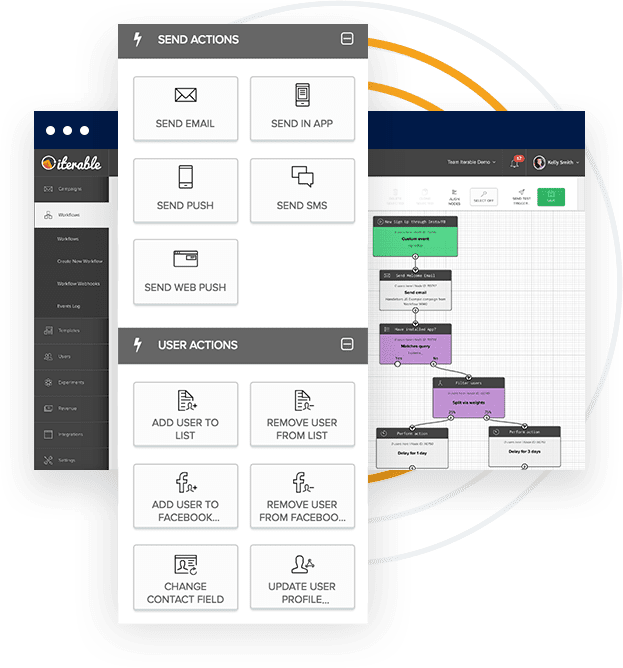 Audience Identification
Understand every customer's unique characteristics and preferences by storing hundreds of demographic and custom event data fields for each user profile.
Dynamically segment your subscribers for highly targeted campaigns, then create lookalike audiences and retarget users on social media.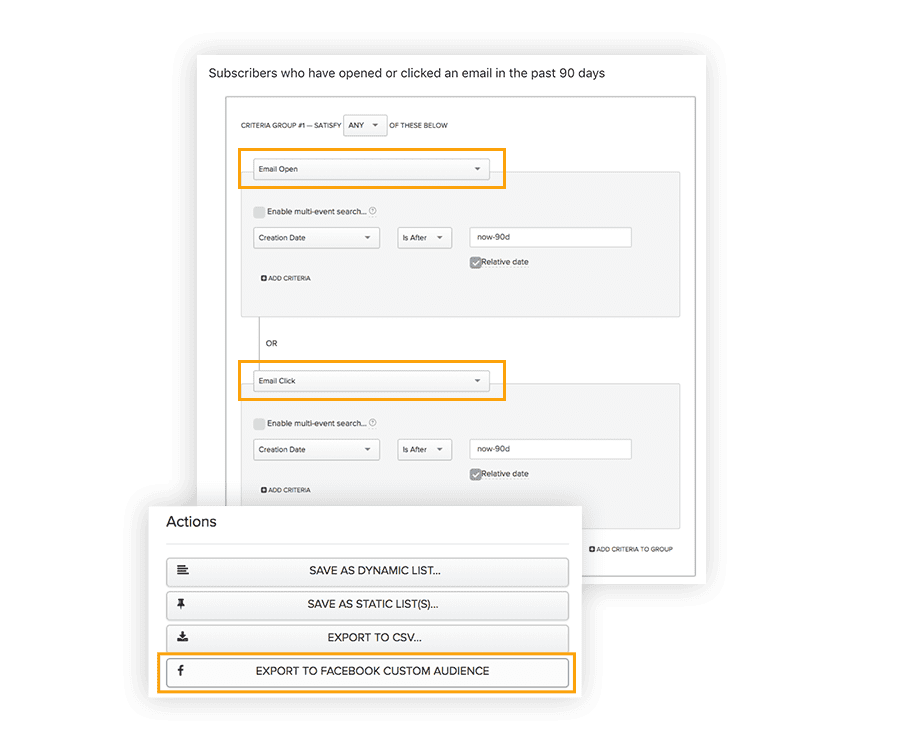 Lifecycle Campaign Composition
Design sophisticated marketing campaigns, and trigger relevant messaging across email, mobile push, SMS, in-app, web push, direct mail, social retargeting and more.
Iterable's drag-and-drop Workflow Studio allows you to add filters, schedule delays, automate triggers and activate messaging in a single platform.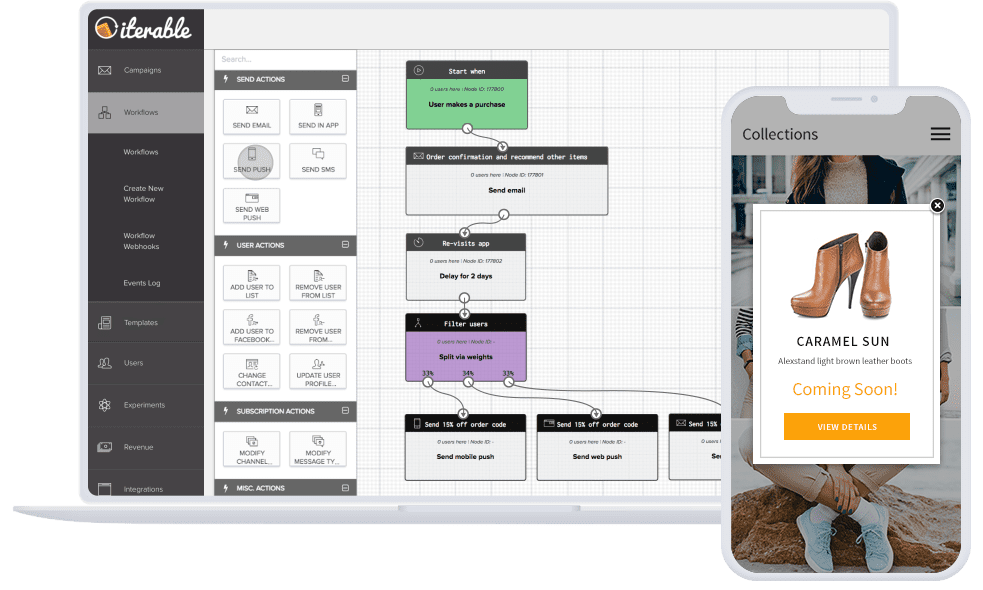 Behavior-Based Personalization
Facilitate interactive conversations with each individual customer by creating highly targeted messaging that is unique to them, in that moment, wherever they are.
Build personalized, dynamic content with Iterable's easy-to-use template builder, advanced handlebars logic, data feeds, and standardized snippets.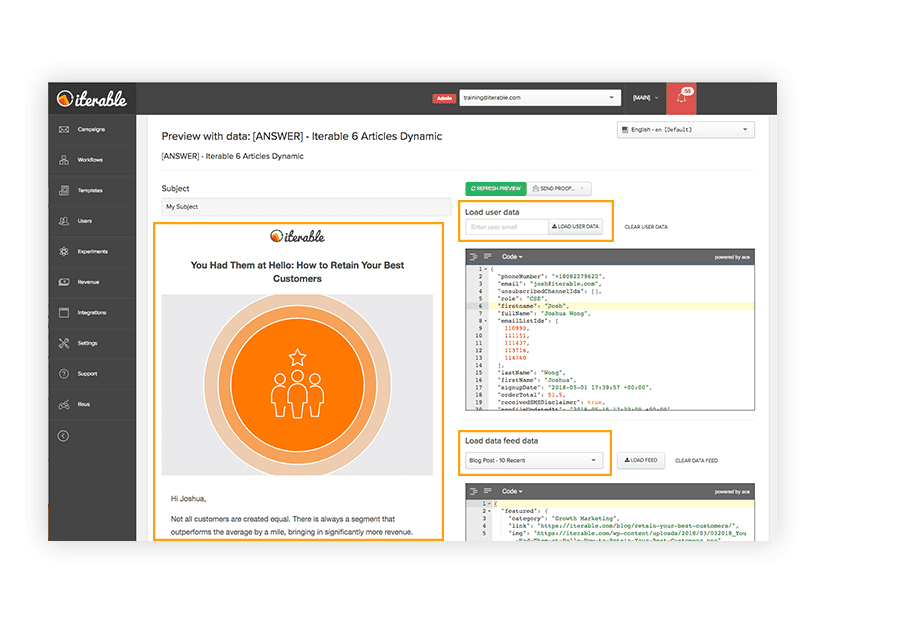 Performance Optimization
Iterable Insights is designed to help you visualize your campaigns, track your performance, and iterate quickly. Choose from several different chart types, provide a running list of campaigns and maximize your campaign success with custom reports and dashboards.
Experiments improve critical campaign metrics through robust A/B testing and multivariate tests that auto-select the winning content to boost opens, clicks and conversions.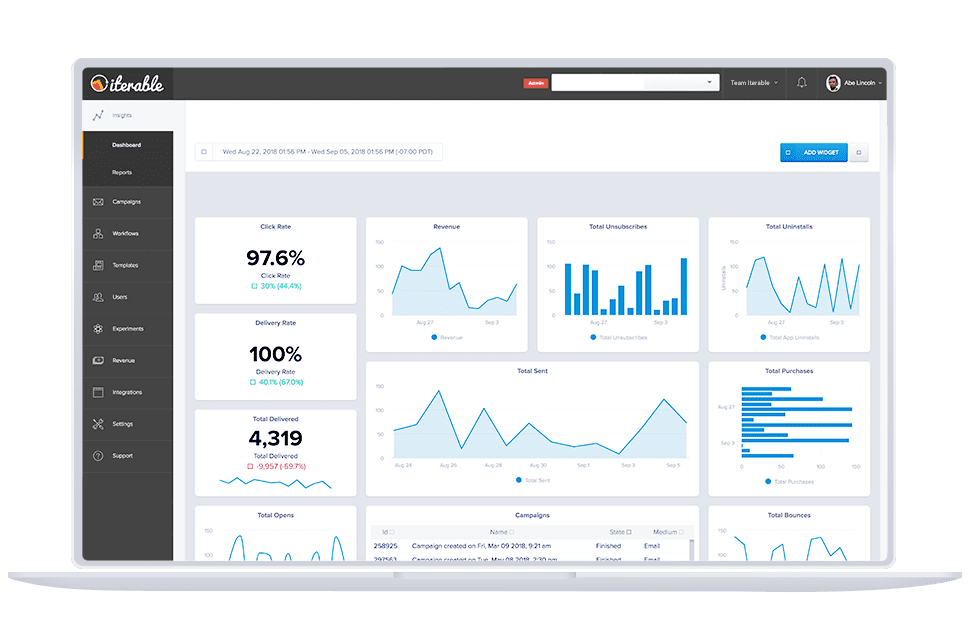 Flexible Data Integration
Leverage all your subscribers' demographic, behavioral and event data—both internal and from third parties—in real time to trigger personalized messaging and campaigns.
Iterable's flexible data model, modern APIs and universal webhooks retrieve information from any source at virtually unlimited scale.
See What Our Customers Are Saying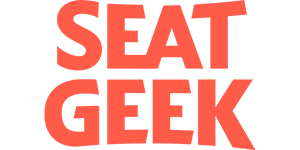 ""We didn't want an email application with mobile capabilities bolted on or vice versa. We wanted a platform to support the channels we use now as well as the ones we plan to use in the future. That ruled out pretty much every solution except Iterable.""

""Personalization helps customers see the connection between our products and their goals. It promotes a two-way conversation that enhances the customer experience and allows us to gain more insight into our customers.""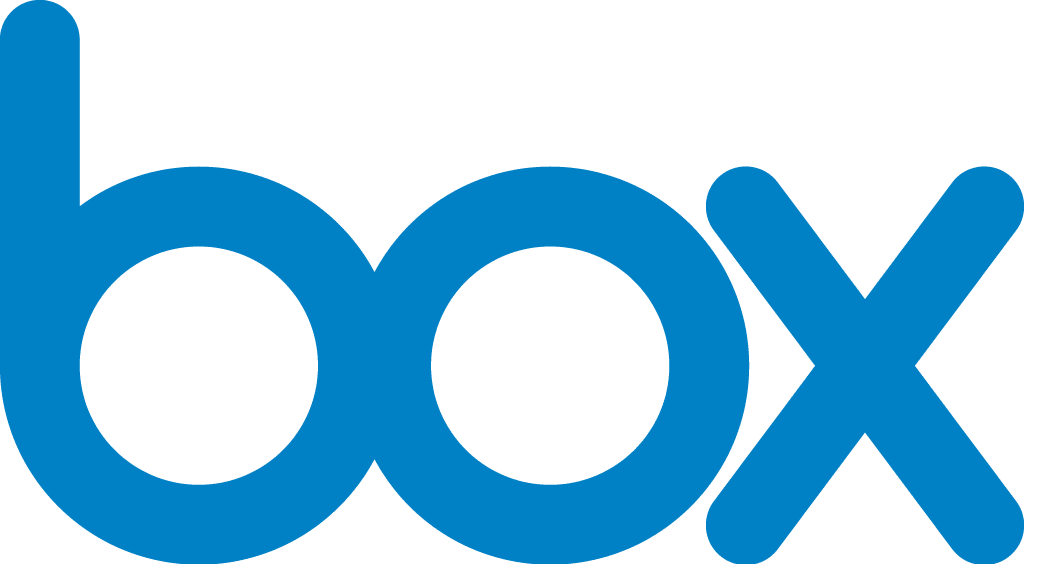 "Iterable powers us to personalize customer engagement at scale through dynamic behaviorally triggered campaigns."
Explore the Forrester Study: The Total Economic Impact™ of Iterable
700% ROI
Investing in Iterable yielded a 700% ROI due to increased revenue, improvements in the marketing team's productivity, avoided costs from previous solutions and a payback period of less than 3 months.
20% Recovery
Due to improved timeliness and personalization of messaging, Iterable increased abandoned shopping cart recovery by 20%.
18% YoY
Due to improved timeliness, personalization of campaigns, and more targeted customer messaging, Iterable increased recurring revenue 18% YoY.
Ignite Growth With Iterable
Some of the world's leading brands captivate customers with Iterable