In this ongoing series, we'll be "unboxing" must-have digital marketing campaigns and programs vital to success. In this installment, we'll take a look at upselling and cross-selling.
Do brands treat their customers with empathy and respect?
At Iterable, we define empathy as adhering to the four following tenets:
Acknowledging perspective
Staying out of judgment
Recognizing emotion
Communicating understanding
However, it's easier to say than it is to act upon it when B2C marketers are laser-focused on meeting their company's growth goals. 
That's why for this next edition of Unboxing Must-Have Marketing Campaigns, we'll focus on driving growth with good by adding upsell and cross-sell opportunities to your existing marketing campaigns.
Download the complete guide to gain access to even more advanced tactics to up your cross-channel messaging experience.
Let's get started.
How to Show Empathy to Your Customers with Upsells and Cross-Sells
It's a no brainer for businesses to offer an upsell or a cross-sell to customers—more revenue, an increase in customer lifetime value and the higher potential for brand loyalty. 
But does it benefit the customer as well? It can, if you believe the following:
"[Customers] don't buy products and services, they buy end results." ~ Jay Abraham, consultant and author of Getting Everything You Can Out of All You've Got
Meaning? 
The hamburger someone purchases from a fast food restaurant isn't just a hamburger—it's a way for someone to get a satisfying meal if they're in a hurry.
So why not offer them a way to make sure they're well-fed, like an upsell of an extra beef patty or a cross-sell of some fries and a soft drink?
Sounds pretty empathetic if a customer is super hungry that day. 
Abraham goes on to explain why it's so important for a business to upsell and cross-sell:
"You can't allow a client to just select what they want to buy until and unless they've been educated to know how much more or better is possible."
However, Abraham published his book in 2000. So his examples for adding upsells and cross-sells to increase purchase amounts on VCRs and curtains aren't as relevant for the way customers purchase products and services online today.
So we have to rethink how to incorporate an upsell/cross-sell strategy into the e-commerce world.
4 Ways to Add Upsells and Cross-Sells Into Your Existing Email Campaigns
While you can add upsells and cross-sells to marketing assets, like product pages and checkout flows, we at Iterable are going to focus on ways to add them to the email campaigns you may already have running.
Campaigns like:
Cart abandonment
Reactivation and re-engagement
Order and shipping confirmations
Welcome and onboarding
We'll break them down, one by one.
1. Cart abandonment
It's a lot easier to abandon an online "shopping cart" vs. a physical one in-store, so cart abandonment campaigns are designed to remind the customer of their intent to purchase.
But there are a variety of reasons customers may be hesitant to finish the checkout process. Maybe they don't have an immediate need for the item, a lack of funds or a lack of trust in the brand. 
Which is why a relevant upsell or cross-sell can work in a cart abandonment email. It gives the customer new items to consider purchasing, in addition to their original intent to purchase.
For instance, let's look at the cart abandonment email from big-box retailer Target.
Instead of the typical "Did you forget something?" phrasing seen in most cart abandonment emails, Target alerts the customer of the reduced prices of their items, which reduces the "no money" objection with the added urgency to check out before the discount disappears.
But in the case that the customer may not want the men's pants and tank top they originally selected, Target gives options to the buyer that there are other men's pants and tank tops in different colors that they might prefer instead. 
It's not as common to implement something similar with an upsell, but athletic shoe company Adidas manages to pull it off with a customer who has a pair of sneakers in their cart.
For Adidas, the "upsell" is not necessarily a higher dollar amount since the customization is free, but more a tactic to help close the sale. 
2. Reactivation and re-engagement
We've talked before about the common mistakes made in a re-engagement email campaign so how do you do it in a way that captivates customers to retry your products and services?
Answer: By utilizing their past purchase and browsing history to offer them new products and services.
Take, for instance, this email received from outdoor retailer Backcountry, tailored specifically for a female shopper who previously browsed or bought gear from premium lifestyle brand prAna.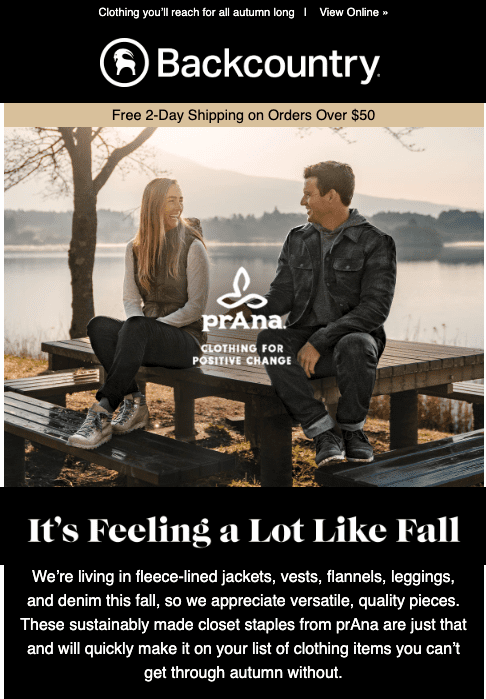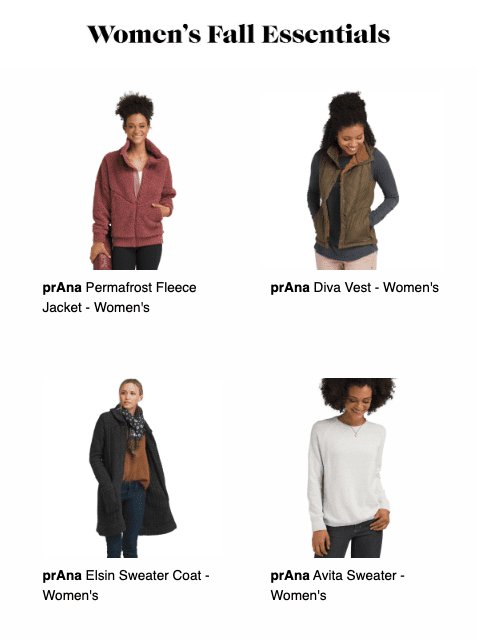 Outdoor retailer Backcountry re-engages with a cross-sell of prAna's new Fall arrivals collection.
It's a reasonable assumption that purchasers of prAna in the past may want additional items to complement what they already have in their wardrobe. In this case, Backcountry is using a re-engagement email to cross-sell 4 different items from the prAna's Fall collection.
But let's say a customer previously purchased your subscription service and then canceled. You can utilize a reactivation email campaign to upsell the same service, just like guitar manufacturer Fender does below.
The customer canceled their monthly Fender Play subscription, so Fender uses a reactivation email to upsell their Annual plan for 50% off. 
This upsell offer may seem like it nets less revenue from customers, but is a great strategy if a brand is looking to increase its customer lifetime value.
3. Order and shipping confirmations
When your brand sells products and services online, customers can easily come back for another purchase. Compare that to an in-store experience where someone has to physically drive, park, and walk into a store to get something.
So why not add a cross-sell or an upsell to your order and shipping confirmations, just in case a customer forgot to pick up an item related to their initial purchase?
For bulk foods retailer Nuts.com, they use their shipping confirmation email to cross-sell additional items for the customer's next order, just in case they felt they "missed something."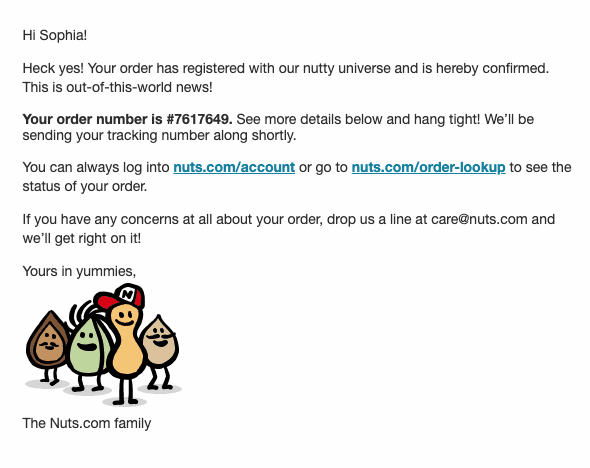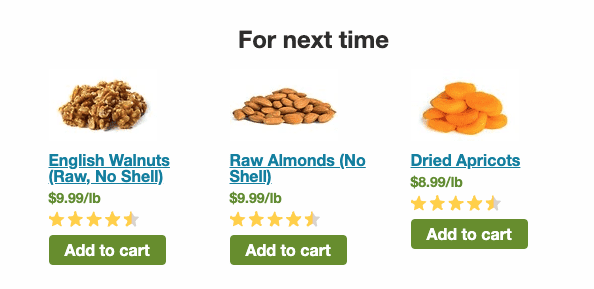 Bulk foods retailer Nuts.com cross-sells additional items in their shipping confirmation emails.
Whereas for personal styling service Stitch Fix, the goal is to get the recipient of their subscription box to "keep" as many rental items as possible. 
While they can't always guarantee that the user will always love the fit, color or style of a piece of clothing or an accessory, Stitch Fix reduces the risk by adding an upsell of essential intimate items like camisoles, tights and socks to increase the likelihood that the customer will keep more items.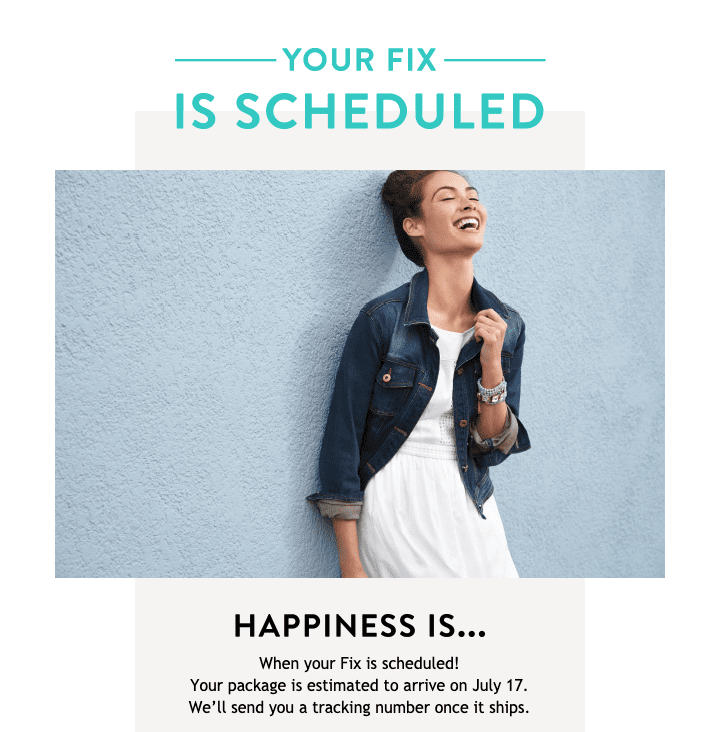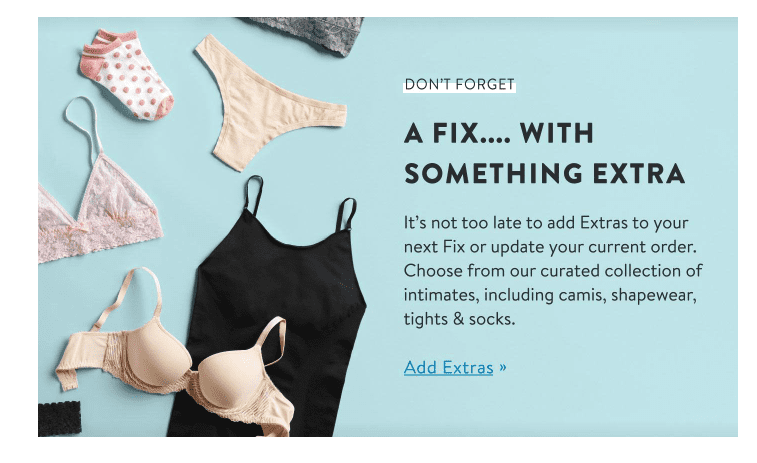 Online styling service Stitch Fix upsells a curated collection of intimates in their shipping confirmation email.
Obviously the benefit to utilizing cross-sells or upsells in an order or shipping confirmation email is the increase in customer lifetime value.  But even if a customer doesn't take you up on the offer, it can at least give them ideas on what to purchase the next time they return to your website. 
4. Welcome and onboarding
It's a pretty well-established fact that welcome emails are crucial for building trust with subscribers—after all, this is the first interaction your customer has with your brand. 
But is it the right move to immediately try a cross-sell or an upsell? 
Take, for instance, this welcome email received from a purchase of Amazon's Kindle Paperwhite.
In this case, it makes sense for Amazon to cross-sell a few popular e-books based on the book purchase history of the user. After all, that's what they purchased a Kindle for. 
You can also do the same thing with an upsell. This works especially well if your brand has a service that's free to use, but also a premium subscription for more features.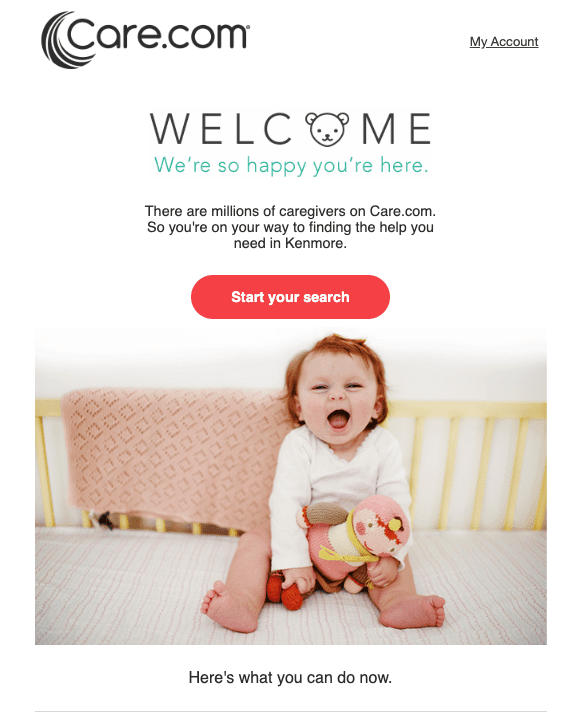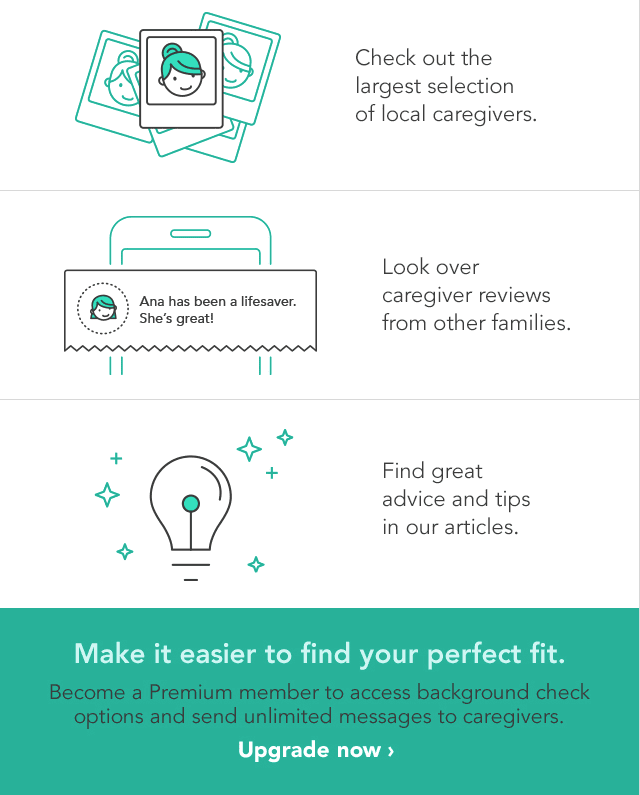 Care.com upsells their Premium membership in their welcome email.
In the above example from Care.com, the world's largest online destination for family care, the user has signed up for a free account to search for qualified caregivers in their area. 
However, the free account caps the number of messages the user can send to prospective caregivers, so it makes sense for Care.com to add an upsell for the Premium membership, just in case the user needs background check options and unlimited messaging.
Once you can see how easy it is to add cross-sells and upsells to your existing email campaigns, you can apply the same strategy to your other messaging channels.
A Quick Recap on Upsells and Cross-Sells
It's important to remember that as a brand, you show empathy to your customers by adding cross-sells and upsells to their existing marketing campaigns. 
As consultant and author Jay Abraham says…
"You can't allow a client to just select what they want to buy until and unless they've been educated to know how much more or better is possible."
And for e-commerce brands, the easiest place to start is to incorporate upsells and cross-sells into the emails you already send to your customers.
Add them to campaigns like:
Cart abandonment
Reactivation and re-engagement
Order and shipping confirmations
Welcome and onboarding
Download our full guide to master these email campaigns and sprinkle upsells and cross-sells into additional marketing channels, such as:
In-app messaging
Mobile push notifications
Social retargeting
Now that you are well-versed in upsells and cross-sells, what are you going to do to stand out from the crowd?