We're excited today to announce the winners of Iterable's 2020 Growth Marketing Awards!
These awards recognize the companies that have excelled in attracting, engaging and retaining customers by leveraging Iterable to power personalized communications at scale. 
"We're honored that some of the world's most innovative brands choose Iterable as their partner for growth and customer engagement. This year, we're pleased to recognize the standout work our Growth Marketing Awards winners have achieved in creating compelling campaigns and building strong customer loyalty." ~ Justin Zhu, Co-Founder and CEO of Iterable
Here are the winners of each category.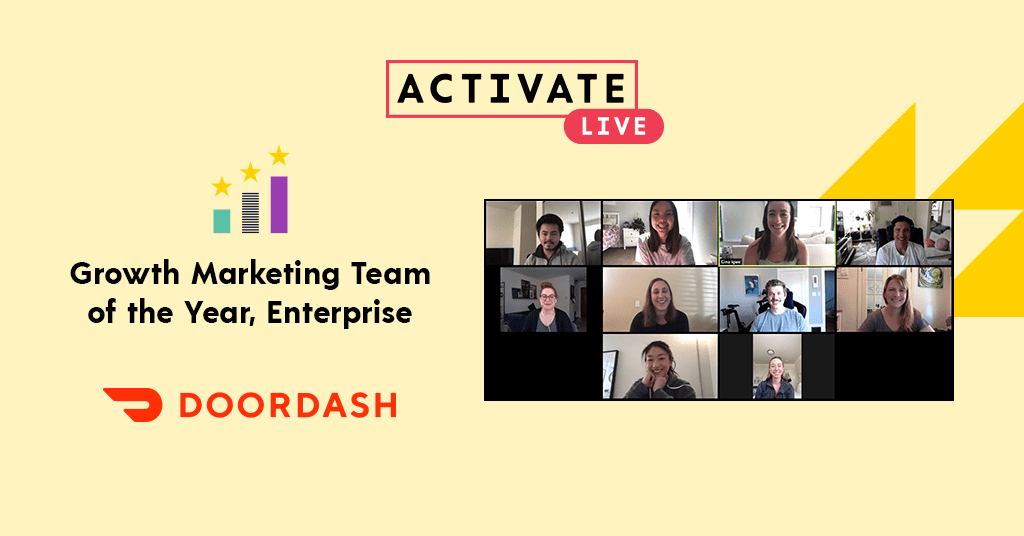 Growth Marketing Team of the Year, Enterprise: DoorDash
DoorDash is a technology company that connects customers with their favorite local and national businesses in more than 4,000 cities and all 50 states across the United States, Canada and Australia.
Founded in 2013, DoorDash empowers merchants to grow their businesses by offering on-demand delivery, data-driven insights, and better in-store efficiency, providing delightful experiences from door to door.
"Iterable has quickly grown with us. Whether we're trying out a new trigger or launching a multi-touch campaign, we've been able to rely on Iterable to drive value and be the conduit to what matters most to us—building a relationship with our customers.

Iterable makes customer-centric marketing journeys simple and accessible to marketers of any level. We've been able to scale automations and tests across audience segments with ease." ~ Gina Igwe, CRM & Retention Senior Director at DoorDash

Growth Marketing Team of the Year, SMB: ChowNow
ChowNow powers digital ordering for over 17,000 independent restaurants across the U.S. and Canada, enabling restaurants to take orders everywhere their diners are online.
ChowNow's restaurant email marketing program has made an impact on restaurant performance, increasing overall restaurant order volume by 10% and equipping restaurants with complimentary email marketing in light of COVID-19. ChowNow sent emails on behalf of 1,500 restaurants, to over 1 million users, and driving 15,000+ incremental orders as a result. 
"Iterable has provided ChowNow the backend to send personalized emails and push notifications at scale. Working with Rebecca, our Iterable CSM, has been wonderful. Our team has truly enjoyed collaborating and discussing improvement in our metrics with her. We can confidently depend on her guidance when setting up new marketing programs." ~ Tyler Kotovsky, Senior Email Production Coordinator at ChowNow

Most Impactful Transition to Iterable: Care.com
Available in more than 20 countries, Care.com is the world's leading platform for finding and managing high-quality family care. Iterable's platform enabled the company to increase revenue through better, more personalized one-on-one communications with its members.
"Iterable has allowed us to have better visibility of the member journey by consolidating three platforms into one. We have a better understanding of all the communication touchpoints we send to our members, allowing us to better optimize and simplify their journey." ~ Tara Mahnk, Sr. Marketing Manager, Lifecycle Marketing at Care.com

Most Captive Audience: Fender
Since 1946, Fender has revolutionized music and culture as one of the world's leading musical instrument manufacturers, marketers and distributors.
To support the music-making community during social distancing, Fender launched the 'Play Through' initiative, offering up to one million new users three months of complimentary lessons via their complete learning app for guitar, bass and ukulele, Fender Play.
"Iterable has helped our team as we ignite a digital transformation of our brand, and we're excited to see how their exponential growth will support our own. As a core platform in our marketing stack, Iterable allows us to maximize engagement, retention and lifetime value for our digital guitar learning product, Fender Play.

The power of Iterable allowed us to bring our messaging and customer profile views together. This with the timely and popular Play Through campaign took us to the next level as far as bringing in new customers and lifelong fans of the brand." ~ Matt Annerino, Vice President, CRM, Growth & Media at Fender

Most Sophisticated Use of Workflow Studio: TrainingPeaks
TrainingPeaks creates endurance training apps and solutions that help athletes and coaches prepare the right way to reach their goals. TrainingPeaks solutions are used by Tour de France teams, IRONMAN® World Champions, Olympians, age-group athletes and coaches around the world.
The TrainingPeaks team delivered targeted, expert instruction via in-app messages to send specific training plans tailored to each individual's races using a custom event, resulting in a significant increase in training plan sales.
"Iterable's flexible API has allowed our team to use data in a powerful way by sending the right message at the right time to the individual user. Iterable has saved us time through automation and efficiency—now we are able to do more and do it better." ~ Michelle Hiland, Email and In-App Marketing Manager at TrainingPeaks

Best Cross-Channel Campaign: Madison Reed
Madison Reed is a beauty company revolutionizing the way women color their hair. Madison Reed's winning submission featured its 'credit card failure' workflow, which uses email, SMS and direct mail to notify a customer that their credit card was rejected and that the company was not able to bill them for the month. 
"Iterable makes it easy to incorporate several different channels of marketing communications to make it possible to get important notifications to our customers in a timely manner. If it wasn't for Iterable, we would have to use three separate platforms to be able to communicate to our customers via all the platforms we'd like—email, SMS, and direct mail.

Thankfully, we're able to use the Iterable platform to have all these different communications work together. The best part is we're able to pull reporting quickly, easily and in real time to get an understanding of whether our workflow is working." ~ Marie Seitzer, Lifecycle Marketing Manager at Madison Reed
Congrats to All the Finalists of the 2020 Growth Marketing Awards
Iterable congratulates all of its finalists: DoorDash, SeatGeek, UNiDAYS, Bloomon, ChowNow, Openfit, Care.com, Mightier, SilverCar by Audi, Fender, Prose, Rothy's, Policygenius, Thumbtack, TrainingPeaks, Ad Remover, Madison Reed and Strava. 
All finalists of the 2020 Growth Marketing Awards will be celebrated at Iterable's virtual version of its signature growth marketing conference, Activate Live, on June 24. Register for free today!