In March, we released a list of what's keeping us entertained during self-isolation, which featured tons of recommendations of great TV shows, movies, podcasts, books and more that our team was enjoying.
But let's be frank: Few of us knew exactly what this pandemic had in store for us. It goes without saying, but COVID-19 is still wreaking havoc around the world, and our lives will be forever changed because of it.
No one rang in the new year thinking 2020 was going to turn out like this, but let's face it—we're in this for the long haul. So if you've already read what's on your nightstand or gone through your Netflix queue, then we're here to help.
Read on for more entertainment recommendations so you can stay home and stay healthy.
Iterable's Entertainment Recommendations for the Long Haul
Coronavirus doesn't mess around, and neither do we. While it's important to practice Balance with safe, socially distanced outdoor activities, we also believe in achieving Balance by firmly planting yourself on your couch.
Now's the time to invest in that 500-page novel, that long-running podcast, those six-seasons-and-a-movie, so we asked the folks at Iterable to share what they're loving during the lockdown.
Check out our suggestions, and follow us on social so you can add your favorites to our list!
TV Shows
While everyone else is talking fall previews, here are our tried-and-true TV shows that are guaranteed to keep you binging for months on end:
For the daring detective: "Bosch" (2014-present, 60-episode crime drama from Amazon Prime)
For the time traveler: "Dark" (2017-2020, 26-episode sci-fi thriller from Netflix)
For the funny philosopher: "The Good Place" (2016-2020, 53-episode fantasy comedy from NBC)
For the city slicker stuck in a small town: "Schitt's Creek" (2015-2020, 80-episode sitcom from CBC)
For the fab and fierce: "RuPaul's Drag Race" (2009-present, 159-episode reality series from Logo TV and VH1)
For those who miss their coworkers: "Parks and Recreation" (2009-2015, 126-episode sitcom from NBC)
For those who like the rise and fall: "Breaking Bad" (2008-2013, 62-episode crime drama from AMC)
For those with A LOT of free time: "Supernatural" (2005-present, 320-episode fantasy drama from The WB)
For the angsty teen at heart: "Buffy the Vampire Slayer" (1997-2003, 144-episode supernatural drama from The WB)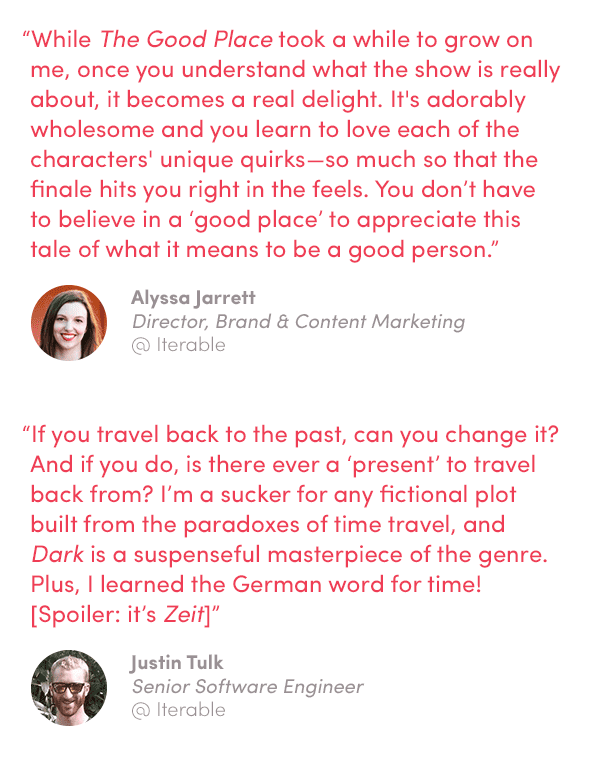 Movies
Yes, we're sad that "Tenet" got postponed, but you can still enjoy these lesser-known and lower-budget gems from the comfort of your own home:
Time-loop rom-com: "Palm Springs" (2020)
Indie adventure comedy: "The Peanut Butter Falcon" (2019)
Oakland dramedy: "Blindspotting" (2018)
Desi documentary: "A Suitable Girl" (2017)
Japanese zombie comedy: "One Cut of the Dead" (2017)
Neo-noir: "Inherent Vice" (2014)
San Francisco counter-culture: "The Institute" (2013)
British sci-fi comedy horror: "Attack the Block" (2011)
Kiwi romantic comedy: "Eagle vs. Shark" (2007)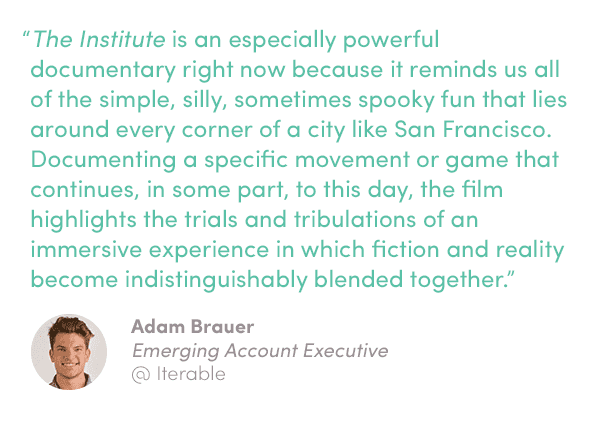 Podcasts
10-minute news recaps are still nice, of course, but nowadays, you may be looking for deeper dives to add to your podcast library:
Women and finance: "Coffee & Coin" by Factora
Women and culture: "Call Your Girlfriend" hosted by Aminatou Sow and Ann Friedman and produced by Gina Delvac
Native American culture: "All My Relations" hosted by Matika Wilbur and Adrienne Keene
Strange news: "Bananas" hosted by Kurt Braunohler and Scotty Landes and produced by Exactly Right Media
Business: "Brought to you by…" hosted by Charlie Herman and produced by Business Insider; "Spectacular Failures" hosted by Lauren Ober and produced by American Public Media
Food: "Home Cooking" hosted by Samin Nosrat and Hrishikesh Hirway
Design: "99% Invisible" hosted by Roman Mars
Queer Eye curiosity: "Getting Curious with Jonathan Van Ness," hosted by Jonathan Van Ness and produced by Earwolf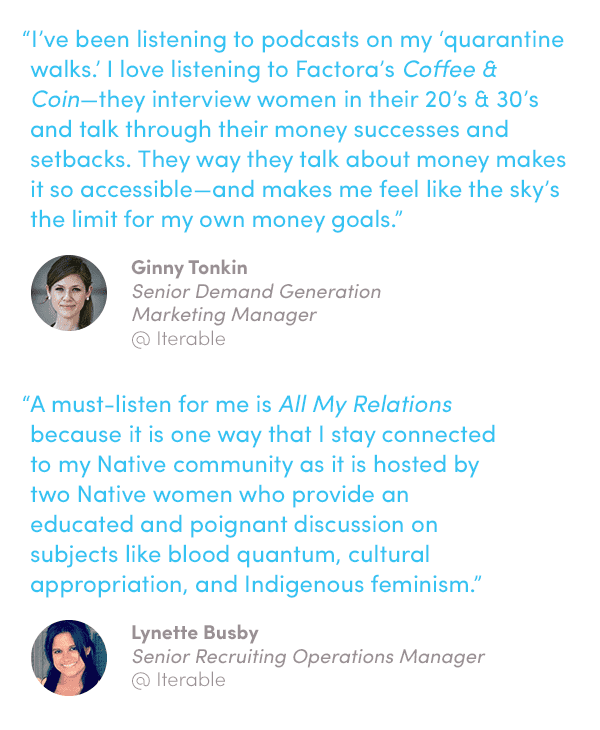 Books
Those books on your TBR list that can double as paperweights? It's time to pick up those hefty page-turners to survive the winter:
For the YA enthusiast: "The Ballad of Songbirds and Snakes" by Suzanne Collins (2020, 517 pages)
For the fantasy fan: "The City We Became" by N.K. Jemisin (2020, 437 pages)
For the market-maker: "Capital and Ideology" by Thomas Piketty (2019, 1,104 pages)
For the Greek mythology maven: "Circe" by Madeline Miller (2018, 393 pages)
For the avid art lover: "The Goldfinch" by Donna Tartt (2013, 771 pages)
For the epic reader of epics: "The Eye of the World" by Robert Jordan (1990, 814 pages)
For the captain of the high seas: "Master and Commander" by Patrick O'Brian (1970, 464 pages)
For readers of Great American Novels: "Invisible Man" by Ralph Ellison (1952, 581 pages)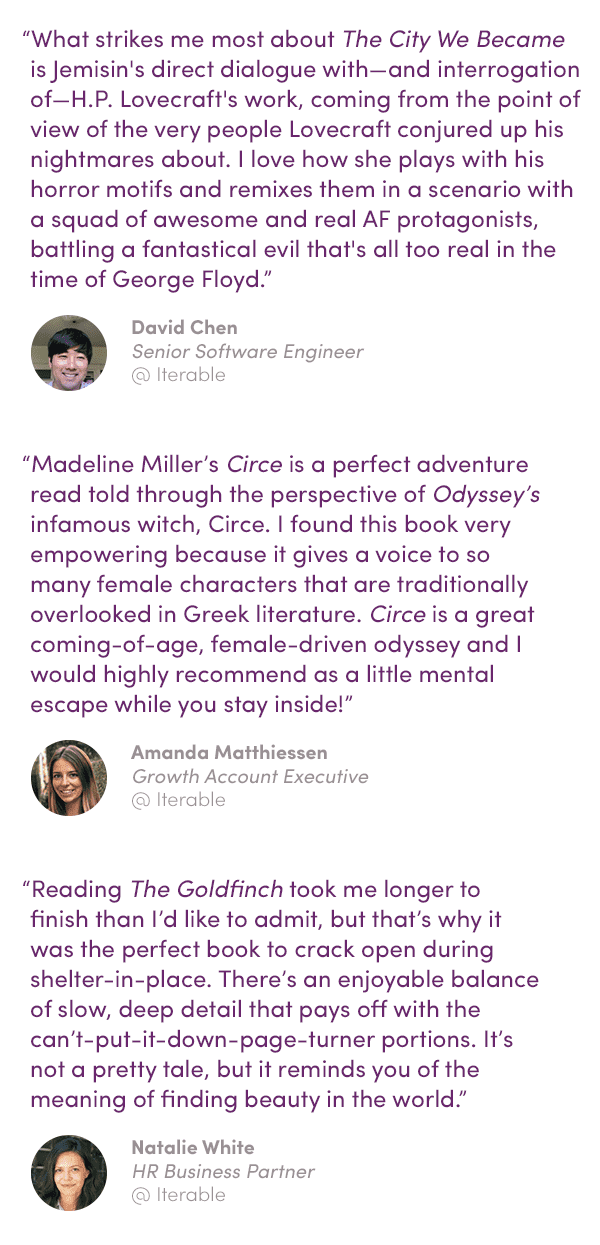 All Done Already?
In case all these entertainment recommendations aren't enough to sate your appetite, then don't forget to check out Iterable's own resources.
We have an extensive library of whitepapers, webinars, videos, case studies, blog posts and teardowns to keep your marketing mind sharp. 
We're in this for the long haul, so stay happy and healthy at home, from all of us at Iterable!