We're proud to announce that Iterable has made it on the Bay Area "Best Places to Work" list for the second year in a row! We take great pride in our investment in the well-being of our team and workplace culture, and we're very excited about this recognition by the San Francisco Business Times and the Silicon Valley Business Journal.
This great company culture was not an overnight achievement, though. Being a great place to work is something we prioritize every day. From the beginning, our founders have gone to great lengths to create and nurture an environment that is fun, positive, transparent, safe, and creative.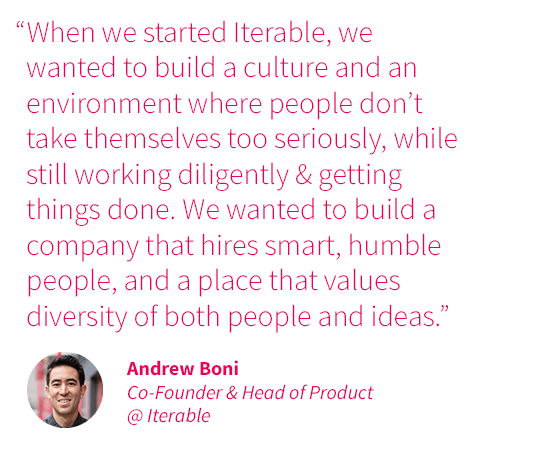 Many elements combine to help make Iterable a wonderful place to work. Of course, we have a kitchen amply stocked with quality snacks, daily catered lunches, and a well-appointed office with lots of comfortable spaces to stretch out while you work (and a dedicated fitness room so you can stretch out after you stretch out!).
But just as importantly, we believe in making a holistic investment in our employees. We offer a monthly fitness and development benefit that can be used on anything from exercise classes to therapy sessions, so every Iterable employee can come to work feeling like their best self.
We also provide a quarterly personal and professional development stipend to help employees grow in whatever direction best serves them, whether that's learning to flip off a flying trapeze, honing their project management skills, or brushing up on their creative writing abilities.
Our administrative team organizes tons of fun activities to bring our employees together so they can build relationships outside of the conference room. In March, the women of Iterable wrote each other appreciation notes in honor of Women's History Month, our office team hosted a movie night, we had our inaugural First Friday Breakfast featuring a delicious waffle bar, and the team came together for a St. Patrick's Day happy hour.
And while we're all about perks, we're not just about perks. Iterable takes pride in our commitment to setting up every employee to be successful in their role. Taking inspiration from our product, our teams are constantly iterating on the best ways to onboard new hires, improve employees' skill sets, and address areas of development.
We hire great people, and we want them to feel confident that Iterable is a place where they can learn and grow, where they have a clear idea of what to do to reach that next level, and the tools they need to accomplish their goals.
But don't take our word for it—here's what our team has to say about working at Iterable.
It helps that we have a strong set of values that anchor all of our efforts, from hiring to team building to career development.
Balance
At Iterable, we want to make sure our employees have a good balance between their work lives and their private lives. We try to encourage this with unlimited PTO, free meditation classes, and a family-friendly environment.
Many of our employees are parents, and we make sure they feel comfortable taking parental leave and going home each day at a reasonable hour so they can spend quality time with their families.

Trust
Trust is both internal and external at Iterable. In the office, we act with integrity and a collaborative spirit, fostering strong cross-functional relationships with our coworkers.

Growth Mindset
Having a growth mindset means not settling for the status quo and proactively looking for areas to improve yourself and your work.
Iterable employees demonstrate their growth mindset every day by solving problems that have never been solved before, growing with the company, and learning as we go.
As a company, we haven't settled for the status quo yet, and we're committed to continuing to improve our product, our team, and our culture as we expand.

Humility
We see value in one another's point of view and try to consider things from every perspective. We also own up to mistakes when they happen and seek to improve ourselves outside our areas of expertise.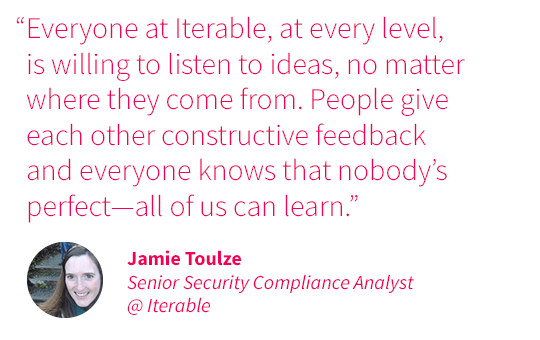 Join a 2019 Bay Area Best Places to Work
Do you want to join a team of humble, smart-working people who care about work-life balance and like to have fun, and help us make the Best Places to Work list again next year?
Take a look at our careers page or email me at sara@iterable.com!