At Iterable, we take customer success very seriously. Our ultimate goal is to ensure our customers are getting the most out of our partnership, allowing them to spend more time focusing on building memorable experiences for their customers. There's a trickle-down effect.
Perhaps the most important component of the customer success program here at Iterable is our people. The Iterable Customer Success (CS) team is on the front lines of delivering support when needed and strategic insights to help our customers make the most out of their marketing.
To find out what makes a truly successful Customer Success organization, we sat down and interviewed several CS team members—Customer Success Management, Professional Services, and Support.
Let's meet the crew!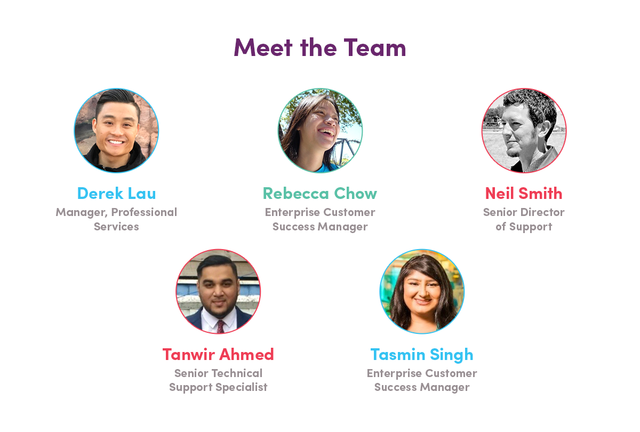 A Q&A with the CS team at Iterable:
What led you to your role? What is your favorite part about your job?
Derek: My career in tech began in digital analytics consulting, consolidating data silos for large enterprises. My focus in digital analytics eventually transitioned to helping customers rethink their overall digital transformation strategies including tech stack audits, CMS optimization and CRM migrations. My curiosity for strategizing different digital transformation led me to Iterable's professional services team to deliver implementation consulting services. My favorite part of the job is helping our customers solve what seems to be impossible problems and rethink their future state marketing programs.
Rebecca: I started out working in partnerships where I would find different ways to promote a brand or product in collaboration with partners that the company worked with. In this case, researching and identifying what the customer would like from the brand or product. Then, I moved on to becoming an Account Manager, where I really enjoyed helping customers with finding solutions to their challenges. This turned into my motivation and I strived to improve the overall consumer/customer end experience through multiple mediums. My favorite part of the job is when a customer has a use case or goal they want to solve for but they're unsure on how. This is where I come in to provide different ways to achieve what they want based on what works best for them.
Neil: As with many people in the tech industry, my path has been a combination of following my passion for technology and problem-solving, along with taking advantage of the kinds of exciting opportunities that come with working for growing companies. The best part of my job is seeing how empowering the team to be successful creates great customer experiences and helps each support engineer grow their careers.
Tanwir: I have always been interested in technology and also have a background in Mathematics. Maths is the art of breaking down complex problems into manageable step-by-step solutions, not unlike technical support. Solving problems has always been what keeps me interested and this eventually led me into the role. My favorite part of the job is the fact that I'm always faced with unique issues and no two days are the same.
Tasmin: I started my career off in Marketing Analytics as a Cross-Channel Data Analyst. Even though we've come a long way since then in terms of how sophisticated and granular marketers can get with measuring these things, I feel like it gave me a really excellent base for understanding how to approach problems (and solutions) in an analytical way. It was something I enjoyed, but I realized that I was spending too much time with spreadsheets and not enough time with people. So, over time I found that moving into Customer Success gave me the opportunity to marry my analytical problem solving skills with my people and relationship management skills. My favorite moments of the job are when one of my customers comes to me with a challenge they aren't sure how to solve for (especially if it was something they were unable to do in previous platforms) and we find a way to do it!
Since the beginning of the pandemic, how has your work changed or evolved?
Derek: Staying at home full time does not allow a true disconnect. You're constantly near your laptop and desk, endlessly reminding you that you have more items on your to-do list. It takes a strict regimented schedule to make sure to find balance throughout your day like taking a walk outside for fresh air, exercising before/after work, and even lunch breaks. Finding time to quickly chat with colleagues can be difficult at times, so it's helpful to plan a week or two ahead when possible.
Rebecca: At first, I had difficulty in balancing my life and work. I would constantly work throughout the day because I was always near my laptop. I've learned to incorporate what I did pre-Covid to what I do now. For example, pre-pandemic, I would commute to work by walking 10-20 mins every day and now I walk the same amount of time to a nearby park. Also, I chose a certain time of the day in the afternoon to pause on my work so I can train in olympic weightlifting. I do miss the in-office interactions and discussions, as well as easily walking up to someone if I have a question or need to talk to that person. Iterable and my team have been great throughout this time by providing wellness kits, office hours, weekly syncs and ensuring that I have all the equipment I need to work from home.
How do you focus on Balance? What do you recommend to people in your function who might struggle to find a happy medium?
Neil: One of the nice things about support is that there is always someone to hand off to at the end of your shift. You can step away at the end of the day knowing that customers won't be left hanging. Another thing is that as a leader, it is important for me to ensure that the team is taking time off to recharge and rest, and to demonstrate that I and the other managers on my team lead by example. We now offer sabbaticals to employees with four or more years of tenure, and I'm delighted that one of our support managers will be taking advantage of that this summer.
Tanwir: The thing that I have found most useful is working in different parts of the house. A (slight) change of environment really breaks up my day, rather than everything being one big haze! I've definitely improved in asking for help and I'm very lucky that my team is always super happy to help, should the load start to become too heavy. I also try to take a straight 60 minute lunch break so that I'm actually taking time for myself in the middle of the day.
Tasmin: When you have "unlimited" vacation it's often the case that employees don't take any. Here, we not only have a company-wide balance day once a month, our department also recently instituted a goal of having each person take at least 3 days of balance time off a quarter.
The fact that balance as well as trust are two of our core values makes this easier! I know my customers are in great hands with my teammates when I need to take some time to recharge.
How does your team measure customer success or satisfaction?
Derek: The professional services team sends out customer satisfaction (CSAT) surveys to understand our customer's onboarding services every 30 days during implementation. We're constantly striving to improve our services, so all our customer's feedback matters. We review our customer satisfaction scores weekly/quarterly to ensure we're delivering the highest quality professional service experience and improving any pain points along the way.
Rebecca: Retention is a significant indicator to ensure that the customer is happy and that we're growing together. We measure customer satisfaction by sending out NPS surveys on how likely customers are to recommend Iterable on a scale from 1-10 (with 10 being highly likely) throughout different touchpoints in the customer's lifecycle (i.e. onboarding, post-onboarding, quarterly, etc). We track customer sentiment from our weekly or monthly syncs as well to keep track of their requests, consolidate any feedback or concerns and identify signs of improvement or growth.
What's a common misconception about CS that you think people should know?
Derek: CS is often confused as a reactionary role only addressing problems and issues as they arise, however, we continuously strive to enhance our product and services with new features to proactively help our customers scale and reinforce future growth initiatives.
Tasmin: People often think you have to have a very specific background coming into customer success. But it's actually a field where I've seen people with vastly different work experiences thrive!
Rebecca: Previously, CS was called account management, where there was one point of contact for all items related to the product or company. However, CS has evolved into much more where different teams (i.e. support, professional services, implementation, operations, solutions, data science, etc) within CS help to ensure that customers are successful.
Next Steps for Customer Success
Our CS teams stand by our customers, for our values and with each other to solve problems even before they emerge. In a world that is always evolving and automating, the teams behind the tech—like CS—are what drive value.
If you like the sound of working with Derek, Neil, Rebecca, Tanwir and Tasmin, we encourage you to apply to our open CS roles.