Today, we're pleased to be joining The Platform of Independents, a group of ten independent software companies, united to set a new standard for marketing and business technologies.
Together with our partners at Segment, Airship, Amplitude, Drift, Mixpanel, Outreach, Pendo, Radar and Tray.io, we're on a mission to radically redefine how leading companies power their go-to-market engine.
The Independents share a product vision where both emerging and established consumer-facing brands are empowered to build a modern growth stack comprised of best-in-class technologies.
In 2020, a new decade ushers in reinvigorated energy to drive change on behalf of digital marketers across the globe. Iterable has long held the belief that businesses can't put their customers first on a foundation of stale ideas and old technologies.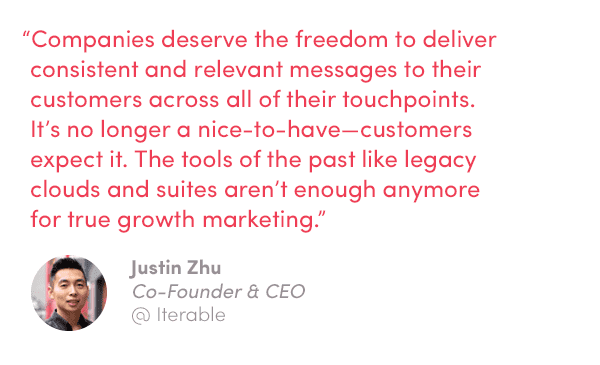 By formalizing our ideals with the rest of the Independents, we're taking a collective first step toward a future of deeper, more sustained customer relationships.
As Segment aptly expressed in its announcement today, we believe that this future is achieved when we unlock all customer data—from anywhere, instantly—to give brands:
A world of choice, where businesses are free to build a technology stack with the tools they need, not just the one their CRM suite has chosen for them.
A world of flexibility, where data can be used across every department to exceed customer expectations, not just in sales and marketing.
A world of opportunity, where every business has the technology and ability to be customer-first.
Powering the Modern Growth Stack
Instead of choosing "what works" for one-size-fits-all engagement, it's time for brands to fearlessly pursue "what's best" for their customers. The largest obstacle impeding customer delight is the continued reliance on legacy platforms with antiquated architectures that stifle creativity.
It's no secret that traditional marketing clouds and suites struggle with the speed and volume of today's consumer touchpoints. In contrast, successful growth teams at cutting-edge brands are wielding data more effectively and efficiently than ever before.
The powerful technologies of the Independents have streamlined cross-platform operations and activated previously inaccessible sets of siloed customer data.
Scalability, compatibility, and high-performance are key attributes of the Independent's software platforms—integrated seamlessly into a modern growth stack. Assembling an ecosystem where symbiotic technologies collaboratively solve the particular needs of rapidly growing organizations enable these teams to easily assemble the cornerstones of great customer experiences.
Gone are the days of being locked into a single cloud suite like a digital filing cabinet. The Independents have come together to reshape the marketing and business technology landscape.
Learn How to Gain Your Independence
To understand the ideals of The Platform of Independents, join us and our partners in a live event and webinar, hosted by Forrester Principal Analyst, Brandon Purcell, on February 5, 2020.
Register for the live stream to be a part of this momentous occasion!