About AvantStay
AvantStay is a hospitality brand offering 1,500+ premium vacation rental properties across 100+ destinations. With beautiful homes intentionally designed for groups, luxe amenities, and upgrades & experiences, we are the best way to travel for groups.
Jessica's Bio
Jesse is the CRM Manager at AvantStay, a premium hospitality brand. She owns the strategy and execution for the customer lifecycle at AvantStay. Jesse has previously worked on the CRM teams for both Drizly and Care.com.
Featured Quote
[Iterable] snippets are a HUGE game changer. It's amazing to be able to edit content in one place that will appear in several different emails.
Interview
What brings you joy in your role?
I love digging into data and understanding what is effective for our consumers. The most effective strategy is always changing and evolving, and it's fun to try to keep up!
How do you stay inspired or motivated in your work?
I stay inspired because customer needs and wants are always changing. You can't get too comfortable, because what's working one day may not be what's working the next.
What tips, tricks, or pieces of advice would give a new Iterable user?
Utilize the chat feature! Iterable support is always available to help troubleshoot problems if you get stuck.
What are some Iterable features that have made your job easier? Or have been game-changers for yourself and your team?
Snippets are a HUGE game changer. It's amazing to be able to edit content in one place that will appear in several different emails. Send time optimization has also been incredibly effective in driving up our email engagement.
As a consumer, what brings you joy from a brand's outreach/communication?
I love when brands send personalized communications, especially event based triggers. I know the tricks as a CRM marketer, but I still engage every time!
How do you stay up–to–date with the latest trends and developments in marketing?
Really Good Emails is my favorite way to stay on top of trends.
What's the best advice you've ever been given?
My Nana used to always say to me, "Rome wasn't built in a day." Good things take time, and I think that applies to both your personal and professional life.
If one song could play every time you entered a meeting, what would it be?
ANY Taylor Swift song
Campaign Portfolio
Getting Creative With Retargeting Campaigns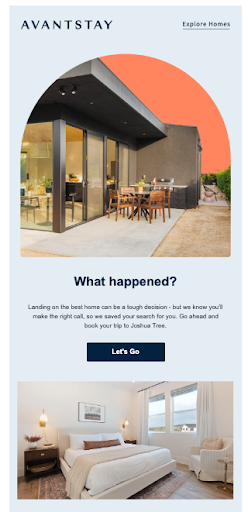 My favorite campaigns are our retargeting campaigns. We send these after people search for homes in a Region but don't book. There are a few versions since this campaign people can often qualify for.
Our copywriter did a fantastic job executing on the copy strategy, and the design of these emails is so effective.