Your personalization journey starts with you tapping into your customers' user and event data. Based on this information, you can unlock opportunities to create personalized experiences that resonate with your customers, whether it's sending a warm welcome message after downloading an app or reassuring them about their travel points in the wake of COVID-19.
But suppose you want to enhance your marketing messages with even more robust, dynamic personalization. In that case, you need to look outside of your email service provider (ESP) because relying solely on your customers' profile and event data is like eating the same meal every day. Eventually, you're going to need other options for nourishment.
Lucky for you, we've got the ingredient that will help drive further engagement and boost your ROI (variety is the spice of a marketer's life, after all).
With that, let's get started!
Recap: The Three Levels of Personalization 
Remember the personalization maturity model? If not, familiarize yourself with the three levels below.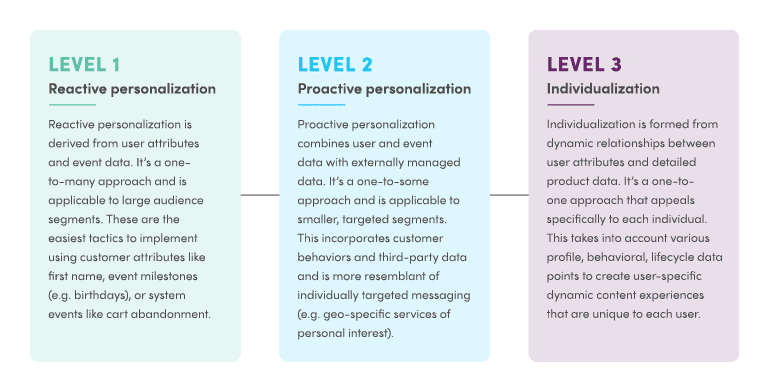 Level 1: Reactive personalization
Reactive personalization is derived from user attributes and event data. It's a one-to-many approach and is applicable to large audience segments. These are the easiest tactics to implement using customer attributes like first name, event milestones (e.g. birthdays), or system events like cart abandonment.
Level 2: Proactive personalization
Proactive personalization combines user and event data with externally managed data. It's a one-to-some approach and is applicable to smaller, targeted segments. This incorporates customer behaviors and third-party data and is more resemblant of individually targeted messaging (e.g. geo-specific services of personal interest).
Level 3: Individualization
Individualization is formed from dynamic relationships between user attributes and detailed product data. It's a one-to-one approach that appeals specifically to each individual. This takes into account various profile, behavioral, lifecycle data points to create user-specific dynamic content experiences that are unique to each user.
How to Level Up
In the first installment of our three-part whitepaper series, we explain that Level 1 is the most straightforward and the easiest type of personalization to implement, but as we mentioned earlier, it's not enough to get you to the heart of what your customers want, just based on user profile data. 
On the other hand, Level 2 prevents you from plateauing since it allows you to fuel your campaigns with more attention-grabbing content your audience will love. In this case, data feeds can make this happen for you.
Take a sneak peek below, and download the full guide for a much deeper dive!
Personalization Maturity, Level 2: Data Feeds
Data feeds are externally managed information that exists outside of your ESP and are updated frequently (i.e. RSS feeds for blogs and podcasts). When used in conjunction with user profile data, they deliver real-time content to your target audience, therefore enhancing the relevance of your campaigns.
With data feeds, you can retrieve information (via JSON, XML, RSS, and Atom web services) from virtually any reputable source, so the sky's the limit in terms of what kind of information you want to integrate into your campaign for maximum customizability.
 In this Level 2 guide, you'll see how data feeds manifest in the following ways: 
Active offers
Recommendations
Tickers and APIs
Blog and news content
For instance, take a look at this Uniqlo email campaign.
We've all been there. We choose our outfits based on the weather forecast, only to discover that Mother Nature changed her mind at the last minute. Naturally, the unpredictability in weather makes it challenging to decide what to wear and when to wear it. 
Understanding Mother Nature's fickle disposition, Uniqlo incorporated a weather API into this campaign to display a 7-day forecast based on the customer's location. In turn, this propagated seasonally-appropriate options for men and women so they could step out in style without being caught off guard. 
Thanks to these types of data feeds, you can create dynamic personalization in real-time at scale and help your customers weather the storm with ease. 
Want to see what other examples are in the forecast? Then download Part 2 of our cross-channel personalization series.
Stay Proactive to Deepen Personalized Experiences For Customers 
It's one thing to establish a connection with your customers. It's another thing to maintain the relationships you've worked hard to build. The truth is, you're not the only brand vying for your audience's attention, and your customers' allegiances lie with whichever brand serves their needs the most. 
Given this, it's more important than ever to step up your game and continuously provide highly tailored messages that not only fulfill their needs, but also reflect your commitment to help them throughout their journey. 
So don't wait. Download the guide to see how you can spice up your marketing campaigns with data feeds!