Third time's a charm! We're excited to announce that for the third consecutive year Iterable has been named as one of the Bay Area's "Best Places to Work," specifically ranking #5 on the list for midsize companies.
Building a strong culture that fosters growth, innovation and opportunity for our employees has always been priority number one, and we're honored to receive recognition for these efforts from the San Francisco Business Times and the Silicon Valley Business Journal.
And while this honor calls out our San Francisco headquarters in particular, the Iterable culture extends far beyond the Bay Area. We strive to bring this culture to our remote employees, which make up over 20% of our company, and our other locations, like Denver, where we were named to the Best Places to Work list in Colorado.
As our co-founder and CEO, Justin Zhu puts it, "We believe investing in our people is core to creating a sustainable company that embodies Iterable's values of trust, growth mindset, humility and balance."
Much like many of you, our culture was recently put to the test by the COVID-19 outbreak, as we moved from 20% to 100% remote work.
A Culture Without Borders
In preparation for and during this time, we have taken strides to strengthen Iterable's culture, in a variety of ways.
From the beginning, our executives have met daily to discuss updates to shelter-in-place and provide transparent feedback to employees about next steps. Our flexible PTO policy has allowed employees to take the time they need to care for themselves and their families. 
To stay connected, our #values Slack channel serves as a hub to call out the amazing work of our colleagues for building trust and a growth mindset and even share moments of friendship and humanity that promote balance and humility.
Many teams have started Zoom happy hours where they play games or host contests for the best-personalized Zoom background. Others have taken to sharing daily news stories that might bring a smile to everyone's faces or photos of what they're cooking. And, when all else fails, we share pictures of our pets!
Normally, we provide quarterly stipends for learning and development. These are still in place but have been updated to allow for office equipment, like chairs and monitors for their homes. Other existing perks, such as a premium membership to the meditation app Calm, have provided mental health resources, in addition to the ones included in our employee benefits. 
And to make sure everyone is happy, healthy and heard, we hold weekly virtual town halls where employees can openly and honestly ask questions about any concerns they may have. 
But don't take it from just me. Here are a few thoughts from our employees adapting to the new normal: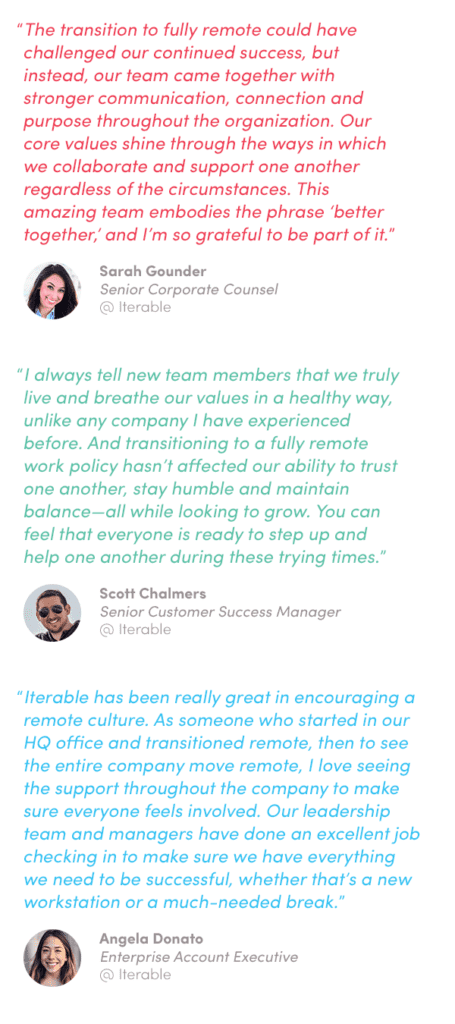 We recognize that life often gets thrown askew by things out of our control. So, we have taken every measure possible to make this time more comfortable for everyone at Iterable—and associated with Iterable—so we can come out on the other side together. 
This is a strange time, but I am proud of how our organization has come together for the greater good—not only for ourselves, but also for our customers and partners as well.
Join a 2020 Bay Area Best Places to Work
Do you want to join a team of humble, smart-working people who care about work-life balance and like to have fun?
Help us make the Best Places to Work list again next year by applying for any of the open positions on our careers page!