About Hallow
The mission at Hallow is to help the world find peace & purpose through prayer & meditation, and to help everyone build deeper and more meaningful relationships with God. We believe that if we all just let God into our lives, He will change the world.
Michelle's Bio
Michelle is an award-winning growth marketing leader with more than 10 years of experience building go-to-market strategies to drive acquisition and retention. She leads the user acquisition and retention at Hallow. Previously she has held Grow Marketing roles across various consumer apps in the health & fitness, nonprofit, and mental health space.
Featured Quote
I often relate my career to my passion for trail running up mountains, I continually learn, adapt and push myself, if I fail or stumble, I learn and try again, if I win I repeat. Marketing works the same, you have to try new things with feedback to learn, grow and win."
Interview
When and how did you get your start in marketing?
About 11 years ago I started working at an ad agency in Boulder, Colorado where I did a little bit of everything, including web development and graphic design. I learned a lot and quickly learned that for me I need to be passionate about what I am marketing. A couple of years later, I started my career in helping companies grow that match my core values. This has largely been in the fitness, wellness, and mental health space, there is nothing quite like marketing to yourself or striving to empower positive change in the world.
What brings you joy in your role?
I love start-ups, Hallow is my third one and I love the excitement, fast pace, and growth opportunity. It's also never a dull moment, I wear many hats, and I love the ability to move quickly, test often, and think outside the box. I have a wonderful team and we are all aligned on our mission and receive incredible customer feedback daily on how the app has saved or transformed people's lives. Our customers also love our emails and it's fundamental to our overall retention.
What tips, tricks, or pieces of advice would give a new Iterable user?
Don't be afraid to ask questions, ask for help and meet with your CSM manager often. Iterable is an amazing tool and your dedicated CSM/Implementation Manager has so much knowledge, and they will find someone else if it's needed due to being super technical. The amount of dynamic content and personalization is endless, so dream big because you can do it with Iterable.
What challenges was your team experiencing prior to Iterable? How has Iterable helped address these challenges?
Manually creating newsletters every week was such a pain, we were able to automate this with iterable using RSS feeds! What took a whole day to set-up, now only takes a couple of minutes to review before sending. Not only do all the top blogs automatically pull in but it also dynamically adjusts which content for each user's interests!
What led you to choose Iterable over others in the market?
The sales team and support we had through a trial showed us that Iterable was going to be with us for the long run. In addition, the ease of use in the interface and segmentation capabilities were exactly what we were looking for at the right price.
Besides Iterable, what are the other tools in your marketing toolkit that you can't live without?
Segment, Mixpanel, funnel.io, Branch and ChatGPT
What do you think will be the next big thing in the marketing industry (AI, automation, new channels?)
AI is already here so I think using it to automate what can be is and will continue to happen. I really appreciate brands like Iterable stepping up here by bringing leading solutions to allow marketers to be more efficient and to more easily personalize at a user level across content and types of communication. I think the way to stand out amongst all the AI will be to take a step back and focus on human connection and behavior. From the Iterable Activate conference, the biggest takeaway for me was that in order to stand out we need to take time away from technology. This is where big ideas are born and how you can grow and earn growth.
What's the best advice you've ever been given?
Make sure you have money set aside so that at any point in your career you can walk away, take a risk or try something completely different.
If you weren't a marketer, what would you be?
A professional trail runner. I love running and racing. I have been top 3 in every race I have ever competed in, with one exception where I was top 7. Since I work full time I haven't been able to compete as much as I would like so if I could just run every day and get paid I would be the happiest person.
Campaign Portfolio
Increasing engagement with push notifications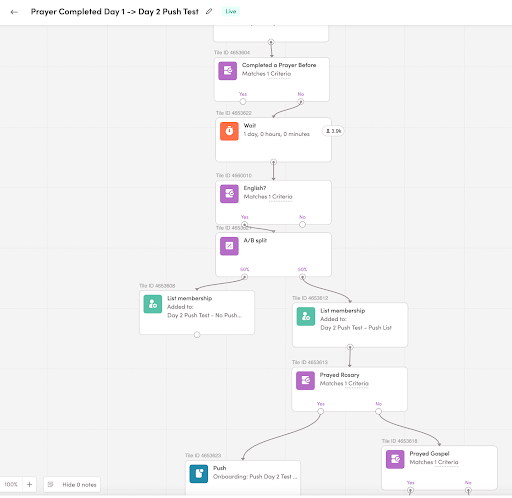 We love using multiple channels to engage our audience, and one example is our push journey where we send a push to half the group once they complete a prayer to encourage them to keep praying, we split the push based on what they first listened to and suggest another prayer in that theme to custom it!
So far, it has increased engagement and conversion.